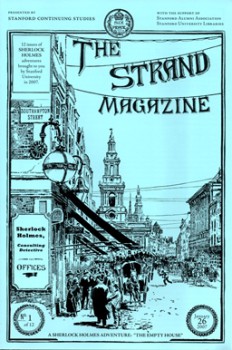 I don't know how many Holmes and Sir Arthur Conan Doyle related books I have on my shelves. But it's certainly several hundred. And I know almost every one of them and where they are. Some days, I like to simply pull various volumes out, look at them a bit and put them back. And once in awhile, I run across something I had forgotten about. Such happened to me as I was trying to decide what to write about this week.
Did you ever hear of the Stanford Victorian Reading Project? This admirable effort, currently on hiatus, released facsimiles of Charles Dickens and Sherlock Holmes stories. Regarding Dickens, they explored Great Expectations, A Tale of Two Cities and Hard Times.
I'm not much of a Dickens reader, so I'm only going to look at the Holmes project here.
You could sign up and they would send you, in the mail, free, an issue with a recreated cover from The Strand Magazine, a very short essay somehow related to Holmes or Doyle, a facsimile of a story with Sidney Paget's illustrations, and annotations, often including a map or other picture. Quite simply, these are neat! Starting in January of 2006, I received (on a weekly basis), "A Scandal in Bohemia," The Speckled Band," The Hound of the Baskervilles in nine installments, and "The Final Problem."
Beginning in January of 2007, the sent out "The Empty House," "Silver Blaze," "The Musgrave Ritual," "The Reigate Squire," "The Greek Interpreter," "Charles Augustus Milverton," "The Abbey Grange," "The Second Stain," "The Bruce-Partington Plans," "The Devil's Foot," "The Dying Detective" and "His Last Bow."
---