Vintage Treasures: Tales By Moonlight edited by Jessica Amanda Salmonson
Vintage Treasures: Tales By Moonlight edited by Jessica Amanda Salmonson

Tales by Moonlight, volumes One and Two (Tor, January 1985
and July 1989). Covers by Mark E. Rogers and Jill Bauman
Jessica Amanda Salmonson has produced only a handful of anthologies, but they are all highly regarded. Her first, Amazons!, won the World Fantasy Award in 1980, and the two Heroic Visions volumes she edited in the mid-80s are still enjoyed and discussed today, with an original Fafhrd and the Gray Mouser novella by Fritz Leiber, plus terrific sword and sorcery tales by Jane Yolen, Phyllis Ann Karr, F. M. Busby, Alan Dean Foster, Robert Silverberg, Joanna Russ, Michael Bishop, Keith Roberts, Ellen Kushner, Avram Davidson, Manly Wade Wellman, Grania Davis, and Thomas Ligotti.
Salmonson's held in such high regard that I recently decided to investigate her two Tales by Moonlight anthologies, published by Tor in the late 80s, and I'm very glad I did. They contain a rich assembly of talent, including Thomas Ligotti, Ruth Berman, H. P. Lovecraft, Janet Fox, Steve Rasnic Tem, W. Paul Ganley, Spider Robinson, John Varley, Charles L. Grant, Nina Kiriki Hoffman, Jayge Carr, W. H. Pugmire, Ramsey Campbell, Joseph Payne Brennan, Phyllis Ann Karr, Eileen Gunn, and many more.
[Click the images to cast moonlight on larger versions.]

A selection of Jessica Amanda Salmonson's acclaimed anthologies
Tales by Moonlight was originally published as a limited edition hardcover by Bob Garcia in 1983, with only a slender hope of a paperback edition. In her thoughtful Foreword, Salmonson laments the differences in scale between the small and mainstream press.
This anthology, more than most, exists as a labor of love. The publisher of the first limited edition, Bob Garcia, entered into the project hoping for the best of course; but he entered knowing that most publishers, small and large, have little use for anthologies in today's "bottom line dollar" way of thinking. My own time and efforts, with much assistance from Wendy Adrian Wees in story selection and editing, was given in full awareness that it could be my first of four anthologies not to help me pay the rent.

Stephen King and his agent, Kirby McCauley, graciously provided an introduction and assistance without regard for the fact that this project is on a different level than a New York or Hollywood million-dollar-deal, to which they are accustomed…

This is not to say everyone is in it for philanthropic reasons alone!… There's a possibility of Susan Cohen, my agent, pulling together a paperback deal… In that event, everyone's gamble will pay off in royalties…

This is my first major involvement with the small press in some while. Commitments for anthologies, novels, and short stories for DAW, Ace, Tor, and Berkley have freed me from my previous secretarial position, but also forced me to be somewhat mercenary, since otherwise I must starve to death. Yet I started out as a small press publisher, writer, editor, and I hope to always keep some connection with this arena.
Tales by Moonlight did, in fact, receive a paperback release two years later, and it was successful enough to spawn a second volume four years after that.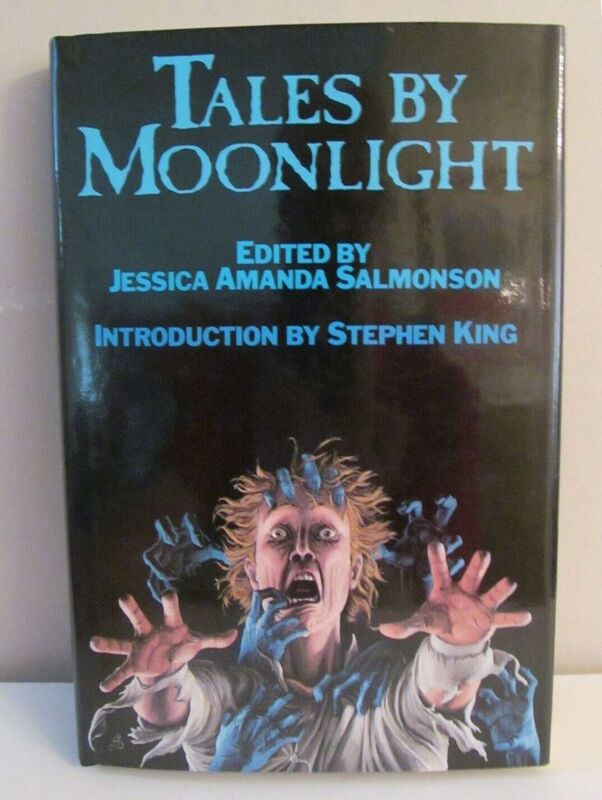 Tales by Moonlight hardcover edition (Robert T. Garcia, 1983). Cover by Paul Sonju
Tales by Moonlight collects twenty original stories. Thirsty Dog at Vault of Evil hits a few of the highlights.
Dale C. Donaldson – "The Nocturnal Visitor" –  Delightfully pulpish and the only thing I've seen of his beyond his ultra-gory werewolf classic "Pia!". Joe and Barbs take up residence at a remote farm which, unknown to them, is also the home of a cycloptic tentacled giant which lives at the bottom of the well… I always liked Donaldson's story "Pia" in Coven 13… and this one's cut from the same pulpy cloth.

Nina Kiriki Hoffman – "A Night Out" – Terry, a werecat, began her war on hunters after they shot dead her brother: "What's left of him probably lies in camphor and mothballs all summer in somebody's attic…"  Think this may well have been NKH's first published story?

Jeffrey Lant – "Flames" – Traverne house, Devon, 189-. Sir D'Isle approaches our unnamed narrator to investigate the mystery of the flames which sporadically flare up in the fields where the victims of the Bloody Assizes met their dooms. It transpires that a girl was burnt there in 1763 after she'd attempted to elope with her lover…

Linda Thornton – "The Inhabitant Of The Pond" –  The deformed Edward befriends a huge bug which lives in the mouth of the carved ornamental cherub adorning the garden pond. After the latest savage beating at the hands of his father, Edward at last gives the bug free reign… Tense, grim and undeniably horrid, this was singled out for praise by Stephen King. He's no bad judge.
Read the complete review (and additional commentary) here.

Jessica Amanda Salmonson's Foreword for Tales by Midnight
Tales by Moonlight contains original fiction by Dale C. Donaldson, George Guthridge, Phyllis Ann Karr, Janet Fox, Nina Kiriki Hoffman, Gordon Linzner, Eileen Gunn, Steve Rasnic Tem, Phyllis Ann Karr, Bruce McDonald, John D. Berry, and others.
Here's the complete Table of Contents.
Foreword by Jessica Amanda Salmonson
Introduction by Stephen King
"The Nocturnal Visitor" by Dale C. Donaldson
"Flames" by Jeffrey Lant
"An Egg for Ava" by Richard Lee Fulgham
"See the Station Master" by George Guthridge
"A Tulip for Eulie" by Austelle Pool
"Cobwebs" by Jody Scott
"The Toymaker and the Musicrafter" by Phyllis Ann Karr
"Witches" by Janet Fox
"A Night Out" by Nina Kiriki Hoffman
"Jaborandi Jazz" by Gordon Linzner
"A Wine of Heart's Desire" by Ron Nance
"Spring Conditions" by Eileen Gunn
"The Sky Came Down to Earth" by Steve Rasnic Tem
"Joan" by Rosemary Pardoe
"The Night of the Red, Red Moon" by Elinor Busby
"Toyman's Name" by Phyllis Ann Karr
"Dog Killer" by William H. Green
"The Mourning After" by Bruce McDonald
"The Hill Is No Longer There" by John D. Berry
"The Inhabitant of the Pond" by Linda Thornton
Tales by Moonlight was reprinted in paperback by Tor in January, 1985. The second volume appeared as a paperback original from the same publisher in 1989.

Pages 2-5 of Jessica Amanda Salmonson's lengthy Introduction to Tales by Midnight II
Tales by Moonlight contained all-original fiction, but Tales by Moonlight 2 had a very different focus. It was composed entirely of tales reprinted from small press fanzines, magazines and chapbooks  — precisely the kinds of outlets where Salmonson first made her reputation, editing magazines such as Fantasy Macabre and Fantasy & Terror. In a brief note on his website, contributor Stephen Gresham sums Tales by Moonlight 2 up nicely.
One of our most outstanding small press editors, Jessica Amanda Salmonson, generously reprinted my "The Drabbletails" in this, her terrific anthology.
For this volume Salmonson provides the Introduction herself, a 10-page love letter to the small press. Here's an excerpt.
For all the influence of the small press on fantastic literature, no anthology has before now been drawn exclusively from this rich, alternative source of stories… although Karl Edward Wagner's Year's Best Horror draws heavily on the small horror magazines, and numerous stories of note, reprinted in collections of leading writers' work, had their original appearance in small magazines…

But how to find these magazines? There's the rub. Most of them have marginal circulation and so are quite rare. There is no reliable resource in libraries for tracking them down — at least, not until they're ancient history…

Ray Bradbury, Harlan Ellison, and Robert Silverberg published their own magazines and became well known to professionals before they were themselves popular authors, More recently, Charles de Lint, Chares R. Saunders, and Gordon Linzner launched professional careers from a base of early recognition in the small presses.

This is an ongoing process. Many of today's authors, known only to readers of the little magazines, will be widely known a few years from now…. Dennis Etchison debuted much of his best known work in Whispers and Karl Edward Wagner's well-known Kane stories appeared in Midnight Sun before gaining the attention of major publishers.
Salmonson focuses the bulk of her Introduction on the history of "the modern phenomenon of small horror magazines," starting with Marvel Tales (1934-35) and covering all the major titles, including Witchcraft & Sorcery, Charles Hornig's legendary The Fantasy Fan, Julius Schwartz's Fantasy Magazine, August Derleth's Arkham Sampler and Arkham Collector, Joseph Payne Brennan's Macabre, W. Paul Ganley's excellent Weirdbook, Gordon Linzner's Space & Time, Stuart David Schiff's Whispers, David Sutton and Stephen Jones' Fantasy Tales, Crispin Burnham's Eldritch Tales, and many, many more.
For obsessive collectors (and readers) this book is worth tracking down for Salmonson's delightful and encyclopedic Introduction alone.

Back covers for Tales by Midnight, Volumes One and Two
Tales by Moonlight II is much less well known than the first book (perhaps because it's a reprint volume), but nonetheless it's still discussed in odd corners of the internet. Todd Mason at his SocialistJazz blog has a fine summation.
Tales by Moonlight II is not quite a direct sequel to the original anthology of a few years back; with this volume, she has done the valuable service of surveying and collecting some of the semi-professional or little horror and fantasy press. She offers 37 short stories and poems going back to Daniel Defoe's "The Devil Frolics with a Butler," published originally in pamphlet form by Defoe himself and seen therefore by Salmonson as part of a tradition that is currently represented by dozens of small-circulation magazines and book publishers… A new translation of Theophile Gautier is included, and stories from such diverse a set of writers as Ramsey Campbell, John Varley, Nina Kiriki Hoffman, John Domini, Fox and Salmonson herself, along with H. P. Lovecraft (a very enthusiastic small-press person) and "The Eldritch Horror of Oz" by "L. Frank Craftlove" (Phyllis Ann Karr) — truly fierce. Salmonson also offers an historical survey as introduction and Grue magazine editor Peggy Nadramia offers offers tips on starting a magazine of one's own in another appendix.
Tales by Moonlight II draws from a huge pool of small press horror zines. There are five tales from Fantasy Macabre and Fantasy & Terror, both edited by Jessica Amanda Salmonson, plus tales sourced from legendary small press mags like Crispin Burnham's Eldritch Tales, Peggy Nadramia's Grue, Charles Saunders' Stardock, Gordon Linzner's Space & Time,  Ghosts & Scholars, Dark Horizons, Arcane, and lots more.
Tales by Moonlight II also includes H. P. Lovecraft's classic Dream Cycle story "The Cats of Ulthar," first published in the small magazine The Tryout in November 1920, as well as "The Eldritch Horror of Oz" by the obvious pseudonym "L. Frank Craftlove" (which a little research reveals as Phyllis Ann Karr).
Here's the complete Table of Contents.
A Glimpse of Supernatural Literature and the Small Presses, by Jessica Amanda Salmonson
Proem: The Haunted Street, by Marion Zimmer Bradley (The Nekromantikon #2, 1950) — poem
"Dream of a Mannikin, or the Third Person" by Thomas Ligotti (Eldritch Tales No. 9, 1983)
"Marilyn and the King" by Ruth Berman (Grimoire #4, 1983)
"The Area" by Stefan Grabiński (1918, translated by Miroslaw Lipinski, from The Grabinski Reader, Summer 1986)
"The Return of Noire" by Michael Bullock (Sixteen Stories as They Happened, 1987)
"A Light from Out of Our Heart" by Jules Remedios Faye (Fantasy Macabre #9, 1987)
"Mr. Templeton's Toyshop" by Thomas Wiloch (All the Devils Are Here, 1986)
"The Devil Frolics with a Butler" by Daniel Defoe (The Friendly Demon, 1726)
"The Cats of Ulthar" by H. P. Lovecraft (The Tryout, Nov 1920)
"Dead Dogs" by Denis Tiani (Fantasy & Terror #5, 1985)
"W.D." by David Starkey (Grue Magazine #2, 1986)
"The Drabbletails" by Stephen Gresham (Eldritch Tales No. 7, 1980)
"The Gravedigger and Death" by Rosemary Pardoe (Ghosts & Scholars #5, 1983)
"Taking Care of Bertie" by Janet Fox (Eldritch Tales No. 11, 1985)
"Cardinal Napellus" by Gustav Meyrink (1913, translation from Fantasy Macabre #8, 1986)
"The Coffeepot by Théophile Gautier (1831, translation from Fantasy Macabre #5, 1985)
"Seven" by Stephen-Paul Martin (Asylum, June 1987)
"Chocolate" by Wendy Wees (Fantasy & Terror #3, 1984)
"Mousewoman" by Wendy Wees (Fantasy and Terror #10, 1987)
"Mother Hag" by Steve Rasnic Tem (Grue Magazine #5, 1987)
"Good Thoughts" by W. Paul Ganley (Moonbroth #10, 1973)
"Shirley Is No Longer with Us" by Jody Scott (Windhaven #3, 1978)
"The Ghost of Don Carlos" by Michel Tremblay — translation of "Le Fantôme de Don Carlos," date unknown
"Live on Tape" by Spider Robinson (Stardock #1, Summer 1977)
"The Head of the Hydra Flower" by Carol Reid (original)
"The Manhattan Phone Book (Abridged)" by John Varley (Westercon 37 Program Book, 1984)
"An Image in Twisted Silver" by Charles L. Grant (12th World Fantasy Convention Program, 1986)
"What Used to Be Audrey" by Nina Kiriki Hoffman (Arcane #1, 1984)
"The Day" by David Madison (1969)
"A Thief in the Night" by Jayge Carr (Room of One's Own v6 #1 & 2, 1981)
"Silhouette" by Don Beckett (Paradise Plus: Tales of Another Life, 1985)
"Laugh Kookaberry, Laugh Kookaberry, Gay Your Life Must Be" by John Domini (Bedlam, 1981)
"Azrael's Atonement" by Archie N. Roy (Fantasy Macabre #9, 1987)
"The Eldritch Horror of Oz" by "L. Frank Craftlove" (Phyllis Ann Karr) (1981)
"O, Christmas Tree" by W. H. Pugmire and Jessica Amanda Salmonson (Space and Time, January 1979)
"The Pacific High" by Grant Fjermedal (Fantasy Macabre #10, 1988)
"Jack in the Box" by Ramsey Campbell (Dark Horizons, 1983)
Envoy: The Scythe of Dreams, by Joseph Payne Brennan (Fire and Sleet and Candlelight, 1961) — poem
Appendix I: How to Publish Your Own Shoestring Horror Magazine, by Peggy Nadramia
Appendix II: Current Small Press Horror Magazines
Our previous coverage of Jessica Amanda Salmonson includes:
James Nicoll on Amazons! (2020)
The Golden Age of Science Fiction: Amazons! by Steven H Silver (2019)
Vintage Treasures: Heroic Visions (2015)
See all our recent Vintage Treasures here.