Embroidered Worlds: Fantastic Fiction from Ukraine and the Diaspora
Embroidered Worlds: Fantastic Fiction from Ukraine and the Diaspora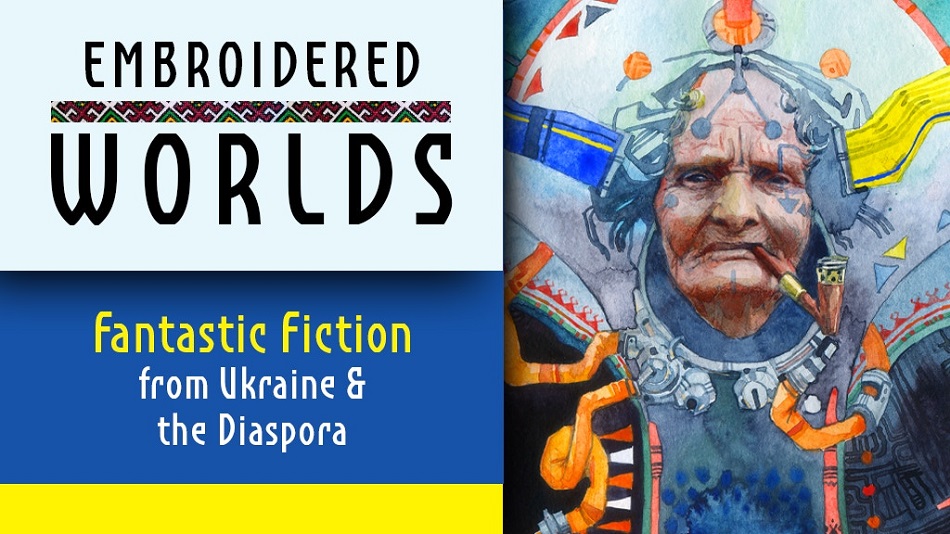 Embroidered Worlds: Fantastic Fiction from Ukraine and the Diaspora
Here is a wild effort to crowdfund a fantastic fiction loaded with meaning. This post consolidates a few press releases with the hope that readers will follow along.
In the early months of the 2022 invasion of Ukraine, writers internationally looked for a way to help raise awareness and funds for humanitarian efforts. Through network and word of mouth, and several transfers of leadership and scope, a more comprehensive project developed. Now, with a primary focus on bringing Ukrainian storytelling to broader global audiences, they hope this book will raise awareness of Ukrainian culture, pride, and literature — and will encourage people to contribute to Ukrainian humanitarian and artistic causes alike.
Embroidered Worlds presents a living snapshot of imaginative fiction in Ukrainian culture today, including stories that span and cross the speculative genres of science fiction, fantasy, horror, weird fiction, magic realism, and alternate history. The majority of stories included in the anthology will be from writers in Ukraine, and for most of them it will be the first time their work will be translated into English. Writers of the Ukrainian diaspora have contributed as well with stories that draw upon their heritage, illustrating the complex and diverse ways we celebrate and re-imagine culture. These writers and their stories are wildly diverse: There are ghosts and monsters, there are spaceships and ancient gods, there are battles — real and imagined — as well as time-travel adventures, post-apocalyptic settings, magic and folk motifs. Through all this amazing storytelling, you will glimpse the ideas and ideals, the history and future, that the Ukrainian people are fighting and dying for.
Translation Costs covered: The Ukrainian Book Institute (Український інститут книги) has awarded the group a generous grant to cover the purchase and translation of the Ukrainian-language stories originally published in Ukraine.
Cover Art covered: Thanks to project supporter Rhiannon Rasmussen, the cover illustrator, Taras Kopansky, has already been paid for the beautiful cover art, with the full license provided to our publication of the book.
Production…  in progress now: Atthis Arts leads a crowdfunding campaign now to raise additional money for the production of the book and the addition of more translations and diaspora stories. The Kickstarter campaign will run through September, so it is live now.
The Anthology: Embroidered Worlds: Fantastic Fiction from Ukraine and the Diaspora
Edited by Valya Dudycz Lupescu, Olha Brylova, and Iryna Pasko.
Translates many Ukrainian stories into English for the first time.
Includes stories written in English from the Ukrainian Diaspora.
Editor: Valya Dudycz Lupescu
Valya Dudycz Lupescu is a writer, poet, and editor living in Chicago. She is the author of the The Silence of Trees, a magical realism novel drawing upon Ukrainian folklore and history, as well as co-author of the nonfiction books Geek Parenting and Forking Good. The first volume of her new graphic novel trilogy, Mother Christmas, was published by Rosarium Publishing in 2022. Valya earned her M.F.A. in writing from the School of the Art Institute of Chicago, and her work has been published in The Year's Best Dark Fantasy & Horror, Kenyon Review, Gone Lawn, Jersey Devil Press, Strange Horizons, Mythic Delirium, and others. She is the founding editor of Conclave: A Journal of Character and co-founder of the Wyrd Words Storytelling Workshop. Valya has been making magic with food and words for more than 30 years, incorporating traditions from her Ukrainian heritage with practices that honor the Earth.  Follow Valya on social media at: https://linktr.ee/valyadl
About the Editor: Olha Brylova
Olha Brylova has lived in Dnipro, Ukraine, since her early childhood and cannot imagine living in a city without a big river. She has studied Japanese language and literature at Oles Honchar Dnipro National University, translated Japanese poetry into Ukrainian, and written several novels; recently, she has been writing screenplays for TV and video games. She dreams of becoming a showrunner of a big SF TV series and is sure that one day she will become one. Olha doesn't fixate on any one particular genre — she has written fantasy, space opera, speculative fiction, and her next big thing is a detective story. She is also a huge cinephile and runs a blog about movies and TV series in partnership with her son Arseniі.  She loves cats, including the one that is nibbling at her toes right now.
About the Editor: Iryna Pasko
Iryna Pasko lives in Dnipro, Ukraine. She graduated from Oles Honchar Dnipro National University, a candidate of philological sciences majoring in Ukrainian literature. She taught at her alma mater from 2013 to 2022, and now works at the New Ukrainian School media and at the Dnipro Art Museum. Iryna has been shortlisted for the ProМинуле historical short story contest three times; and she has twice won the Starfort (Зоряна фортеця) fantastic short story contest. In 2021, Iryna was a finalist in the all-Ukrainian poetry competition Granoslov. In 2021-2022, she participated in the "Independence Agency" project, a collection of fantastic stories dedicated to the 30th anniversary of the restoration of Ukraine's Independence; and Legendarium of the Wonder Cities (retellings of fairy tales). In 2022, Iryna wrote the online comic "Things" ("Речі") about the experience of living the war in a relatively safe city, and she co-organized the fantasy-poetry competitions at the Аль Мор festival (2022) and the story competition #рак_боятись_не_можна (2022-2023). Before the full-scale war, Iryna collaborated with the Book Space Dnipro and Gogolfest (in Dnipro and Mariupol), as a lecturer and tour guide.
About the Publisher, Atthis Arts
Atthis Arts is a small, indie press out of Detroit Michigan who honors the author's authentic voice as the core of their projects, strives for thoughtfulness in writing and publishing, and loves to connect with their community of readers. Atthis Arts has won Independent Book Publishers Association Benjamin Franklin Awards in three separate categories: Fiction: Science Fiction & Fantasy, Graphic Novel, and Best New Voice: Fiction. The press is led by E.D.E. Bell, 2022 Editor Guest of Honour for The Conference on Canadian Content in Speculative Arts and Literature (Can*Con), co-lead for Gen Con Writers' Symposium programming, and award-winning quiet fantasy author. Atthis Arts is publishing two anthologies this year, the other being a collection of stories celebrating scientists of marginalized genders, edited by Lambda and Hugo Award-Winning editor Bogi Takács.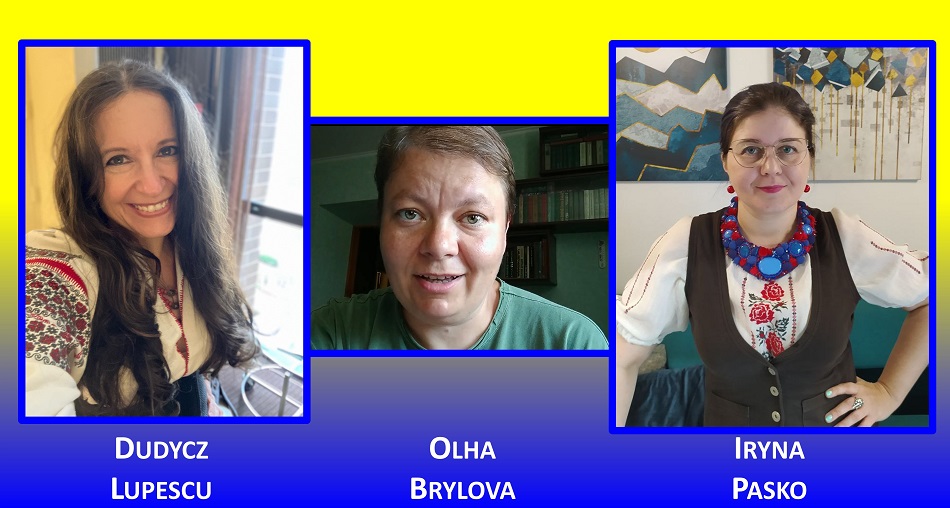 ---