Revisiting Mordenkainen's Fantastic Adventure by Rob Kuntz and Gary Gygax
Revisiting Mordenkainen's Fantastic Adventure by Rob Kuntz and Gary Gygax

Mordenkainen's Fantastic Adventure by Rob Kuntz and Gary Gygax (TSR, 1984)
and Dungeon Magazine 112 (Paizo, July 2004). Covers by Clyde Caldwell, Wayne Reynolds
As we approach the 50th anniversary of Dungeons & Dragons, I recalled and located Dungeon Magazine #112, published by Paizo, which was released for the 30th anniversary of D&D.
This issue featured a retread of the classic AD&D World of Greyhawk adventure module, Mordenkainen's Fantastic Adventure, by Rob Kuntz and Gary Gygax. It was updated by Erik Mona and company for the (then current) third edition of D&D and retitled Maure Castle.
[Click the images for fantastic adventure versions.]

Back cover of Mordenkainen's Fantastic Adventure, and interior from Dungeon Magazine 112
MC retains most of the original flavor (which is almost all Kuntz, I believe) of MFA, but reorganizes and expands the scope of things. So, the original, three-level, 67-encounter classic grew into a four-level, 124-encounter updated adventure.
The revised format is clean, readable, and more well-organized, but the art is (IMO) a serious downgrade from the original work by Easley and Caldwell.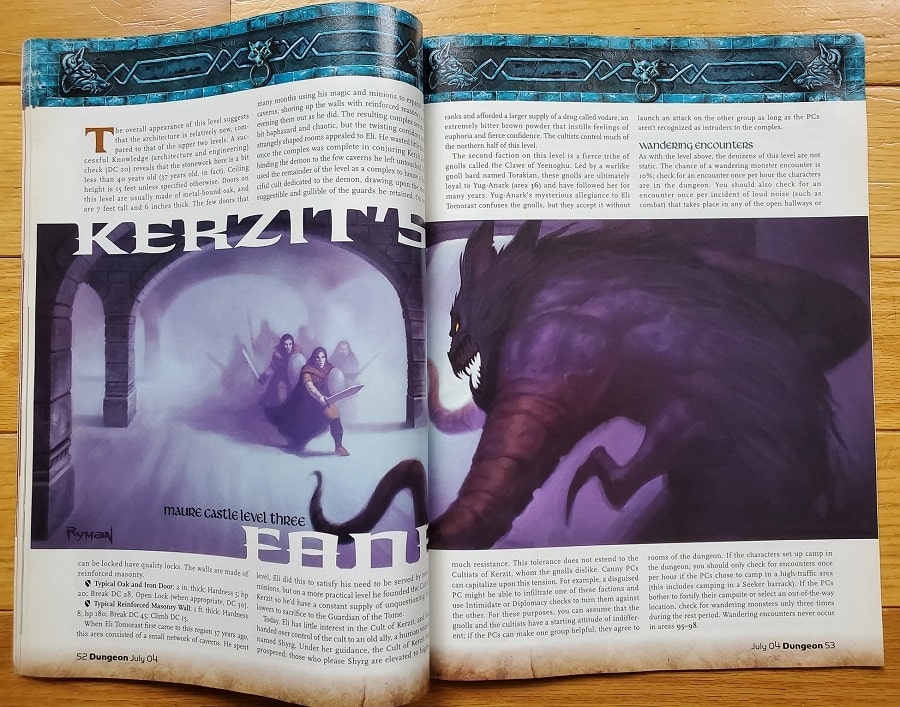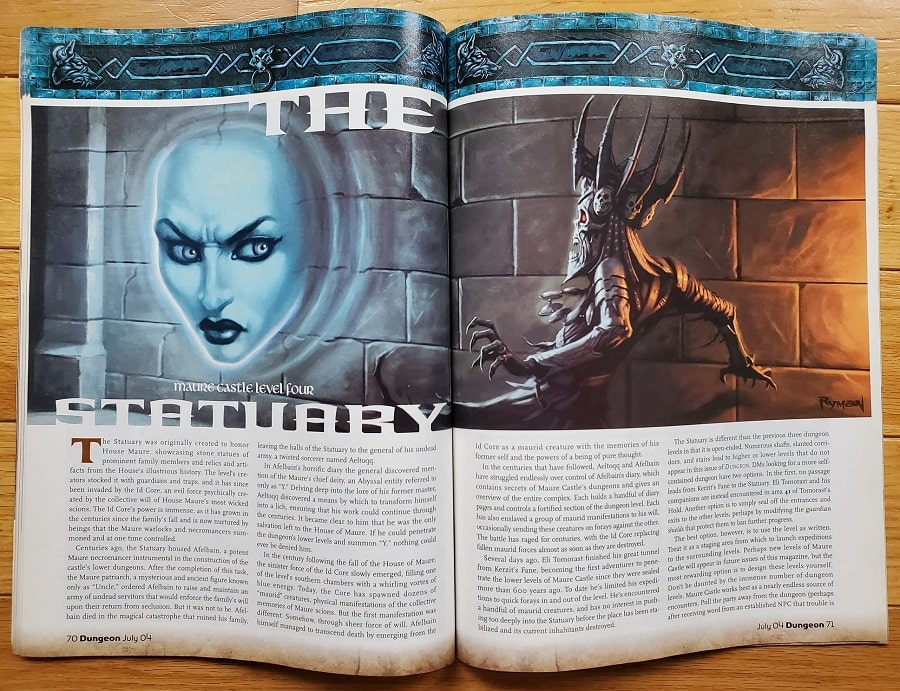 While I haven't conducted a textual analysis to compare the original AD&D version with this update, from what I have read I do believe the spirit of the original was retained and that the expansions don't disgrace it.
This probably stems from Mona's love for Greyhawk — and his appreciation for its originators and the lore they created. I am curious as to why the third level of the dungeon was flipped upside down for the updated version. Editorial choice, or was the original in error?

Maps from Maure Castle (Dungeon Magazine #112)
Lastly, has anyone actually run this adventure? If so, how did it go?
Read a PDF version of Dungeon Magazine 112 at Annarchive.com.
---
Jeffrey P. Talanian's last article for Black Gate was A Modern Gaming Classic: Against the Giants by Gary Gygax. He is the creator and publisher of the Hyperborea sword-and-sorcery and weird science-fantasy RPG from North Wind Adventures. He was the co-author, with E. Gary Gygax, of the Castle Zagyg releases, including several Yggsburgh city supplements, Castle Zagyg: The East Mark Gazetteer, and Castle Zagyg: The Upper Works. Read Gabe Gybing's interview with Jeffrey here, and follow his latest projects on Facebook and at www.hyperborea.tv.