Vintage Treasures: The Gate of Ivory Trilogy by Doris Egan
Vintage Treasures: The Gate of Ivory Trilogy by Doris Egan

The Gate of Ivory, Two-Bit Heroes, and Guilt-Edged Ivory (DAW Books, 1989-1992). Cover art by Richard Hescox
Doris Egan is a successful screenwriter and producer with a very impressive resume. She's worked on dozens of shows since the early 90s, with screenwriting credits on Dark Angel, Smallville, Numb3rs, House, Torchwood, Black Sails, and The Good Doctor. She was a producer for Smallville, NCIS, Skin, Tru Calling, House, Krypton, Swamp Thing, and many others.
But before Hollywood came calling, she was a fast-rising science fiction author. Her debut novel The Gate of Ivory (1989) — the tale of an anthropology student stranded on the isolated planet Ivory, the only place in the galaxy where magic actually works — was nominated for a Locus Award and the Compton Crook Award for Best First Novel, and was followed in rapid succession by Two-Bit Heroes (1992) and Guilt-Edged Ivory (also 1992).
While Egan's Hollywood career made her the envy of every midlist SF writer, there are those of us who wonder what science fiction lost when she was lured to Tinseltown.
[Click the images to gate to larger versions.]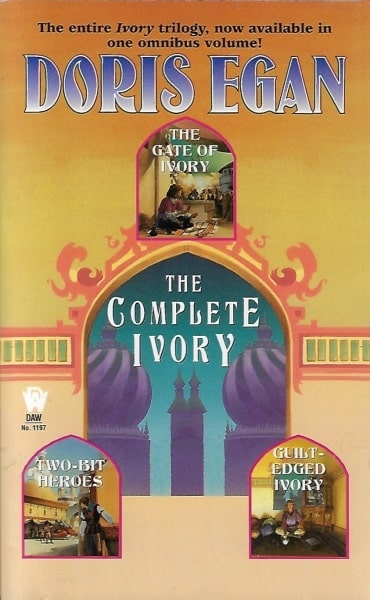 The Complete Ivory omnibus edition
(DAW, September 2001). Cover by Richard Hescox
In his 2022 review James Nicoll calls The Gate of Ivory trilogy a "cozy science fantasy… The characters are endearing, the plot moves along nicely, and the volume in hand is not overlong."
But SF Chronicle's reviewer Don D'Ammassa is the guy who first tipped me off to this series, back in the 80s:
Theodora, a researcher from Earth on the planet Ivory, is robbed of her money and forced to sustain herself by performing as a fortune teller in a bazaar. Ivory is a planet unique in the known worlds, however, for although most of its magic seems no more than a simple fraud, the fact is that magic does sometimes work on the planet. While pursuing this occupation, she attracts the attention of Ran Cormallon, the head of a powerful family attempting to raise its level of prestige within the society of Ivory.

Much to her own surprise, Theodora discovers that under certain circumstances, she can read a set of cards and make predictions about the future, spot dangerous situations where no clear evidence is available, and generally advise her new employer in difficult situations. The more she practices this art, the better she becomes at it.

Cormallon is properly appreciative, and after a number of encounters, a bond begins to develop between the two, and she is invited into the inner circle of the family, a very great honor on this world. There she slowly begins to understand the complex web of customs that governs the behavior of the families, while accumulating the money which she will eventually need to leave the planet and return to her own world.

Unfortunately, it happens that practicing sorcery is against the law on Ivory, and although the authorities normally turn a blind eye to it, this provides a convenient excuse when political enemies wish to make things inconvenient for their rivals. Cormallon and his family have a number of powerful rivals, and his enlistment of Theodora, whose growing abilities begin to attract attention, makes him peculiarly vulnerable to this form of attack.

The situation becomes ever more confused. Someone is persistently attempting to murder Theodora, or trap her into being blamed for a crime. Ran is trapped in the web of deceit as well, and is eventually disowned by his own family. It appears that the two of them have challenged powers determined not to be defeated, and they will be lucky to escape with their lives, let alone their fortunes.

Doris Egan's first novel is a fine blend of fantasy and SF themes, and her world and society could become serious rivals to the popularity of similar books by Marion Zimmer Bradley and C.J.Cherryh. In addition to creating interesting characters and situations, she has a fine grasp of narrative pace and plot development. The action may pause, but it never quite stops as the relationship between the two protagonists evolves, just as their status at large changes. A very auspicious debut and a fine otherworlds adventure story.
Reviewer Margaret Miles at Voya magazine had the best summary of the second novel I've found.
Folklore student Theodora really had meant to return to the intellectual calm of university life on Athena, but her fascination with Ivory's sorcerous culture – and with the professional sorcerer Ran Cormallon in particular – embroils her in another Ivoran adventure. She and Ran are in the process of being married (an Ivoran wedding stretches over four successive lunar conjunctions) when a sorcery/investigation job in the outlaw-ridden Northwest Sector lands them in the hands of Stereth Tar'krim, the most famous outlaw of them all. The outlaws want an Imperial pardon; Theo just wants freedom for herself and Ran. Not even a folklorist could really have supposed that a casual mention of Robin Hood in Stereth's hearing would solve everybody's problems.

In this sequel to The Gate of Ivory, Egan adds an increasingly sure hand with major characters and plot to the talent for culture-building which the first novel demonstrated… Theo is becoming a really memorable central character/narrator, and her wry, self-amused, you're-not-going-to-believe-what-happened-next commentary is one of the most enjoyable aspects of the whole hair-raising adventure. Her tone, in fact, is reminiscent of the best romantic-suspense heroines. Egan's science fiction/fantasy/romance has appeal for readers of all three genres, and fans of writers from Lois McMaster Bujold to Marion Zimmer Bradley to Elizabeth Peters will all find something to enjoy here.
Here's Locus reviewer Carolyn Cushman on the third volume.
Doris Egan's Ivory series is somewhat unusual in the genre, so far offering a complete adventure in each book. Already marked by its delightful and distinctive combination of sf and fantasy, the third novel, Guilt-Edged Ivory, adds mystery. When the heir to one of the planet Ivory's highest houses is murdered by magic, the sorcerer-assassion Ran Cormallon and his offworlder wife Theodora are called in to find the killer. The summation could have been snappier, but otherwise the detective mystery works quite well, something hard to achieve when magic's involved. A parallel plot, centered on Ran and Theodora's attempts to have children, is less successful, but has some interesting developments. There's plenty of action, and not a little humor. Newcomers might miss some of the in-jokes, but overall enough explanations are made in progress for even the uninitiated to enjoy the oddities of Ivory.
All three books were published by DAW. They have been out of print for over 30 years, and there are no digital editions.
Fortunately DAW has the splendid habit of repackaging their most popular series in handsome and affordable omnibus editions (see our 2019 survey of many of the best here), and The Gate of Ivory trilogy was no exception. The paperback omnibus The Complete Ivory was released in 2001; as of this afternoon, there are half a dozen used copies available for under $10 on eBay.

City of Diamond (DAW Books, March 1996). Cover art by Romas Kukalis
Doris Egan published only one other science fiction novel, City of Diamond (1996), released under the name Jane Emerson. I still wonder what she might have accomplished if she'd stayed with the printed word. Maybe we'll find out someday. (In his 2022 review, James Nicoll points to this Twitter thread from last September in which Egan says "I'm in my 60s, a hard-eyed gunslinger who's just looking to return to their spouse (books). Because, writing. Not fighting.")
Here's the complete publishing details for the City of Ivory trilogy.
The Gate of Ivory (319 pages, $3.95 in paperback, February 1989)
Two-Bit Heroes (319 pages, $4.99 in paperback, January 1992)
Guilt-Edged Ivory (316 pages, $4.99 in paperback, September 1992)
The Complete Ivory (896 pages, $7.95 in paperback, September 2001)
All four books were published in paperback by DAW, with cover art by Richard Hescox. See more details (including more reviews) at Egan's excellent website, and check out her full list of production credits at Wikipedia.
See all our recent Vintage Treasures here.