The New Weird Tales
The New Weird Tales

Weird Tales #366, the Sword & Sorcery issue (January 2023), and #367, the
Cosmic Horror issue (May 2023). Covers by Bob Eggleton and Mike Mignola
I ordered a copy of the new Sword & Sorcery issue of Weird Tales last year, and it finally arrived a few weeks ago — so late that I almost forgot I ordered it.
But it did arrive — and turned out to be damn impressive. A huge oversize (8×10) issue in full color, with terrific front and back covers by Bob Eggleton and Archer H. Anglow (see below), and weighing in at 128 pages. The stellar TOC includes a new Elric tale by Michael Moorcock, plus Kevin J. Anderson, Marguerite Reed, and Black Gate's own Howard Andrew Jones (an exclusive excerpt from his upcoming book Lord of the Shattered Land), along with an appreciation of Moorcock by Neil Gaiman, and a delightful full-color article on Sword & Sorcery by Charles R. Rutledge.
Issue 367, shipping next month, looks even more impressive. The Cosmic Horror issue offers an eye-catching Hellboy cover by Mike Mignola, a Hellboy story by Mike Mignola and Christopher Golden, plus new work from Ramsey Campbell, Paul Cornell, Caitlin R. Kiernan, Nancy Kilpatrick, Tim Lebbon, F. Paul Wilson, and lots more.
[Click the images for weirder versions.]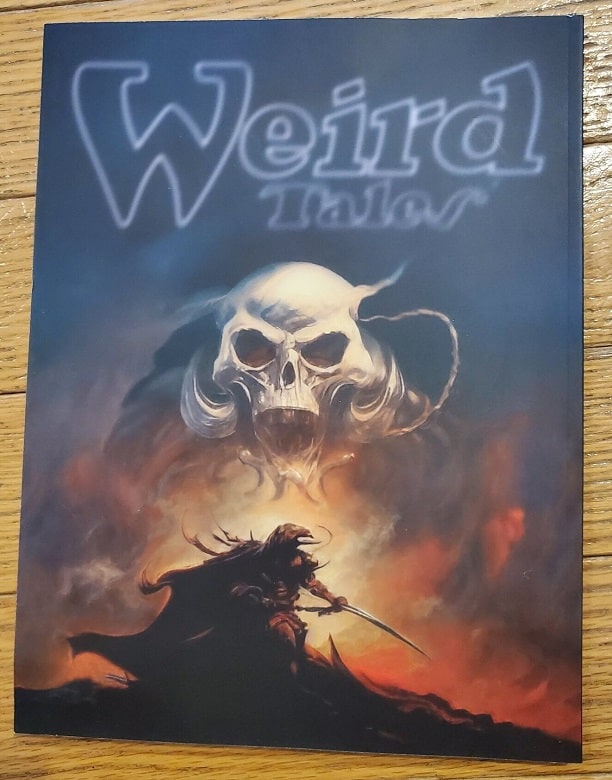 Back cover to Weird Tales 366 by Archer H. Anglow
Weird Tales is edited by Jonathan Maberry, who took over with issue 364. The previous editor Marvin Kaye, who managed only four issues over nine years, passed away in May 2021. Beginning with #364, the magazine has returned to a much more regular schedule, and in fact with the upcoming issue will have managed four very full issues in the last two years, which is a cornucopia of riches for long-starved Weird Tales readers.
Let's take a closer look at the issues themselves. You can order the Cosmic Horror issue (#367) right here for just $14. Here's what you have to look forward to:
The first issue in the second century of Weird Tales features a cover and new HELLBOY story by Mike Mignola and Christopher Golden. Our Editor Jonathan Maberry has built a collection of cosmic horror that will destabilize your worldview. Other new work by Ramsey Campbell, Paul Cornell, Nicholas Diak, Carol Gyzander, Caitlin R. Kiernan, Nancy Kilpatrick, Tim Lebbon, Nicole Sixx, Angela Yuriko Smith, Francesco Tignini, Samantha Underhill, and F. Paul Wilson.

It ships May of 2023.
The now-classic S&S issue (#366) is likewise $14 for a very full 128 pages; order copies here. It was published January 10, 2023, and contains a new Elric story by Michael Moorcock, an excerpt from Howard Andrew Jones' upcoming Lord of the Shattered Land, plus fiction from Greg Cox, Kevin J. Anderson, and lots more. Here's the complete Table of Contents.
The Eyrie, by Jonathan Maberry
"Cold Ice, Red Blood," Kevin J. Anderson
A Word Before the Ice Wars, Bruce Boston (poem)
Sword & Sorcery: Weird Tales and Beyond, Charles Rutledge
"The Road to Kirinmoir," Michael Moorcock
An Interview with Michael Moorcock, Weston Ochse
On Michael Moorcock, Neil Gaiman
"Guardian of the Sapphire Sword," Greg Cox
The Girl Speaks to the Mage · Jane Yolen (poem)
"Maid of Steel," Dana Fredsti & David Fitzgerald
Bard, Teel James Glenn (poem)
"Temm the Riven," Brian W. Matthews
The Gates of Katharion, Maxwell I. Gold (poem)
"Three Winters," James A. Moore
"Hunting the Winter Witch," Greg Mollin
"Misbegotten," Marguerite Reed
"The Warrior's Way," Howard Andrew Jones
Back cover by Archer H. Anglow

Weird Tales #364 and #365. Covers by Lynne Hansen
Issues 364 and 365 are both still available.
Issue 365 was published September 20, 2022. It is 96 pages, priced at $12.99. Here's the complete Table of Contents.
The Eyrie, by Jonathan Maberry
"Her Happy Place" by Alma Katsu
"The Thing in Jesse's House" by Heather Graham
"The Dreams in the Cipher House" by Maurice Broaddus
"Shadow Plane" by Fran Wilde
"Tales from Alexandria" by Priya Sharma
"The Secret Priest" by Anne Walsh (poetry)
"Apocalypse Lights" by Yvonne Navarro
"Devoured by the Soiled and Peeling Wallpaper" by Jake Bible
"The Beast of Bray Road" by Gabrielle Faust
"A Beautiful Darkness" by Christina Sng (poetry)
The Beast of Bray Road, by Gabrielle Faust (non-fiction)
Issue 364 was published December 21, 2020. It is 84 pages, priced at $12.99. Here's the description and complete TOC.
Evil space plants, lecherous dragons, and the mysteries of the vampire haunt the stories of Weird Tales #364.

"Too Late Now" by Seanan McGuire
"Ellende" by Gregory Frost
"Hats" by Joe R. Lansdale
"Lightning Lizzie" by Marie Whittaker
"Last Days" by Dacre Stoker and Leverett Butts
"The Beguiled Grave" by Marguerite Reed
"The Last War" by Linda Addison (Poetry)
"To the Marrow" by Rena Mason
"Feathers" by Tim Waggoner
"Trailer Park Nightmare" by Gabrielle Faust
"No One Survives the Beach" by Weston Ochse
"The Good Wife" by Lee Murray
"The Canal" by Alessandro Manzetti (Poetry)
Earlier tonight I attended the Saturday evening auction at the Windy City Pulp and Paper convention in Lombard, Illinois, my favorite convention. Over the last few years Doug Ellis and the staff at Windy City have been steadily auctioning off the vast pulp collection of Bob Weinberg, including a legendary set of high-quality Weird Tales.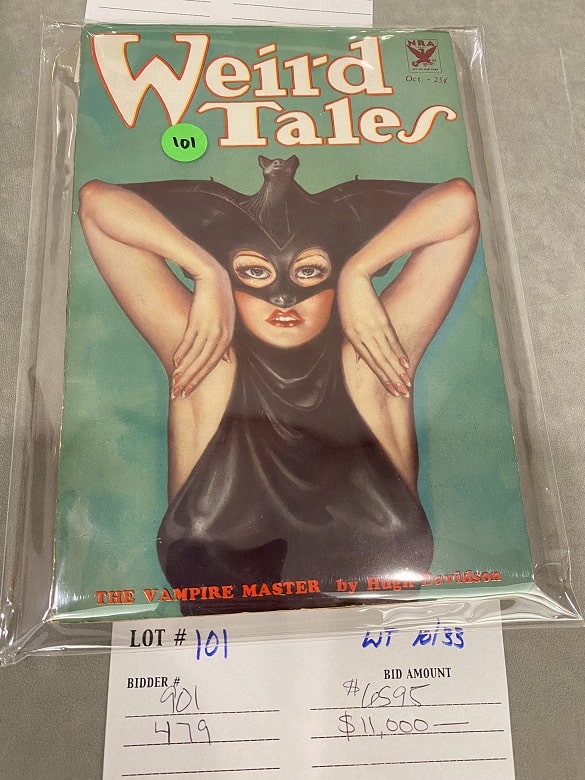 The first two bids for the October 1933 issue of Weird Tales
at the Windy City Pup and Paper Auction, including a bid for $11,000 
I won a complete set of Science Wonder pulps at the Friday auction for $230, but I had leave early tonight and wasn't able to attend the auction (mostly because I was out of money and it would be too heartbreaking to watch all those beautiful pulps be auction off.)
I did peruse the lots up for bid in the auction preview room, where determined bidders were making early silent bids on many items — including an $11,000 bid for the October 1933 issue of Weird Tales (above). Randy Broecker tells me the issue eventually sold for $13,000 — and the December 1932 issue, with Robert E. Howard's first Conan story, sold for $14,000.
I did take a few quick snapshots of a small sample of the pulps going up for auction tonight; I've reproduced a few below (click the images for bigger versions). Enjoy.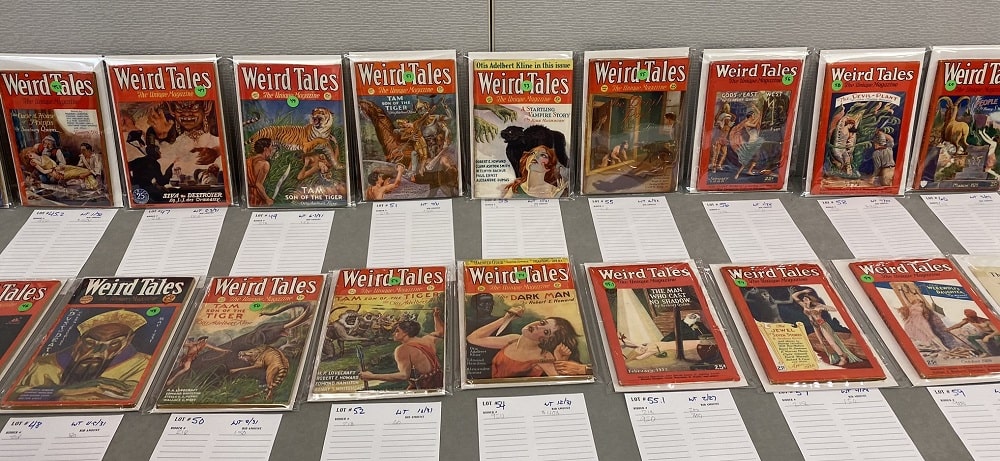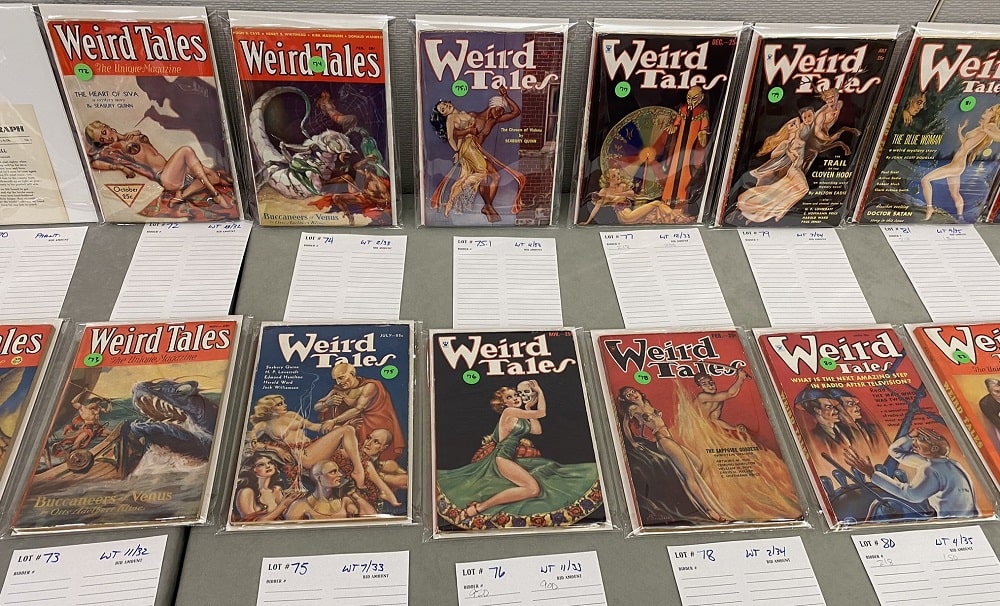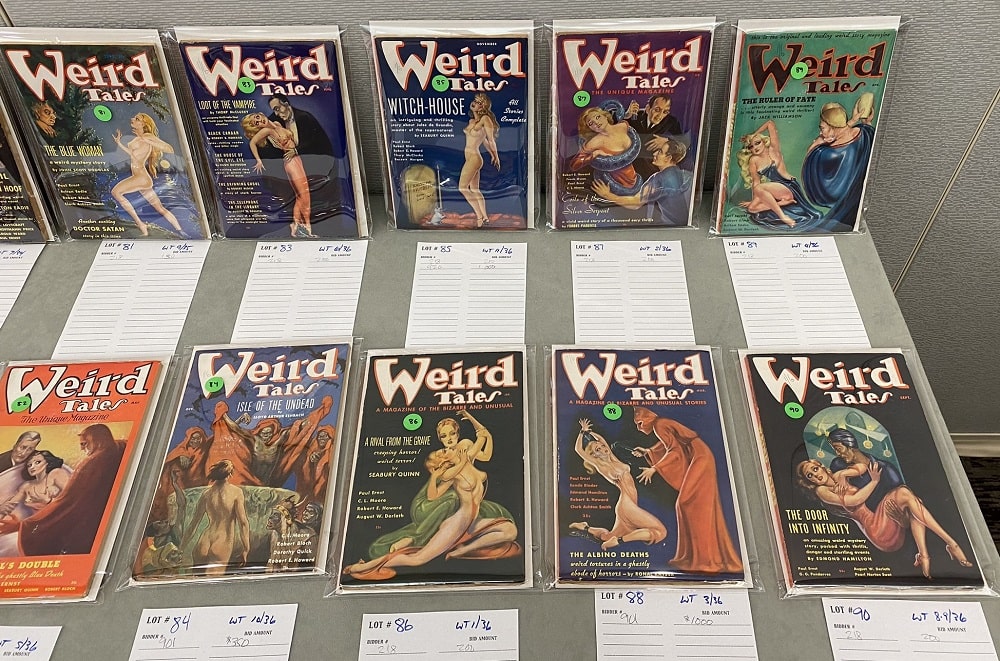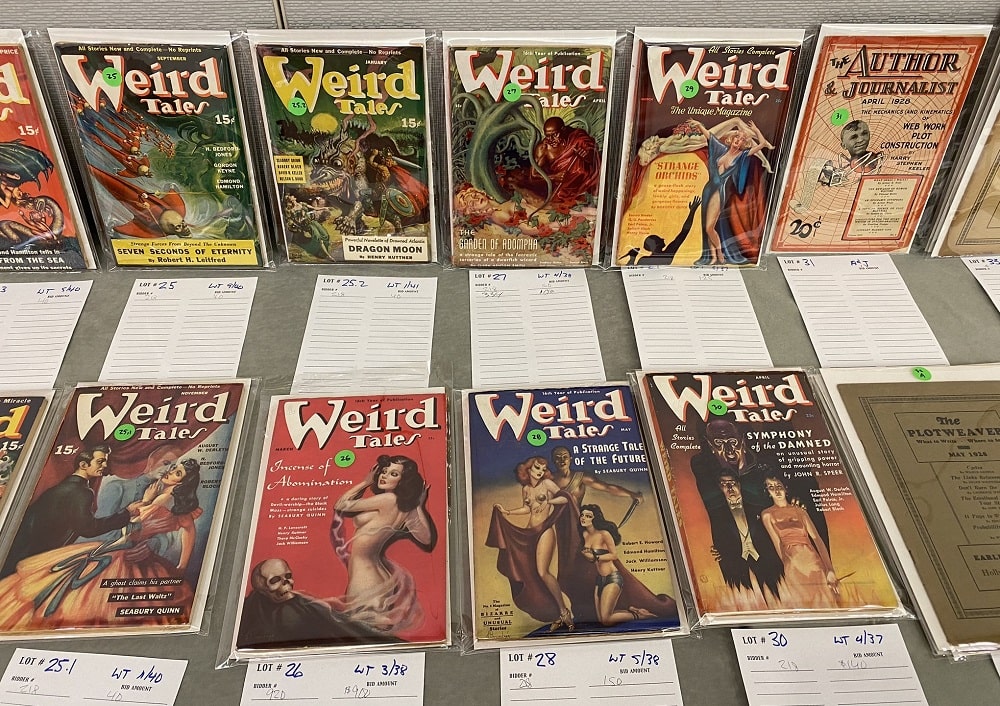 Before he died in 2021, John Miller conducted some thoughtful Deep Reads of the original Weird Tales pulps here at Black Gate; check them out below.
Weird Tales Deep Read: May 1923
Weird Tales, June, 1923
Weird Tales, March 1933
Weird Tales, July 1933
Weird Tales, August 1934
Weird Tales, October 1934
Weird Tales, November 1934
Weird Tales, January 1936
Weird Tales, February 1936
Weird Tales, July 1936
Weird Tales, January 1945
Some of our other Weird Tales coverage includes:
Cozy Catastrophes and Sinister Archaeology: Weird Tales #364, reviewed by Derek Austin Johnson (2021)
Weird Tales 364 Arrives (2021)
Women Do It Better? The Women of Weird Tales, from Valancourt Books by Mario Guslandi (2020)
Yes, Weird Tales is Back
The Weird Tales Anthologies by John O'Neill (2019)
Weird Tales Reprints Published by Goodman Games by Howard Andrew Jones (2016)
Joe Bonadonna Reports on Weird Tales (2016)
Is Weird Tales Dead… Again? by John O'Neill (2016)
New Treasures: The Unique Legacy of Weird Tales edited by Justin Everett and Jeffrey H. Shanks by John O'Neill (2015)
Vintage Treasures: Weird Tales #290 by John O'Neill (2014)
Weird Tales 362 on Sale Soon! by John O'Neill (2014)
Weird Tales is edited by Jonathan Maberry and published by Weird Tales, Inc. This issue is 165 pages (digital), priced at $12.99 for the print edition and $9.99 for the digital version. The cover is by Lynne Hansen. Order issues directly at the website here.
See all our recent magazine coverage here.