The Modern Horrors of Ronald Malfi
The Modern Horrors of Ronald Malfi

Black Mouth and Ghostwritten (Titan Books, July 2022, October 2022). Cover designs by Julia Lloyd
There's nothing quite like a thoroughly unexpected discovery in a good bookstore.
I couldn't find the last Dell Magazines at my local Barnes & Noble in nearby Geneva, Illinois. So before Christmas I made a snowy road trip to the B&N superstore in Naperville. I didn't find the magazines I wanted (what the heck, B&N magazine clerks??), but the 20 minutes I spent browsing their Science Fiction & Fantasy section turned out to be enormously rewarding anyway.
Possibly the most consequential discovery I made was a small section of shelving real estate devoted to a horror writer I'd never heard of, Ronald Malfi. I ended up taking two of his books home with me, Black Mouth and Ghostwritten, and spending time this week tracking down the rest online.
[Click the images for more horrifying versions.]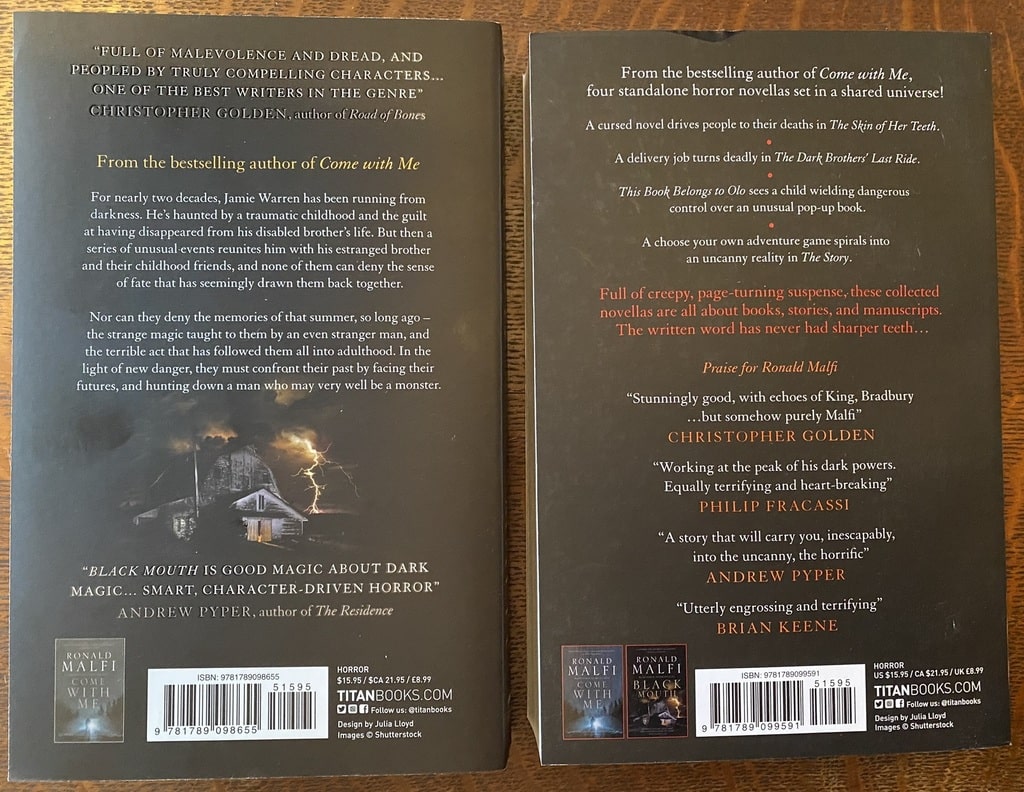 Back covers for Black Mouth and Ghostwritten. Click for bigger versions.
The two I chose, Black Mouth and Ghostwritten, looked like delicious creepy modern horror tales, just what I wanted for the coming long winter nights. Ghostwritten, a collection of four long novellas, had extra appeal, as I don't find too many outlets for novella-length horror these days.
Maybe I'm the only person who seeks out reviews after they've made an impulse buy of a stack of new books (or maybe it's all part of the same compulsion, I dunno). But the reviews I found were excellent, like this one by Gabino Iglesias at Locus Online.
Ronald Malfi is one of the most consistent pur­veyors of great horror fiction, and Black Mouth is a superb addition to his outstanding oeuvre. A creepy novel about a man getting kids to kill other kids, Black Mouth is a gritty narrative about battling alcoholism and inner demons, leaving the past behind, and the power of friend­ship. It's also a coming-of-age tale submerged in the harsh realities of a broken small town.

Jamie Warren left Black Mouth almost two decades ago, and he never looked back. He left behind his mom, his brother Dennis, who has psychosocial disabilities, the haunting ghost of his abusive, alcoholic father, and the guilt of a night when everything went wrong and he was involved in the death of a young woman and a baby. More than running away from his family, Jamie was running away from the darkness of Black Mouth, the thing that happened to him and his friends with a mysterious homeless man who lived in the woods, and the horrible aftermath of his actions. Unfortunately, Jamie's mother has passed away, and he must head back to town, to the house where he spent a traumatized childhood, and take over the care of his brother while he figures out how to help him. Back in town, one of his childhood friends, Mia, shows him a picture of the man they'd met in woods, a magician who made them and their friend Clay, his apprentices before changing their lives forever in the worst way possible….

While Malfi gets many things right in this book, there are a few that make it a must-read. The first one is the way he allows real monsters to share space with and be as awful as supernatural ones… Brutal, packed with magic, and with an interest­ing cast of characters who are all outsiders, Black Mouth is creepy, violent, heartfelt horror fiction that has something for every kind of reader. It's also a book that cements Malfi as one of the most excit­ing and consistent voices in contemporary horror.
And this rave review for Ghostwritten by Tony Jones, at Ginger Nuts of Horror.
Ronald Malfi continues his outstanding literary purple patch with Titan Books and his third stellar release in as many years. He follows the two excellent best horror thrillers Come With Me (2021) and Black Mouth (2022) with Ghostwritten, which consists of four novellas loosely interconnected by the theme of books…

The collection opens in style with "The Skin of Her Teeth," featuring a cursed novel which eventually drives people to their deaths. Gloria Grossman is a book agent whose client Davis McElroy has been commissioned to write the film script of an extraordinarily successful horror novel and she begins to get jumpy when nothing is heard from McElroy and she decides to head out to his remote writing retreat. She discovers a dishevelled mess, rambling incoherently about how the book he is scripting is dangerous and that he has it nailed down in a box….

"The Dark Brothers' Last Ride" is an entirely different beast from its predecessor in which two lowlife gangsters are hired to transport what they are told is a book in a locked briefcase to a remote destination. They are given extremely specific instructions on exactly where to go (and it's not the quickest or most sensible route) but the most important rule to follow is whatever goes down; do not open the briefcase!… What follows is one of the weirdest and wackiest road trips I have come across in a while as the pair head into very dark otherworldly territory. This story was blessed with a couple of very unsettling scenes, when the brothers are being seemingly stalked and another when they stop off in a deserted town and things just do not add up. The banter between the long-suffering Danny and his idiot brother Tommy was great fun, but remember, whatever happens do not open the briefcase! Yeah, right.

"This Book Belongs to Olo" was a cool play on the creepy kid tale mashed up with The Babadook. From the strange opening you will realise a treat lies ahead; a kid arrives at the local park wearing unfashionable clothes and an out-of-season Halloween mask and invites everybody there to his birthday party… "Olo" will quickly put your teeth on edge in a tale which smoothly blends police procedural, childhood bullying, loneliness, and neglect before heading into dark fantasy and the unsettling contents of his wonderfully sinister and deadly book.

The final entry "The Story" was probably my favourite… If you are in your forties or fifties you might remember the Fighting Fantasy adventure books by Steve Jackson and Ian Livingstone which started with The Warlock of Firetop Mountain back in 1982 and spawned a host of sequels.. "The Story" is built around an online version of one of these choose-your-own adventure game which spirals into an uncanny reality where the players have to make genuine life or death choices….

Ronald Malfi is a terrific horror novelist and his edge is just as sharp at novella length fiction.
Malfi currently has two additional books out from Titan; another novel, Come With Me, and another collection of novellas, They Lurk, coming in July.

Come With Me and They Lurk (Titan Books, July 2021, July 2023)
Here's the complete details on all four Titan titles from Ronald Malfi.
Come With Me (400 pages, $15.95 in trade paperback/$9.99 digital, July 20, 2021)
Ghostwritten (458 pages, $15.95 in trade paperback/$9.99 digital, October 11, 2022
Black Mouth (436 pages, $15.95 in trade paperback/$9.99 digital, July 19, 2022)
They Lurk (Trade paperback and digital formats, July 18, 2023)
See all our latest New Treasures here.