The Best American Science Fiction And Fantasy 2022, edited by Rebecca Roanhorse and John Joseph Adams
The Best American Science Fiction And Fantasy 2022, edited by Rebecca Roanhorse and John Joseph Adams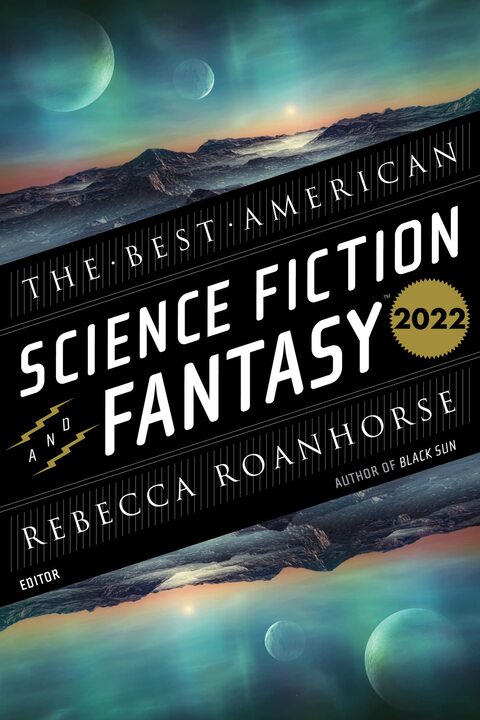 The Best American Science Fiction And Fantasy 2022 (Mariner Books, November 1, 2022)
The busier I get, the more I treasure editors. If there are unsung heroes in this business, they are the tireless editors who read towering stacks of unsolicited subs to sift out those few precious treasures that get you and me excited to go to the bookstore.
I appreciate editors of all kinds these days. The ones who acquire novels; the ones who edit magazines. But I especially cherish those who comb through hundreds of stories in venues large and small to bring us Year's Best volumes every year. John Joseph Adams has been editing The Best American Science Fiction and Fantasy since 2015, each year with a distinguished co-editor, and this year he partnered with Rebecca Roanhorse, author of Trail of Lightning, the 2019 Locus Award winner for Best First Novel, to bring us the eighth volume in the series, this one containing stories by Kelly Link, P. Djèlí Clark, Caroline M. Yoachim, Stephen Graham Jones, Aimee Ogden, Meg Elison, Nalo Hopkinson, Rich Larson, Sam J. Miller, and many others.
Here's the complete Table of Contents.
FANTASY
"The Captain and the Quartermaster by C.L. Clark, from Beneath Ceaseless Skies
"Colors of the Immortal Palette" by Caroline M. Yoachim, from Uncanny
"L'Esprit de L'Escalier" by Catherynne M. Valente, from Tor.com
"The Red Mother" by Elizabeth Bear, from Tor.com
"The Cloud Lake Unicorn" by Karen Russell, from Conjunctions
"Skindler's Veil" by Kelly Link, from When Things Get Dark
"The Frankly Impossible Weight of Han" by Maria Dong, from khōréō
"If the Martians Have Magic" by P. Djèlí Clark, from Uncanny
"I Was a Teenage Space Jockey" by Stephen Graham Jones, from Lightspeed
"10 Steps to a Whole New You" by Tonya Liburd, from Fantasy
SCIENCE FICTION
"The Cold Calculations" by Aimee Ogden, from Clarkesworld
"Root Rot" by Fargo Tbakhi, from Apex
"Proof of Induction" by José Pablo Iriarte, from Uncanny
"The Algorithm Will See You Now" by Justin C. Key, from Vital: The Future of Healthcare
"Delete Your First Memory For Free" by Kel Coleman, from FIYAH
"The Pizza Boy" by Meg Elison, from The Magazine of Fantasy & Science Fiction
"Broad Dutty Water: A Sunken Story" by Nalo Hopkinson, from The Magazine of Fantasy & Science Fiction
"The Future Library" by Peng Shepherd, from Tor.com
"Tripping Through Time" by Rich Larson, from Dark Matter
"Let All the Children Boogie" by Sam J. Miller, from Tor.com
The Best American Science Fiction And Fantasy 2022 was published by Mariner Books on November 1, 2022. It is 432 pages, priced at $17.99 in trade paperback and $11.99 in digital formats.
See all our recent coverage of the best new SF and fantasy here.