Goth Chick News: Letting the Right One in Again
Goth Chick News: Letting the Right One in Again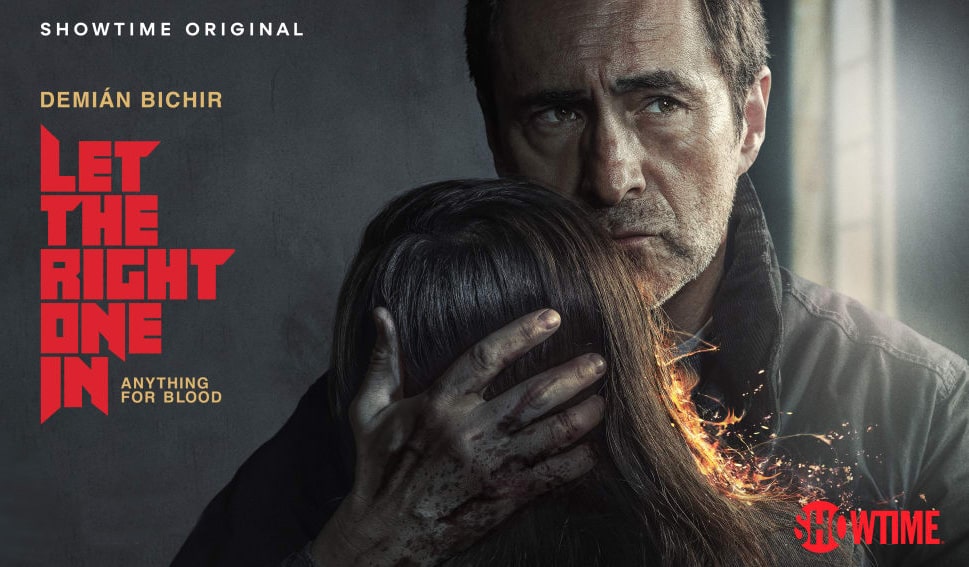 Let the Right One In (Showtime Original)
With the Fall comes all manner of scary goodness to watch on both the big and small screens. As I've mentioned, vampires seem to be the monster-du-jour for 2022, though one might have expected zombies, with C19 still in the news. Still, I'm not complaining one bit, even when the offerings are less than stellar, as was the case with The Invitation. We can still look forward to the Interview with the Vampire series coming soon to AMC, and (maybe) House of Darkness, which started streaming this week on YouTube (if you've already seen it, don't tell me anything).
And then there's this.
Thanks to Stoker's Dracula, one could argue that all the vampire stories that have come after are simply different takes on the same core idea; and you wouldn't be far wrong. For instance, The Invitation was pretty much a modern take on Dracula's brides. But to me at least, things are getting weird in the entertainment industry, when vampire tales begin… well… eating themselves.
Case in point is the vampire story, Let the Right One In.

Let the Right One In (Quercus Publishing UK, 2009), and retitled version (St. Martin's Griffin, 2010)
This unique take on the Dracula story, in which the vampire is a little girl, began its life in 2004 as a novel by Swedish author John Ajvide Lindqvist. In 2008 came the movie version, filmed in Sweden with Swedish actors and released in the US with English subtitles.
I will pause here to say I first read Lindqvist's book and then saw the movie, which I thought was superb in its ability to capture the atmosphere of the book. It was shocking, bleak violence interwoven with innocence; not solely about the vampire, but also about the pitiable existence of the little boy she befriends.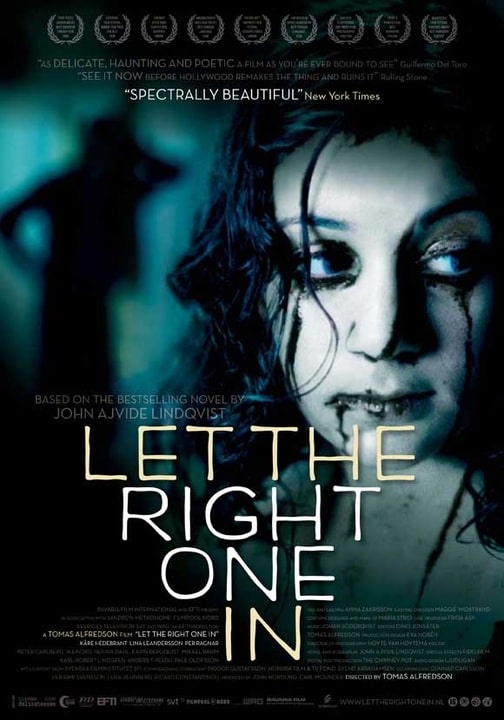 Let the Right One In (EFTI Sweden, 2008)
Then believing American audiences would like LtROI better if they didn't have to read subtitles, Hollywood remade it in 2010 with English-speaking actors and set in America. In this third telling, the little girl vampire is played by none other than our favorite Kick Ass actress, Chloe Grace Moretz.
US producers also thought we'd embrace it more if the name was shorter, so when they released here it was called Let Me In. I saw that one as well, and though it was okay, I thought it was much more "cleaned up," and lacked nearly all the rawness of both the source material and the Swedish film. I should also note that whereas the Swedish version made back a little more than double its production costs, the American version narrowly broke even. Which makes what I'm about to tell you even stranger.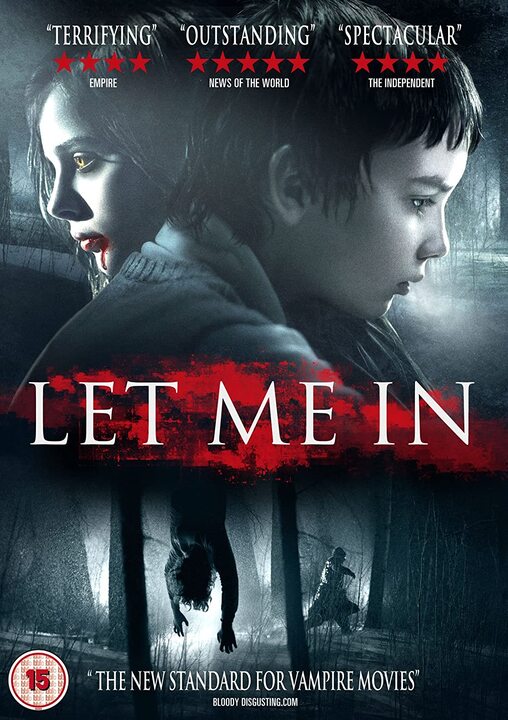 Let Me In (Relativity Media/Paramount Pictures, 2010)
Turns out that Showtime has now turned LtROI into a series. Restoring its original name, the very basic premise of the novel has been kept, while the story has been significantly magnified. It's no longer primarily about the little girl vampire and her human "caregivers." Here's how Showtime describes it:
Mark and his daughter Eleanor's lives were changed forever 10 years earlier when she was turned into a vampire. Seemingly frozen in time at the age of 12, Eleanor has lived a closed-in life, able to go out only at night, while her father does his best to provide her with the human blood she needs to stay alive. Now they've returned home to New York City, desperate to find a cure. Inspired by the acclaimed Swedish novel and film, their emotionally charged and terrifying story turns a naturalistic lens on human frailty, strength and compassion.
There's a trailer to go along with it.
So, we will now get a backstory on how "Eli" became a vampire. They've also changed her adult caregiver into her real-life father which alone eliminates a major original plot twist. It also sort of looks like in this telling, the goal is to find the "lead" vampire and destroy him, which according to some lore, should free all the vampires he made, turning them back into humans. Could this be the "cure" being sought? You'll need to wait until October 7th (and subscribe to Showtime if you don't have it) to find out.
I'm not really sure what to think about this, other than to say I really wish I had John Ajvide Lindqvist's royalty checks…