New Treasures: The Ballad of Perilous Graves by Alex Jennings
New Treasures: The Ballad of Perilous Graves by Alex Jennings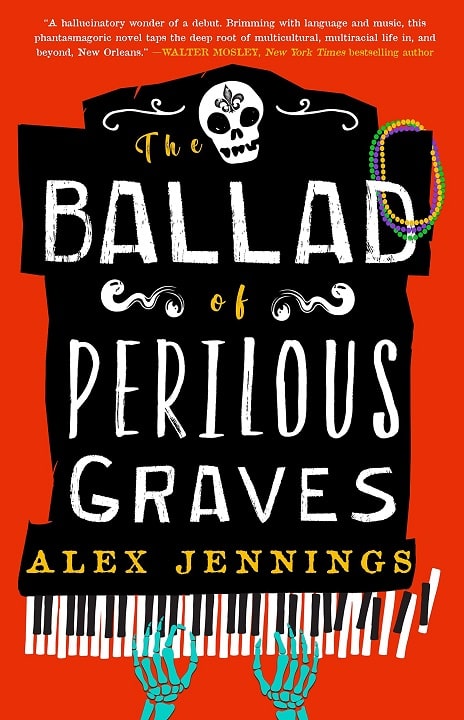 The Ballad of Perilous Graves (Redhook, June 21, 2022)
What's the best thing about knowing writers on Facebook? They're always talking about books, that's what. Yesterday P. Djèlí Clark (A Master of Djinn, The Haunting of Tram Car 015) tipped me off to a great new debut fantasy by Alex Jennings.
The Ballad of Perilous Graves by Alex Jennings — featuring a New Orleans of sky trolleys, living graffiti, trans dimensional portals, and terrifying haints — gotta be one of the most amazing books I've read in a minute. Magical, lyrical, gritty, otherworldly… sh*t is hype like Bayou Classic in the 90s, set to song. Put this on your list for the summer.
Okay, that doesn't tell you much about the plot. Social media ain't perfect. Besides, we're Black Gate, we have a staff of investigative reporters for that.

Or we can just stroll over to Publishers Weekly, which labels The Ballad of Perilous Graves a "stunning urban fantasy debut."
When Perilous "Perry" Graves encounters the city's famed undead pianist Doctor Professor, he knows something's wrong. Nine of the powerful songs that "keep Nola humming" have been stolen, and the city starts to break down: its sky trolleys stop running, and the magic that maintains the city's music fizzles… And, after Perry and Brendy's grandfather goes missing, it appears his disappearance may be linked to the music thief, leading the pair to offer to help Doctor Professor investigate. Jennings develops a rich, enveloping world brimming with mesmerizing art, music, and fantasy, and sets within it a rich discussion of community and culture. The unmistakable love for New Orleans that emanates from these pages will stick in readers' heads — and hearts — like the catchiest of tunes.
The Ballad of Perilous Graves was published by Redhook on June 21, 2022. It is 464 pages, priced at $28 in hardcover and $13.99 in digital formats.
See all our recent New Treasures here.