An Extravagant and Wonderful Fantasy with Assassins, Ghosts, and Necromancers: Saint Death's Daughter by C. S. E. Cooney
An Extravagant and Wonderful Fantasy with Assassins, Ghosts, and Necromancers: Saint Death's Daughter by C. S. E. Cooney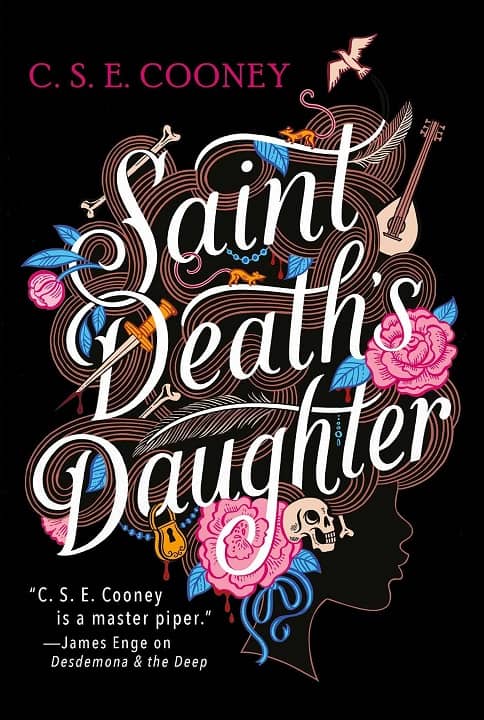 Saint Death's Daughter by C.S.E. Cooney (Solaris, April 12, 2022)
Here's a novel I've been anticipating for some time — years even. C. S. E. Cooney has been working on it for even longer, to be sure. It is in a sense her first novel, except that an earlier planned novella, started I believe long after this novel was first drafted, got away from her a bit and ended up novel length, even though it has only been published in an original anthology. (This is The Twice-Drowned Saint, from the Mythic Delirium anthology A Sinister Quartet, which is well worth your time for all its stories.)
Time for full disclosure — I've known Claire Cooney for a long time now, and I consider her a good friend. I've been reading her fiction since 2007, when her first stories appeared, and I've reprinted several of her pieces. We are both long-time contributors to this eminent publication (and indeed it was John O'Neill, the overlord of Black Gate, who introduced us.) Claire gave me an advance copy of Saint Death's Daughter. So calibrate this review as you will — I was praising her work before I knew her, mind you (and I thought the author of "Stone Shoes" might be male at first.) Still, I clearly am predisposed to like her fiction.
I meant to read this novel in time for a review to appear as the book appeared, but deadlines and other life pressures being what they are, I didn't get to it until now. So I also bought the audiobook and read/listened to the novel alternately, in order to finish it more quickly. I made a joke online about how excellent the narrator of the audiobook captures the author's voice — it's not really a joke, it's actually true, the audiobook is very well narrated, but the joke lies in that the reader is… C. S. E. Cooney. (Claire is a professional audiobook reader.) The book is very long: well over 600 pages, probably over 250,000 words.
A Sinister Quartet (Mythic Delirium, June 2020), containing "The Twice-Drowned Saint" by C.S.E. Cooney. Cover by Jason Wren
Miscellaneous Immiscible Stones* — called Lanie for short — is a young necromancer, from a family of necromancers, executioners, and assassins in service to Erralierra, Blood Royal of the small polity Liriat. As the book opens, both her parents have just died — not by chance! — and Lanie's inexperienced attempt at reviving them has failed. She writes a letter to her older sister Nita, who has been studying in the desert country Quadiib, urging her to return home, partly because her parents' creditor Sari Scratch has threatened to take over the Stones' castle — or to make Lanie marry one or more of her three idiot sons.
All this and more needs unpacking. The book is rich and complicated with people, magic, politics, and history. (And prose — lovely extravagant prose!) Nita returns, with a Quadiib gyrgardi in tow — a man who can shapeshift into a falcon, and who is unwillingly bound to Nita. Nita, who has no magic but considerable skill as an assassin, is soon contracted by the Blood Royal to kill the four and twenty wizards making up the Parliament of Rook, a rival nation ruled by the Blackbird Bride.
But I am distracted — as we learn also of Lanie's allergy to violence (which meant a lonely upbringing, as each of her parents and her sister were very violent people); of Nita's generally abusive nature; of Lanie's love affair, conducted mostly by correspondence, with Canon Lir, a Fire Priest and the younger twin son of the Blood Royal; of Lanie's teacher, the ghost of her Grandpa Rad, a powerful necromancer who destroyed the Sky Houses of the Guiled Council of Skakmaht, another rival nation (and the home of Sari Scratch); of Goody Graves, the centuries-old stone revenant who was Lanie's only companion as a child…
Years later Nita's task nears completion, and while she is on her assassination missions, Lanie and the gyrgardi (called Mak) help raise Nita and Mak's daughter, Sacred Datura Stones. But everything changes when Nita is finally outwitted by one of the Rooks, and as a consequence Sari Scratch (now known as Baroness Skrathmandan) can take ownership of the Stones' castle. Lanie and Mak and Datu flee to the capitol city, with the help of Goody Graves, who wants only one thing from Lanie — true death. In the city they meet others from Quadiib, and get closer to Canon Lir, and form something of a found family. But fate is still tracking them — and Datu has vowed revenge on the Blackbird Bride, who herself covets Lanie's necromancy for her Parliament.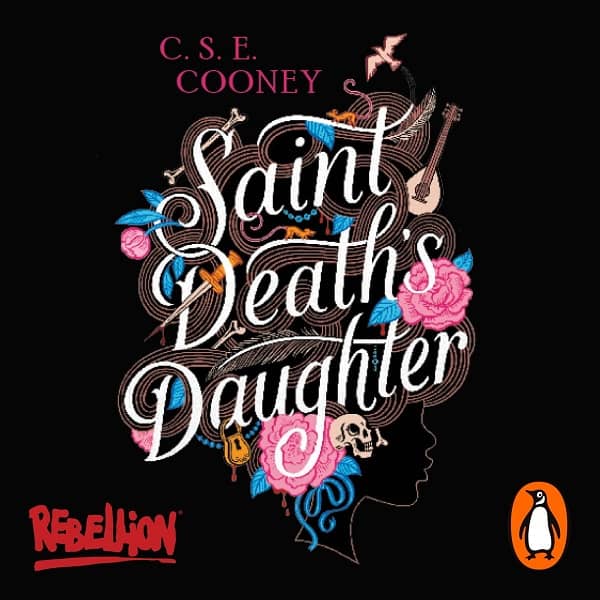 Saint Death's Daughter audiobook, narrated by C. S. E. Cooney (Penguin Audio, April 12, 2022)
The novel completely merits its length — it complicates and recomplicates, always to its benefit. We guess from the start that the Stones family, despite Lanie's loyalties, is morally severely compromised. And the history of Liriat that we learn, and that of the Stones family, is ever fascinating. The Scratch family, and their supposedly dull sons, have unexpected depths. Canon Lir has a fascinating secret. There's a puppy! And there is suspense, and twists, and a satisfying resolution that gives no one all they want — which is probably best for all!
This is really a wonderful novel. The prose is lovely — extravagant, as I said — some may find it too much of a muchness but I loved it. It is suffused with metaphor — and original metaphor, cliches need not apply. The characters are involving, and their wants and needs compelling. The magic is fascinating and also original. The complex setting is rewarding. The novel is willing — eager — to interrogate its characters' moral motivations, and to insist on difficult answers and not simple revenge.
Saint Death's Daughter is advertised as the opening to a trilogy, and the world is expansive enough to support one; and the characters interesting enough (and sufficiently unsettled at the end.) That said, the key questions in the novel are answered — the story stands alone, and the resolution satisfies — but I'll be happy to see more!
*The names of the members of the Stones family are a particular delight – for example Lanie's mother Aba, or Abandon Hope; her father Natty, or Unnatural; and her grandfather Rad, or Irradiant. We learn many of these details in some of the few dozen footnotes in the novel – so I've made a footnote too!
---
Rich Horton's last article for us was Still Not Telling Us: "The Last Flight of Dr. Ain" by James Tiptree, Jr.. His website is Strange at Ecbatan. Rich has written over a hundred articles for Black Gate, see them all here.