Goth Chick News: 13 Questions for Louis Weinberger – Writer of Into the Devil's Reach
Goth Chick News: 13 Questions for Louis Weinberger – Writer of Into the Devil's Reach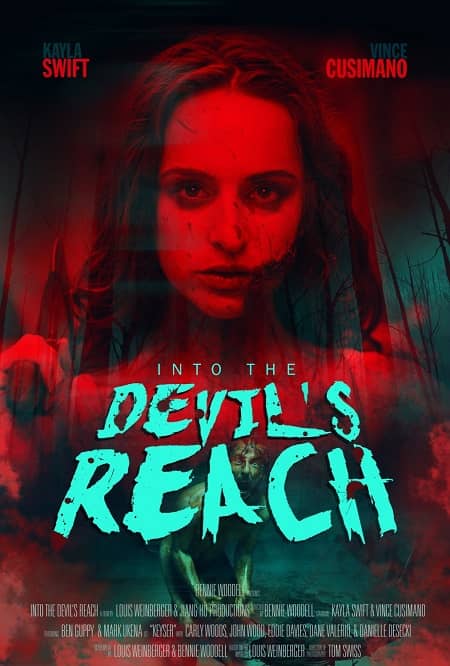 We here at Goth Chick News never fail to be impressed by indie filmmakers. It takes an incredible amount of patience and tenacity to bring a story to life on screen without the backing (and funding) of a major production house. That's why whenever we have a chance to give you a view behind the scenes of an indie film, we're all too excited to do so.
Back in December we had the pleasure of meeting Louis Weinberger whose story Into the Devil's Reach made the impressive jump from novel to indie film. Weinberger is a local Chicago-area writer whose primary focus is scripts. However, when two of his ideas were just too good to wait on the right film project, he combined them into a novel which was published by RedRob in 2014.
We had to know more and here to explain it all is Louis Weinberger.
Everyone, meet Louis. Louis, meet everyone.
GC: How did you get your start as a writer?
LW: Long before I ever thought about being a writer, I was a movie lover. Like many writers, I am a "loner" and an "introvert." Movies, books and distance running became my passions. After seeing the movie One on One about a high school basketball player and stumbling across Syd Field's book about screenwriting, I figured I could write a screenplay based on myself and best friend. Distance Runners, a story about two high school cross-country runners, their friendship, their training, their races, and the fact that they never even had the guts to ask a girl out on a date, was my first script.
Over the next ten years, I wrote fifteen screenplays from different genres. A few placed in screenplay contests. All of them were rejected by agents. I quickly learned that production companies wouldn't even consider unsolicited submissions. I had exhausted every conceivable way to get my scripts read. In a last-ditch effort to see my writing get turned into a movie, I figured I could write a novel and get that placed with an agent.
How did you evolve and hone your writing skills to bring Into the Devil's Reach to life?
In terms of scripts, I read every screenplay book I could get my hands on to learn about structure, characters, motivation, etc. Basically, a how-to write a screenplay book.
I read thrillers to learn how to write the novel. I am not a fancy or descriptive writer. The novel was written so it was easily imagined as a movie by the reader. Also, in the novel, I wrote in terms of five things. They are the location of the scene, the characters in the scene, their dialogue, their actions, and the main character's thoughts in the scene. I never went into any great description of weather, scenery, clothing, etc.
What is the general premise of Into the Devil's Reach?
Chicago Homicide Detective Jennifer Mueller is the bait to catch a satanic serial killer. But, when the covert sting goes wrong, her life is changed forever. As she goes back undercover in a small town, she's unaware that she is the target of a satanic cult out for revenge.
What was your inspiration for the story Into the Devil's Reach?
I wrote several crime thrillers with male protagonists in Chicago.
To mix it up, I wanted to try my hand at a female protagonist in a small town. "Satanic panic" was a big deal back in the 1980s. That's where I came up with satanists as the "bad guys."
I read that Into the Devil's Reach is a combination of two screenplays. Can you tell us more about this?
I wrote a screenplay entitled Die Slowly. Chicago Detective Don Sculatti was trying to capture a heavy-metal rock star serial killer. Then, I wrote Forever Sacrificed. This was the script about Chicago Detective Jennifer Mueller discovering a satanic cult in a small town. Again, every script was rejected. I thought Forever Sacrificed would be the easier script to turn into a novel. However, I didn't have the confidence that I had enough material from the script to write a three-hundred-page novel. In the first third of the novel of Into the Devil's Reach, Detective Jennifer Mueller was trying to capture the rock star, serial killer. In the last two-thirds, Jennifer was in a small town trying to make the connection between the rock star killer and some satanic graffiti that glorified him and his killings.
What made you choose an action genre for your first novel and film?
While the novel has a lot of action, I considered it a thriller. W.D. Gagliani, a very talented author, gave the book a blurb. He called it, "Right at the intersection of horror and crime thriller." That works for me.
Your main character is a woman, Chicago Detective Jennifer Mueller. Was it challenging to write from a female perspective?
I don't think so. I just wrote her as a tough, courageous detective with flaws.
What films inspired you?
The list is endless. My favorite films are Taxi Driver, The Wild Bunch, The Exorcist, The Deer Hunter, Apocalypse Now, Pulp Fiction, The Good, the Bad, and the Ugly, Platoon, Goodfellas, and Se7en. When talking about low-budget, independent films, I was inspired by the original The Texas Chainsaw Massacre, Evil Dead, Henry: Portrait of a Serial Killer, The Blair-Witch Project, and the original Night of the Living Dead. You can see they are all "dark" films. But, I do love all genres.
Once you solidified the idea and the script for Into the Devil's Reach, what were your next steps in putting together the film production?
This all happened by pure luck and/or karma. My wife's friend has a daughter who is an actress. I checked out the daughter's IMDb page. I saw she was in an independent film called The Sad Café. I liked the synopsis of the film, wanted to see her work and wanted to support independent filmmaking. I ordered the DVD. I started to watch the film and was instantly impressed with the direction of the movie. I knew within five minutes of watching the film that if I ever financed Into the Devil's Reach, I wanted the director of The Sad Café to direct it.
After enjoying the movie, I wrote down the name of the director. His name was Bennie Woodell. I researched him and all his movies. I ordered all of them and watched them repeatedly. I could see they were all made on limited budgets, but they all had energy, excitement, terrific performances, interesting composition in the framing of shots, but most of all they seemed like "fun movies" even though the subjects were dark. What really sold me was when I saw on Bennie's website that his movies were about "beautiful violence." Bennie was living in Hollywood, but he was from the Chicago area. I reached out to him and sent him the book. He read it and saw its potential. Some time later, he came back home, and we met. We got along great, shared the same vision about the book, and decided to, hopefully, someday make the book into an independent film.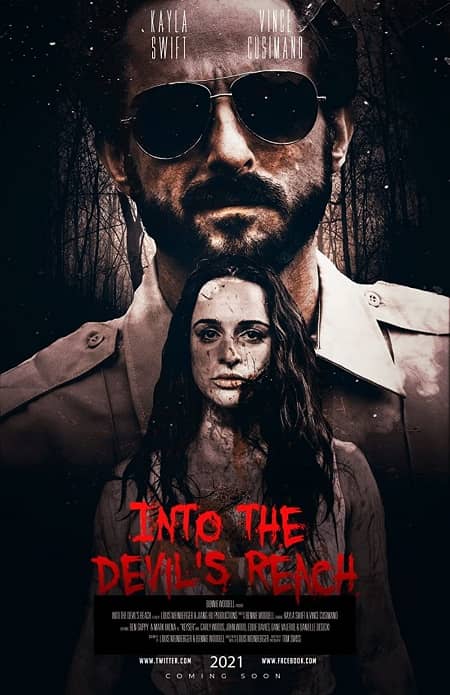 Even independent films need funding, which is often the most challenging aspect for potential filmmakers. How was Into the Devil's Reach funded and do you have any funding advice for aspiring filmmakers?
I financed the movie with the generous help of my daughter Renae and her husband Eric. I always say, "My dream came true because of the hard work and financial help of my daughter." To make sure the money went to what was on the screen, we had to keep costs down by lodging the cast and crew that came from LA. So, the director and four members of the crew stayed at my house. Five actors stayed at my daughter's house. It is an understatement to say that it "wasn't easy." Besides lodging them, Renae and I had to feed them and shuttle them to locations. Also, we filmed many scenes at Renae's house and my house.
If I had any idea how to get financing for a film, believe me, I'd have done that. If filmmakers go the "the self-financing" route they better be prepared to not make their money back. If money is tight, they better want that film made before wanting other luxuries of life like the best car, traveling, eating out, etc. While time will tell how much I get back on my investment the deep sense of accomplishment of getting the film made and out in the world is something that I cherish every day.
As the Executive Producer/Writer you had a lot of input in the film making process. However, once you turned the film over to director Bennie Woodell, were you still able to help choose the actors and/or provide feedback throughout filming?
Bennie Woodell was the true creative force behind the making of the film. My job was to raise the budget, write the script, and figure out filming locations. Once I had that all done, I flew Bennie in from LA, gave him the script, told him how much money we had, and took him to all the locations where I had permission to film. I described to him everything in my head as to how to do it. Then, I asked him if he could "actually, realistically" do it for the time, money, and locations we had. Bennie told me, "I've done a lot more with a lot less."
I had faith in him and believed he could do it. I told him the film was his to make, but he had to stay as true to the script as possible. Also, that I had "veto" power over anything if I truly thought it was wrong, and I wanted a say in the casting of the characters. These characters were in my head for over twenty years, and I wanted actors to be as close as possible to what I envisioned. I would be flexible in some of the secondary characters, but not in the main characters. Bennie agreed. He brought Buzz Hughes in as a producer. They cast the film. I was very happy with who they cast. They also hired Tom Swiss, a local, very talented and hard-working director of photography, to shoot the film.
When and where can we see Into the Devil's Reach?
The movie is available on Appletv+, iTunes, Google Play, Vudu, and Amazon.
Are you already thinking about your next project? If so, can you share any news?
I always thought when Into the Devil's Reach was completed, I had written all I had to say about Detective Jennifer Mueller and her confrontation with satanists. Then, because I loved the character so much, I decided to just think about what happened next for her after the novel/movie. Ideas came quickly and easily. I have written two sequel scripts. They are Into the Devil's Wrath and Into the Devil's Revenge. I hope to get them filmed someday and then we will have The Devil Trilogy.
Louis also wanted to be sure I told you that his lovely wife Karen is the unsung hero in the making of the movie. He told me he never would have had the courage to invest so much of his life's savings if not for the fact she had his back in terms of their future. Louis also hopes his grandkids, Jacob, Courtney, Charlotte, and Aubrey, will be proud of him when they are old enough to read the book and see the movie.
I certainly can't believe they wouldn't be. Thank you, Louis.