A Band of Black Hearted Bastards in a Comic Romp: Articles of Faith by David Wragg
A Band of Black Hearted Bastards in a Comic Romp: Articles of Faith by David Wragg

The Black Hawks and The Righteous (HarperVoyager, October 2019 and September 2021).
Covers by Richard Anderson (left) and uncredited
I bought David Wragg's debut fantasy The Black Hawks when it first appeared in 2019. It sounded right up my alley — the tale of a dysfunctional band of mercenaries drafted into a desperate conflict to protect a stranded prince.
I was delighted to see a second — and apparently, final — volume appear at the end of last year. The Righteous concludes the tales of the seasoned (and entertaining) mercenary band, and opens with them imprisoned and sentenced for execution for their part in the rebellion, alongside their employer, the knight Vedren Chel. A daring escape sends them on the run, and headlong into a brand new adventure.
[Click the images for bigger versions.]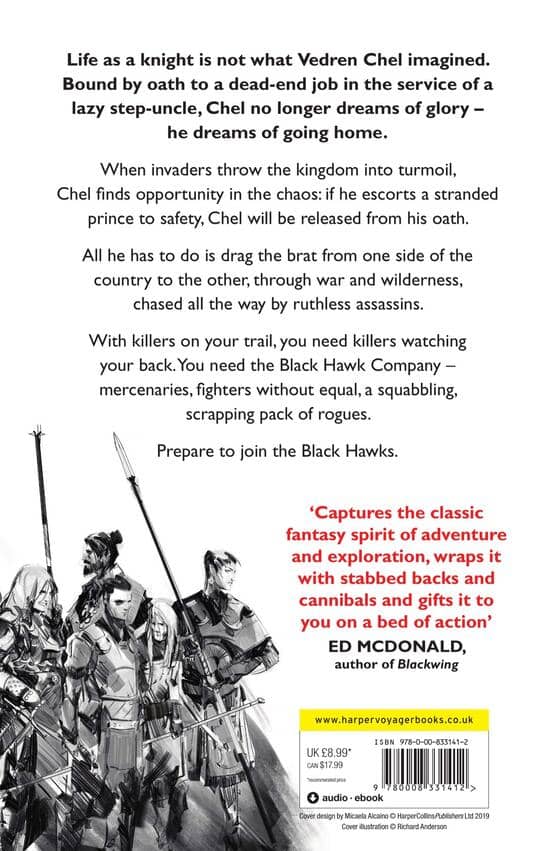 Back cover of The Black Hawks
My favorite review of the first book was from Mike Everest Evans at Fantasy Hive. Here's the highlights:
If you're a fan of mercenary fantasies (I am) then you'll be a fan of The Black Hawks. But don't let the cover and comparisons fool you, this isn't the same kind of crew as Nicholas Eames' Kings of the Wyld. The Black Hawks has humour, gutter and gallows, and heart too; but this bunch of misfits are nowhere near as friendly – though just as handy in a fight (and lucky for us readers, there's plenty of that!)…

I'm a BIG fan of mercenary books, and have been since reading James Barclay's The Raven series. In terms of more recent releases, I must have read/listened to Kings of the Wyld and Bloody Rose by Nicholas Eames at least half a dozen times, and The Black Hawks' cover suggested a similar tale in the telling…

The Black Hawks themselves are as colourful as their choice of cussing… they're a bunch of bitter, black-hearted and black-humoured bastards. They're the type of people who you'd rather have as friends than enemies. Which, funnily enough, is how Chel falls into their company, alongside his Princely charge. And, for me, it was these two who stole the spotlight…

Despite the many, many mercenary books out there, The Black Hawks proves that there's still a different way to tell the trope. And once you start reading it you realise that it really is a very different tale… The Black Hawks doesn't come out swinging, as things start off slow and steady, but once the titular mercenaries arrive on the page, it pulls no punches. The action comes thick and fast, with skirmishes and melees aplenty. But it's the final 10-20% where things really ramp up, and just when you think there's going to be a KO, the match is saved by the bell, ending with a cliff-hanger to be picked up in round two.

With this book, The Black Hawks and David Wragg have fought hard for their place on the roster of mercenary crews – and I for one will be signing up for whatever adventures they set out on next.
If you're going to buy a book you know ends in a cliffhanger, it doesn't hurt to pick up the sequel at the same time. Nils Shukla at Fantasy Hive calls The Righteous "essentially a comical fantasy romp [which] made me laugh so much I could barely breathe."
Here's the publisher's description for Book 2.
Bound by oath and honour, Vedren Chel found himself drawn to the heart of a deadly rebellion. With him stood the mercenaries of the Black Hawk Company, who were only ever in it for the money.

But the uprising failed. Now, Chel and the sell-sword Rennic languish in prison, watching as their comrades are taken one by one for execution.

A daring escape will set them free, but with the combined forces of vengeful church and voracious crown arrayed against them, Chel and the Black Hawks must embark on a desperate search for new allies.

Journeying from frozen wastes to towering cities, from drug-riddled fleapits to opulent palaces, THE RIGHTEOUS is the thrilling and riotous second adventure from one of fantasy's most exciting new voices.
And here's the complete publishing details for the Articles of Faith duology.
The Black Hawks (432 pages, $16.99 trade paperback/$8.99 digital, October 3, 2019) — cover by Richard Anderson
The Righteous (592 pages, $16.99 trade paperback/$11.99 digital, September 7, 2021) — cover art uncredited
See all our recent coverage of the best new fantasy series here.