Saving Pets (and One Human) in a Zombie Apocalypse: The Hollow Kingdom Series by Kira Jane Buxton
Saving Pets (and One Human) in a Zombie Apocalypse: The Hollow Kingdom Series by Kira Jane Buxton

Hollow Kingdom and Feral Creatures (Grand Central Publishing,
August 2019 and August 2021). Covers by Jarrod Taylor
Kira Jane Buxton's debut novel Hollow Kingdom was the sleeper fantasy hit of 2019. The tale of a zombie apocalypse seen through the eyes of a caustic (and foul-mouthed) crow was a finalist for the 2020 Thurber Prize for American Humor, and chosen as a Best Book of the Year by Book Riot, NPR, and Good Housekeeping (And that's not something you see every day. I challenge you to find another zombie novel with a Good Housekeeping endorsement.)
Jeff Somers at the B&N Blog turned me onto Hidden Kingdom in his list of the Best Science Fiction & Fantasy Books of August 2019, calling it "a darkly hilarious twist" on the zombie formula. The sequel, Feral Creatures, finally arrived last summer, and sees the return of our favorite apocalyptic corvid and his faithful friends as they try to keep the last human alive in a rapidly worsening apocalypse.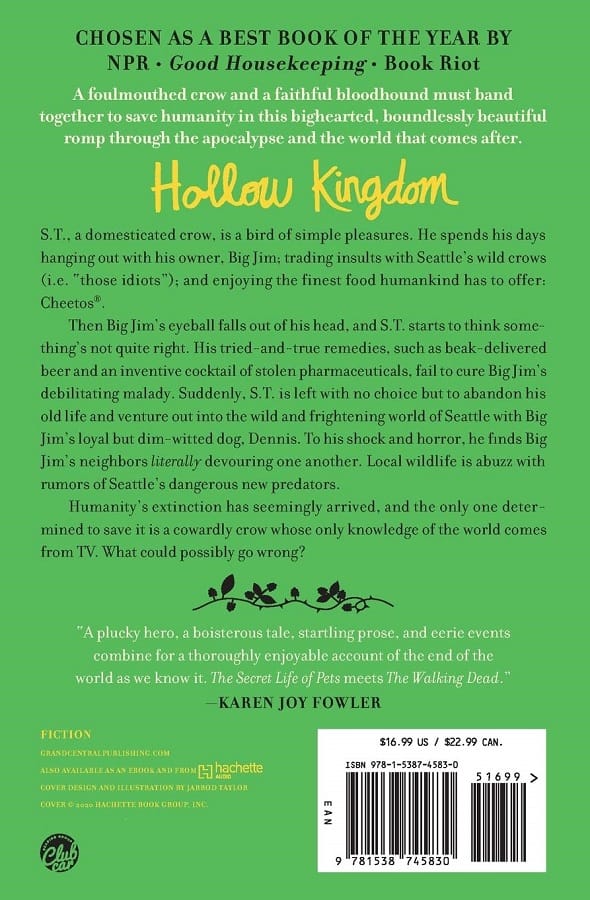 Back cover of the paperback edition of Hollow Kingdom
Here's what Jeff said about Hidden Kingdom.
Kira Jane Buxton's debut puts a deliriously original spin on the viral zombie apocalypse as human civilization's collapse is witnessed — and challenged — by S.T., a pet crow. S.T. may be a bird, but he loves many aspects of human culture, and he's alarmed when his owner, Big Jim, begins to behave strangely and undergo physical changes. Realizing that something is terribly wrong, S.T. teams up with bloodhound Dennis and is soon tasked with saving as many pets as possible, even as humanity descends into chaos. It's a darkly hilarious twist on the formula, proving again why the zombie novel subgenre is nigh-unkillable.
Margaret Kingsbury at BuzzFeed calls the sequel humorous and heart-wrenching:
Readers who fell in love with Hollow Kingdom will not be disappointed by Book 2, which centers on the crow S.T. and his human nestling, Dee. S.T. had high hopes for Dee reenacting everything awesome about being human, but instead, Dee is drawn to the natural world and considers it her family. When the changed ones realize an unchanged human is alive, they begin to hunt her… S.T.'s struggles with parenting are both humorous and heart-wrenching in this powerful follow-up.
The Hollow Kingdom series has a lot of heart, and I expect it will continue to gather readers as the years roll on. Right now the first book is just $2.99 in digital formats — a real steal, and a great way to try out a popular new series.
Here's the complete publishing details for both books. They were published by Grand Central Publishing, with covers designed by Jarrod Taylor.
Hollow Kingdom (320 pages, $27 hardcover/$16.99 trade paperback/$2.99 digital, August 6, 2019)
Feral Creatures (368 pages, $28 hardcover/$13.99 digital, August 24, 2021)
See all our coverage of the best new fantasy series here.