Vintage Treasures: Manifest Destiny by Barry B. Longyear
Vintage Treasures: Manifest Destiny by Barry B. Longyear
Manifest Destiny (Berkley Books, 1980). Cover by John Rush
I started buying science fiction magazines in 1977, after learning such things existed in the pages of paperback anthologies edited by my new favorite author, Isaac Asimov. I pedaled my bike off Rockcliffe air base in Ottawa in search of a corner store, and found one with a well stocked magazine rack. Hiding behind Better Homes and Gardens and the latest issue of Newsweek I found a row of compact marvels with colorful covers depicting spaceships and far planets. They included Analog, The Magazine of Fantasy and Science Fiction, Amazing, and the second issue of Asimov's very own magazine, Isaac Asimov's Science Fiction Magazine.
I still recall that bike ride home, clutching Asimov's and Analog in one hand, and staying up late to read them. It was a good time to discover SF magazines. A lot of new writers were exploding on the scene. One of the biggest was Barry B. Longyear, who published his first story in Asimov's in 1978, and in 1980 became the first person to win the Hugo, Nebula, and John W. Campbell Award for Best New Writer in the same year.
[Click the images to Manifest bigger versions.]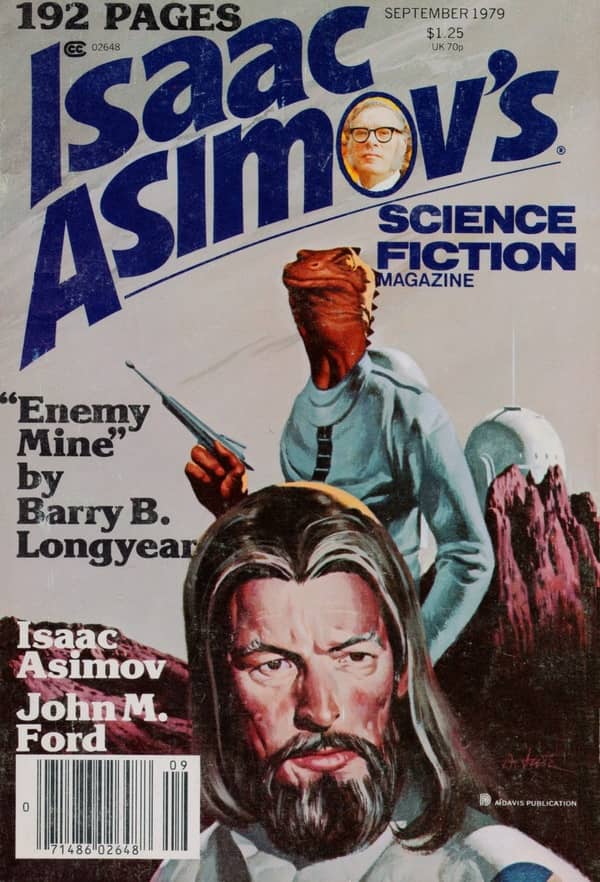 Isaac Asimov's Science Fiction Magazine, September 1979, containing
"Enemy Mine" by Barry B. Longyear. Cover by Vincent di Fate
I followed Longyear's career with great interest, and spent my teen years pecking out short stories on my dad's typewriter and dreaming of having the same success. Long years later I published my own first novel, The Robots of Gotham in June 2018. It was auspicious timing — that year the science fiction community selected a June debut novelist to win the Hugo, Nebula, and John W. Campbell Award, matching Barry Longyear's amazing achievement for the first time nearly four decades.
That person, sadly, was Rebecca Roanhorse. (Her book, Trail of Lightning, on sale one week after mine, is terrific, which was small consolation to my inner 14-year old.)
When I want to introduce modern readers to Longyear, I don't usually suggest his popular Circus World series, about the civilization that arises from the survivors of a crashed spaceship carrying a circus, or his Infinity Hold trilogy, which relates the adventures of Bando Nicos, a murderer condemned to the prison planet Tartaros who becomes its first police officer. Instead I usually hand out copies of his 1980 collection Manifest Destiny, which contains his most famous work "Enemy Mine," a novella that swept all the major awards in 1980, winning the Hugo, Nebula and Locus.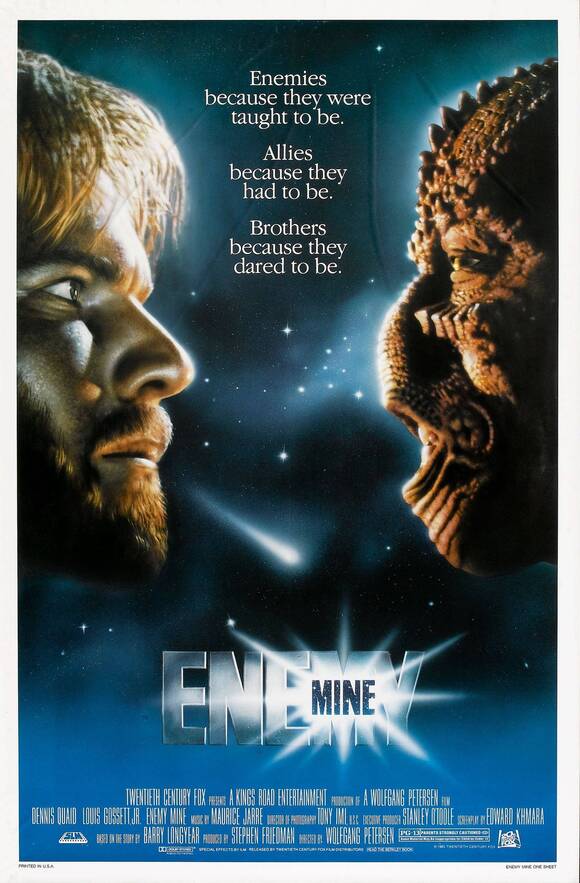 Enemy Mine (20th Century Fox, 1985)
I'm a little embarrassed to admit that I first encountered "Enemy Mine" not in the pages of Asimov's, but in the movie theater in 1985, watching the B-move adaptation starring Dennis Quaid as fighter pilot Willis Davidge, and Louis Gossett Jr. as the reptilian Drac he's marooned with on a hostile alien planet. Sworn enemies who initially try to kill each other, they quickly learn that the only way to survive is to cooperate. It's not a great movie, but I loved it in 1985 — especially the depiction of the mist-covered death world they've both crashed on — and I still find much to enjoy about it. I remain impressed with the ending, which is very nearly unique in the annals of adventure SF.
The film version of Enemy Mine was novelized by Longyear and David Gerrold in 1985.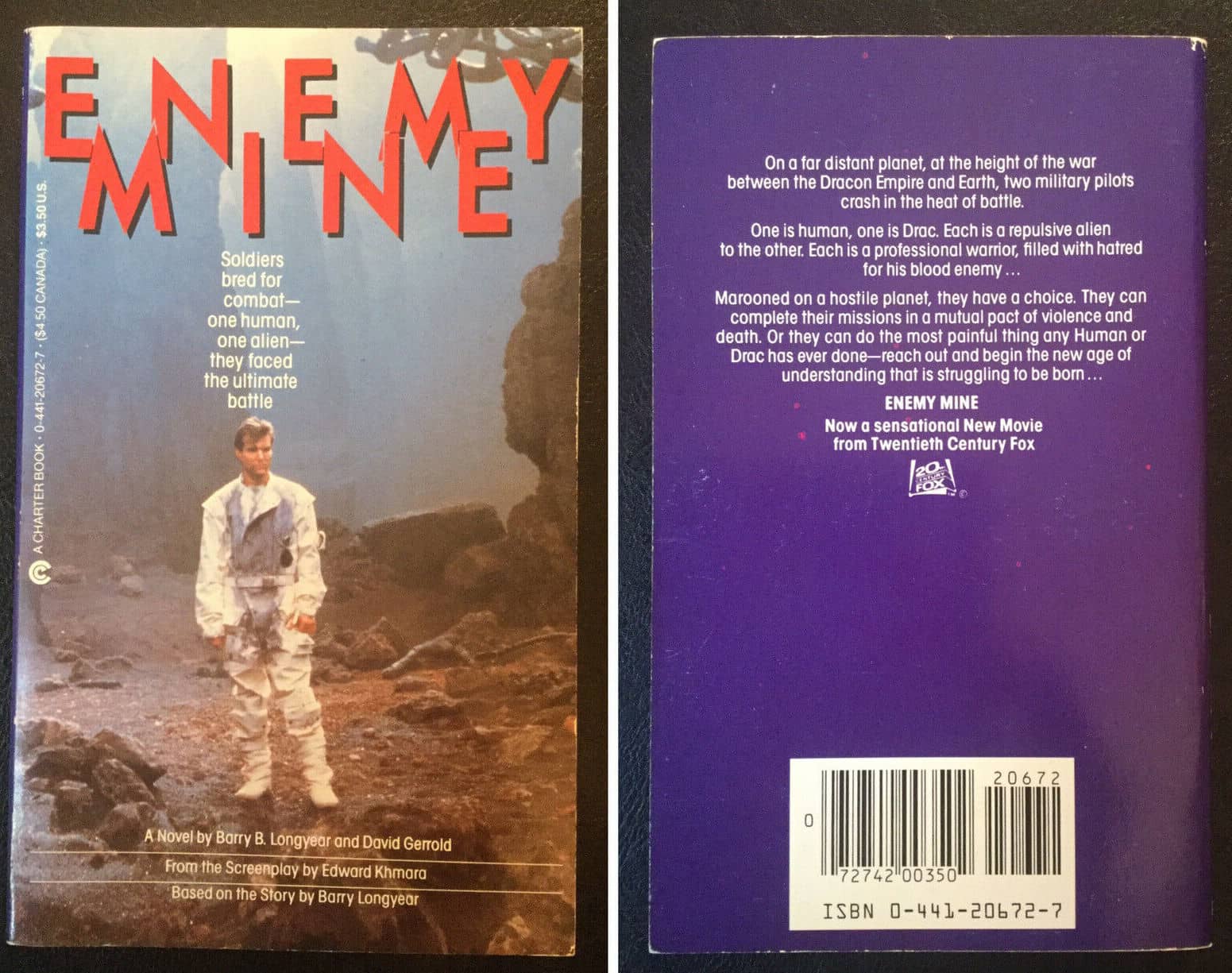 Enemy Mine novelization by Longyear and David Gerrold (Charter, 1985)
Longyear published the first sequel to "Enemy Mine" two years before the movie came out. The novel The Tomorrow Testament is set in the same war-torn universe where the United States of Earth and the Dracon Chamber are locked in a death struggle, and follows the adventures of Major Joanne Nicole, who begins the book as a prisoner of war and eventually becomes a trusted confidante of the Drac leader.
Fifteen years later, in 1998, the original novella and The Tomorrow Testament were gathered in the omnibus collection The Enemy Papers by White Wolf, along with an additional story, essays, and a brand new novel.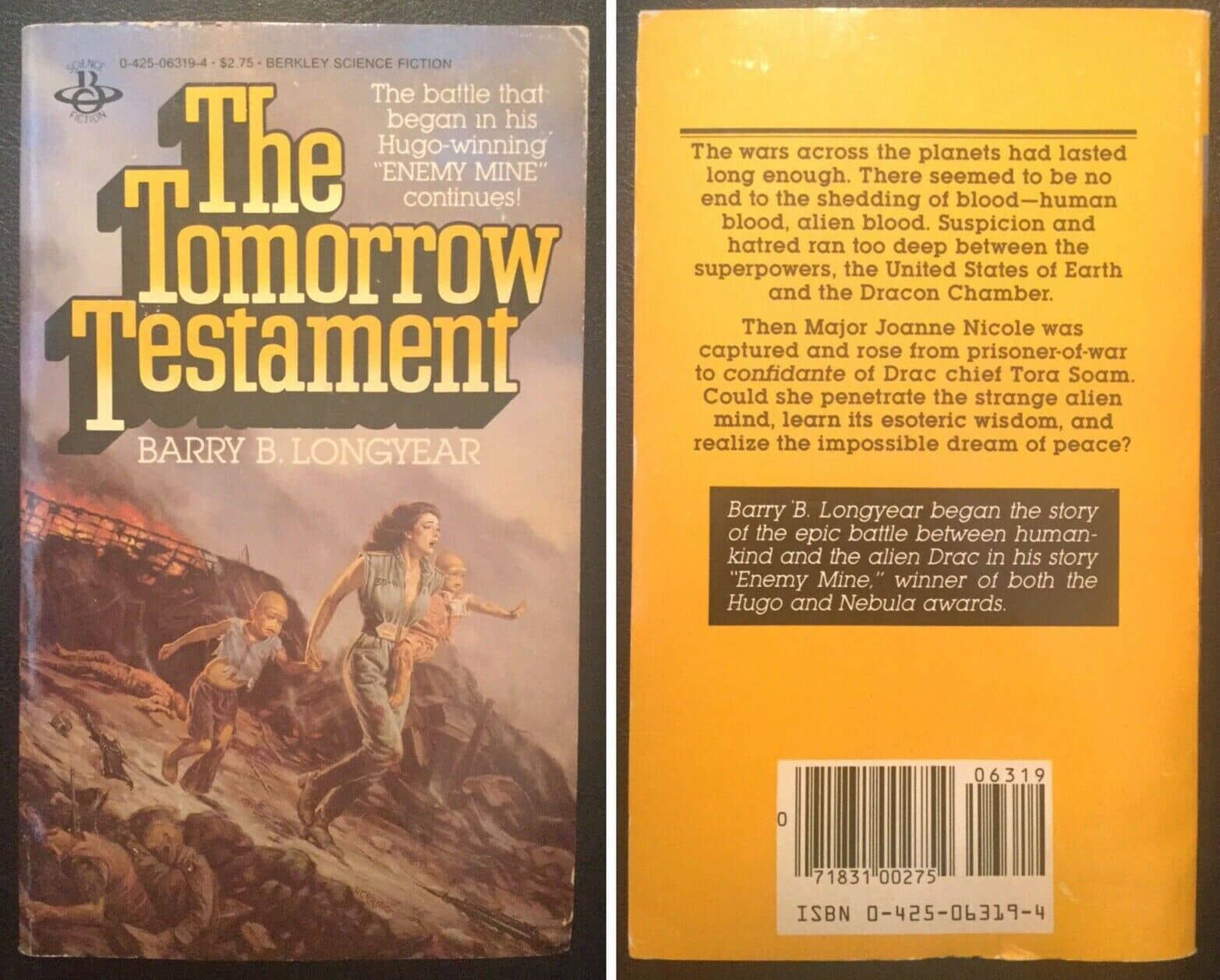 Enemy Mine sequel The Tomorrow Testament (Berkley, 1983). Cover by Michael Herring
The version of "Enemy Mine" reprinted in Manifest Destiny is expanded from the magazine version.
For The Enemy Papers Longyear rewrote it again, producing a "Considerably expanded" version. It was bundled with a new short story "The Talman," essentially excerpts from the Drac bible, a new novel The Last Enemy, and four essays by Longyear. The fiction contents are:
"The Talman" (short story, 1998)
"Enemy Mine" (novella, 1979)
The Tomorrow Testament (novel, 1983)
The Last Enemy (novel, 1997)
The Enemy Papers was originally published by White Wolf, and has been reprinted several times.
The Enemy Papers — White Wolf trade paperback (1998, cover by Matt Manley) and Open Road hardcover (2016, Vincent di Fate)
Circus World, "Enemy Mine," and much of Longyear's short fiction all set in the Quadrants Universe. The stories in Manifest Destiny share the same setting, including the novellas "The Jaren," "USE Force," and "Enemy Mine." Only three stories were previously published; the rest are original to this volume
Here's the complete contents of Manifest Destiny.
"The Resolve" (original)
"Legislative Record, November 5, 2052" (original)
"The Jaren" (Asimov's SF Adventure Magazine, Fall 1979)
"Legislative Record, June 6, 2071" (original)
"Enemy Mine" (Isaac Asimov's Science Fiction Magazine, September 1979)
"Legislative Record, January 12, 2095" (original)
"Savage Planet" (Analog Science Fiction/Science Fact, February 1980)
"Legislative Record, February 2, 2114" (original)
"USE Force" (original)
"The Resolve, Amended" (original)
Manifest Destiny was reprinted in hardcover and paperback in the UK in 1982. Here's the paperback edition.
Manifest Destiny (Orbit/Futura, 1982). Cover by Tim White
Our previous coverage of Barry B. Longyear includes:
The Golden Age of Science Fiction: "Enemy Mine" by Steven H Silver
The Golden Age of Science Fiction: Barry B. Longyear by Steven H Silver
Birthday Reviews: Barry B. Longyear's "Collector's Item" by Steven H Silver
Manifest Destiny was a paperback original published by Berkley Books in May 1980. It is 245 pages, priced at $2.25; the cover is by John Rush. It has never been reprinted in the US, and there is no digital edition.
See all our recent Vintage Treasures here.