KNIGHT AT THE MOVIES: RED DUST (1932)
KNIGHT AT THE MOVIES: RED DUST (1932)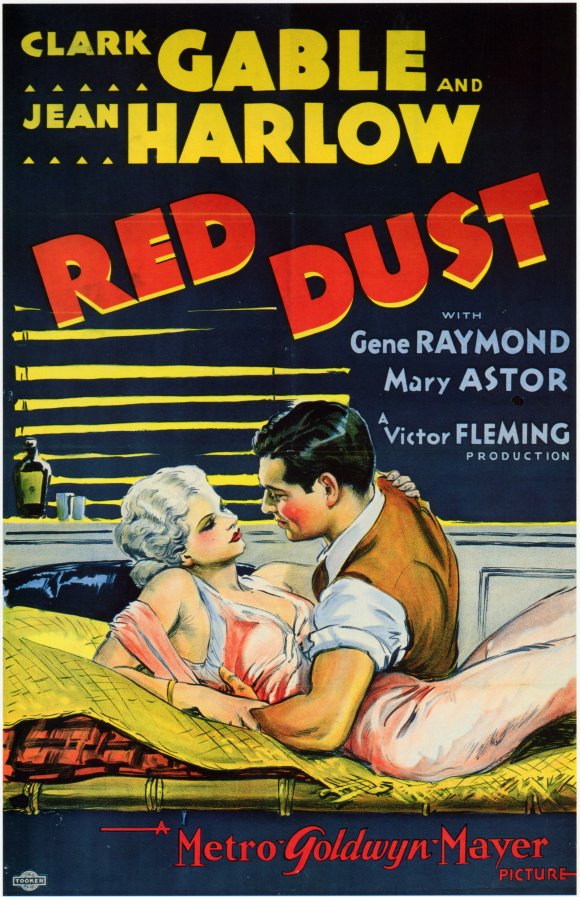 I took a break from my depressing Noirvember playlist last weekend and watched Red Dust (1932) one of the scandalous movies that led to the Hayes Code. I remember it being mentioned in "A Confederacy of Dunces" in that Ignatius Jacques Reilly claims that his parents went to the pictures one night, saw Red Dust, then went home and conceived him.

Clark Gable, in peak SILF* form, runs a rubber plantation in SE Asia. Two women come up the river in a boat and into his life: Jean Harlow, a prostitute looking for a place to hide out from police trouble in Saigon, and Mary Astor, a good young bride with a good young husband Gable has employed to survey for an expansion. Everyone involved gets hot and bothered. And drenched. Clark Gable gets a wet shirt scene that rivals the classic Pride and Prejudice Colin Firth plunge.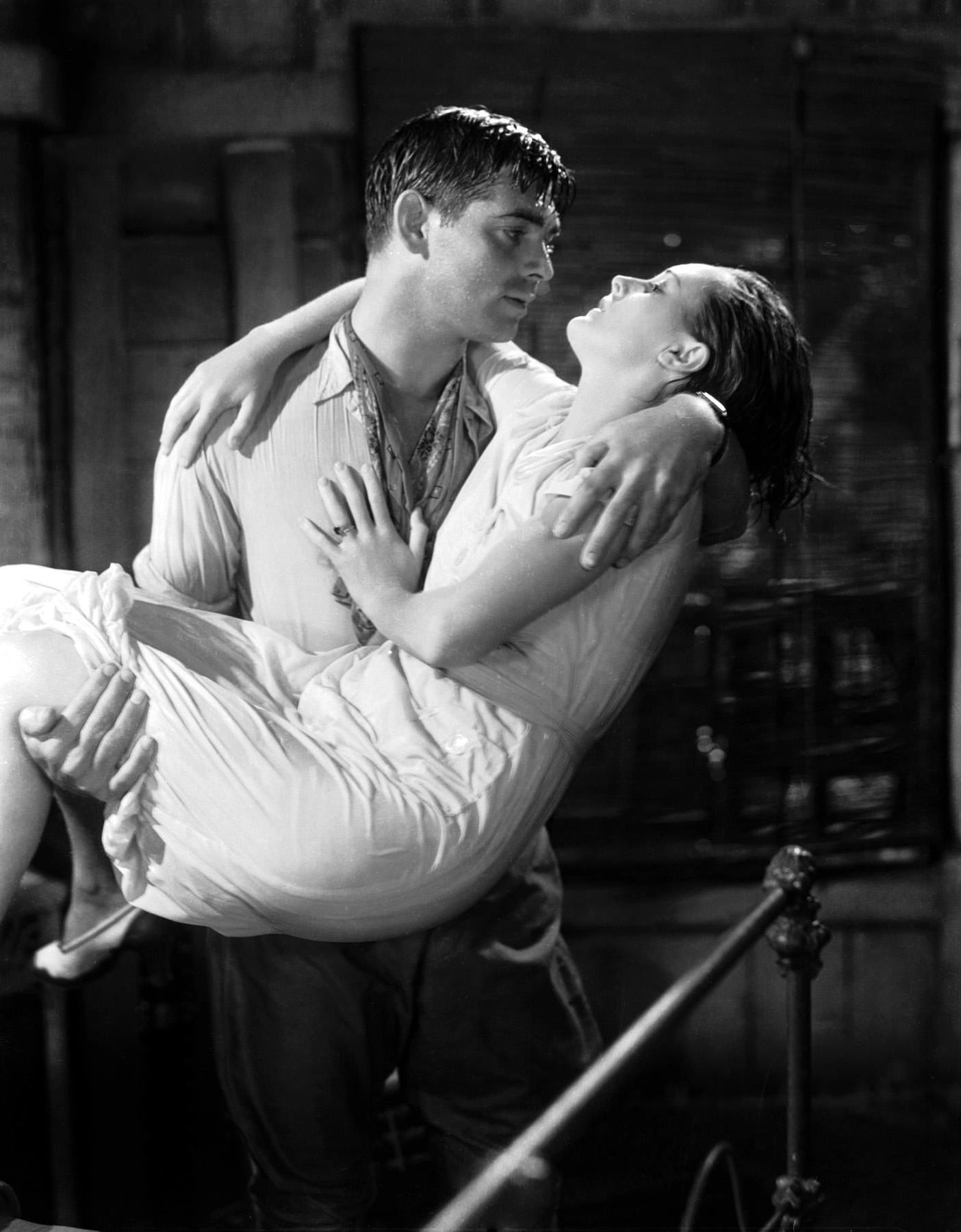 There's a bit of Hollywood Babylon in the scene when Harlow was in the rain barrel washtub au natural. Apparently during one of the takes she stood up and showed off her body, saying "here's a little something for the boys in the lab" (a commendable appreciation for all the behind the scenes people in the movie business, I think) and Victor Fleming (Gone With The Wind), director and killjoy, tore the day's film out of the camera and exposed it to the sun, thus depriving bachelor parties of some good footage for the next decade or two.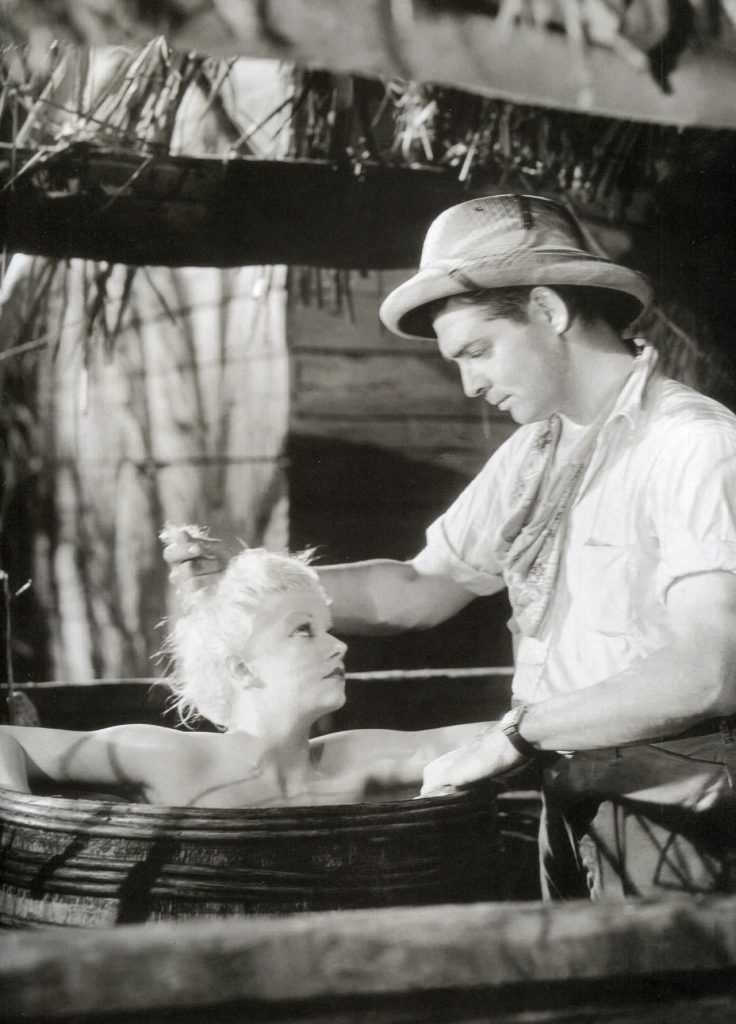 The dialog was a little dated and stilted. There's an unfortunate Chinese cook (but at least he's played by an actual Asian rather than Mickey Rooney with a set of fake choppers) and coolie labor was treated exactly as coolie labor was treated in the real world in 1932. Though there is a great run where Gable talks about his mother being buried on the plantation and losing her when he was very young that I think any writer, any year would have been proud to produce. Gable shows he can do a lot more than quip and smile his way through a movie. First class story. Even if the movie is responsible for half the Hayes Code "dont's" there's some exquisite plotting in creating a happy ending out of all the jealousy, betrayals, and adulteries. Everyone gets laid and winds up better off at the end of the story than they were at the beginning, so it's practically an 80s movie in that sense.

As it's a "jungle picture" they had to add a little action outside the plantation beds. There's a tiger stalking the plantation. Usually he just growls at people from the bush but he starts taking oxen during the monsoons, leading to a good stake-out scene with Gable and the cuckolded young husband. They end up getting the tiger but the animal's "death" verges on comic opera; the trainer is so obviously just out of the shot ordering the tiger to "play dead" (the tiger seems more resigned than anything) that I had to wonder if Fleming was worried that a realistic kill would blow the marital melodrama. Anyway, I was happy to see the tiger seemed to enjoy himself as much as the rest of the cast during the shoot.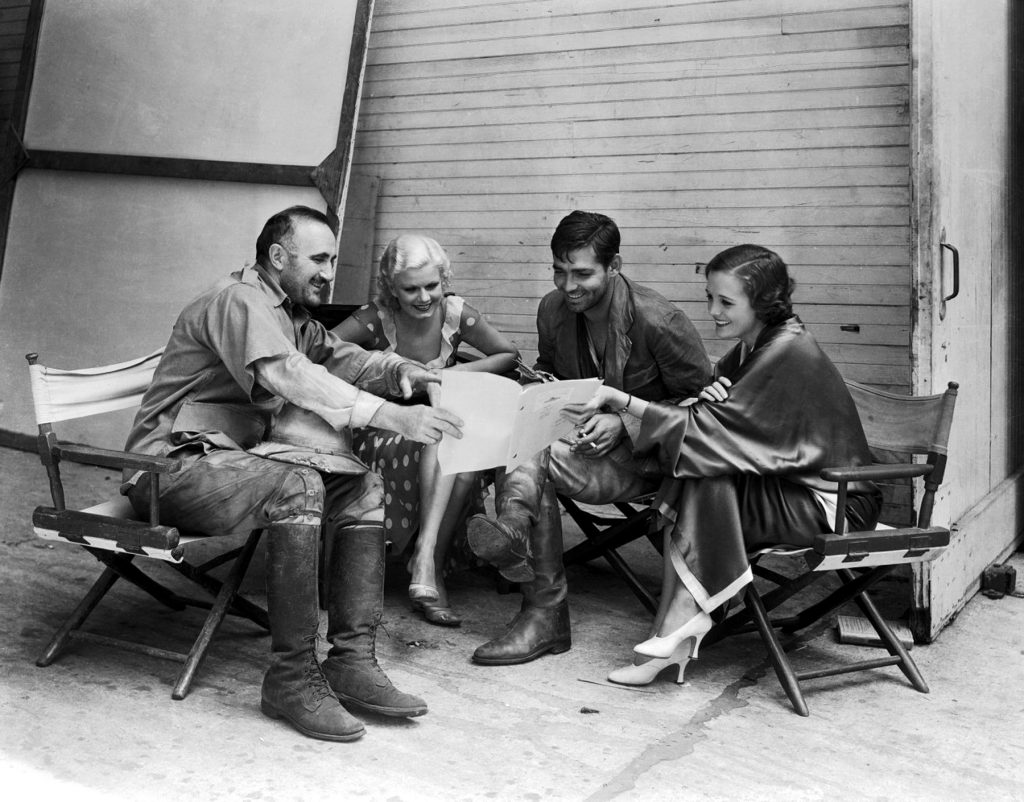 Red Dust was remade as Mogambo by John Ford in 1953, and Ford had the audacity to have Gable play the same role, altered to being an African safari leader rather than a plantation owner. Ava Gardner is beautiful in it and Ford shows his usual eye for a landscape, but that production is really missing Jean Harlow's joie de vivre. Her death at such a young age from a combination of flu, infection, and kidney failure was a tragedy.

*Scoundrel I'd Like To F**k (see Solo, Han, The Empire Strikes Back)


---
E.E. Knight is an author of sf and fantasy novels who enjoys movies, music, and gaming. He lives in Oak Park, IL with his family.