Future Treasures: Isolate by L. E. Modesitt Jr.
Future Treasures: Isolate by L. E. Modesitt Jr.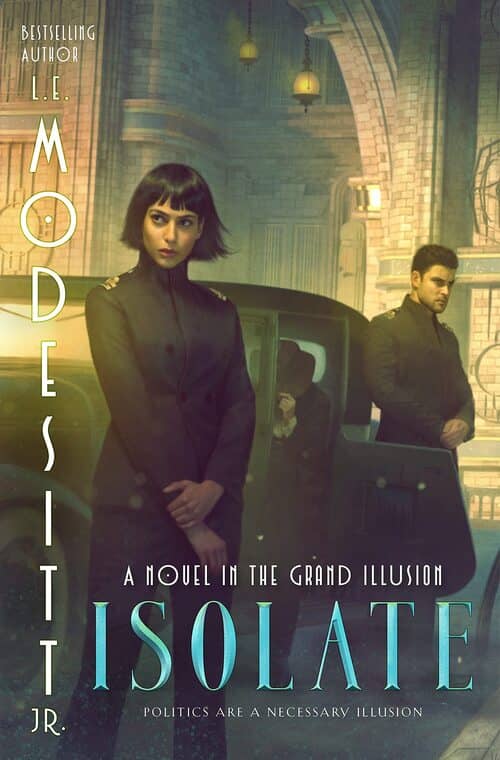 Isolate (Tor Books, November 2021). Cover by Chris McGrath
Lee Modesitt is one of the most popular fantasy authors on the shelves, with multiple bestselling series to his credit, including The Saga of Recluce, Corean Chronicles, and the Imager Portfolio. But for all his success, I don't think he gets a lot of critical attention, so it's a real pleasure to see his latest — Isolate, arriving in hardcover from Tor next week — generate some authentic pre-publication buzz.
Both Publishers Weekly and Library Journal gave it a starred review; Library Journal says "anyone who likes to delve into the way worlds work will be riveted." Here's an excerpt from Judith Utz's enthusiastic coverage at Booklist.

Masterfully blending gas lamp fantasy, mystery, and political thriller, Modesitt's latest is vast in scope and rich in detail, proving a captivating start to his Grand Illusion series. In Guldor, where coal is the primary source of energy and trained empaths can influence those around them for personal or professional gain, three opposing political parties vie for control of the Council-led government. Steffan Dekkard, an isolate whose feelings and emotions cannot be sensed or controlled, and Avraal Ysella, a talented empath, are the two-person security team hired to protect a high-ranking minister… Much of the novel's focus is on Dekkard's investigations into the interconnected machinations at play around him, Ysella, and Councilor Obreduur, and as Dekkard digs deeper into Guldor's political underbelly, his interactions with all levels of Guldoran society highlight Modesitt's superlative world building skills.
Isolate will be published by Tor Books next Tuesday, November 16. It is 608 pages, priced at $29.99 in hardcover, $14.99 digital, and $37 in audio formats. The cover is by Chris McGrath. Read an excerpt at the Macmillan website.
See all our recent coverage of the best upcoming SF and Fantasy here.