Galaxy Science Fiction, December 1954: A Retro-Review
Galaxy Science Fiction, December 1954: A Retro-Review
Galaxy Science Fiction, December 1954. Cover by Emsh
At the time I'm writing this article, we're approaching the holiday season, just as people were when Galaxy's December, 1954 issue arrived. And what could usher in the Yuletide spirit better than some festive, science-fiction artwork by Ed Emshwiller? That's right. Nothing.
"Skulking Permit" by Robert Sheckley – The colony on the forested planet of New Delaware has been isolated from Earth for 200 years. It operates as a peaceful, small town, where the residents are harmonious, and crime doesn't exist. When their ancient radio becomes active again, a person from Earth tells the mayor that an inspector is coming in two weeks to determine if the colony conforms to the "customs, institutions, and traditions of Earth." The mayor takes action, determined to uphold those customs, institutions, and traditions. The colony builds a schoolhouse, a church, and a jail. And the mayor assigns new roles to people, such as Postman and Police Chief.
Tom Fisher wants to enjoy his vacation, but the mayor assigns Tom an important role – the Criminal.
The concept of stealing seems challenging enough, but the mayor expects more than a simple theft. For there to be a true criminal, he asks Tom to also commit murder, which also has the prerequisite of motive so that it fits with a crime. As Tom debates who to murder, knowing everyone so well and unable to imagine ending anyone's life, let alone coming up with a motive for killing, the inspector arrives. And that's when Tom gets the idea that he has a motive for murdering the inspector – to prove to Earth that this small colony still closely resembles it.
I like the overall premise of a distant, planetary colony trying to reinvent itself with comedic effect. I think there are different paths the story could have taken, but the one Sheckley chose ties to the overall theme and lightheartedness.
"Play Back" by J. T. McIntosh – Bert has the ability to relive his life whenever he wishes. And he's done so numerous times. As he and his friends speculate on time travel and what it would mean – how to get what you want without accidentally messing things up – he joins in the speculation. But he's careful not to get too close to the truth; he did that once before, and it didn't turn out well. Unfortunately for Bert, there are things he could never change – like the cancer that will kill his wife in five years. All he can do is relive the time he has with her, over and over.
There's a sweet but melancholy overtone to the story of one character's experiments with the ultimate do-over. For all of us who reflect on past situations and think, "I should have done this or said that," this story resonates.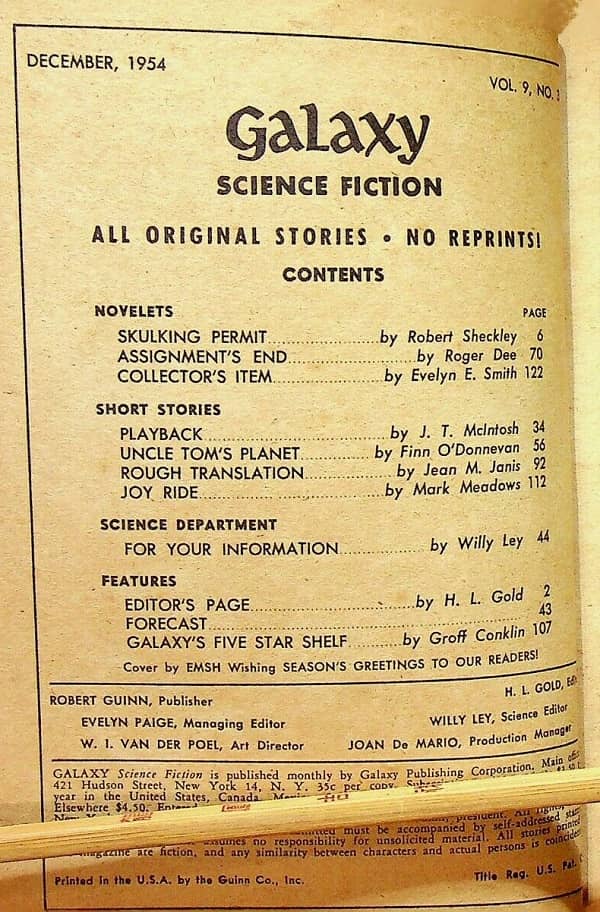 Table of Contents for the December 1954 issue of Galaxy
"Uncle Tom's Planet" by Finn O'Donnevan – An Earth colony enslaves an alien race called Aingoes, in violation of the Slavery Act. Bill Sims, an agent of the Galactic Council, intercepts a ship from the colony, accusing them of the violation. The captain, however, asks to have the case determined in court, stating that the Aingoes are inferior, which isn't a violation.
This tale seems to be a long joke without a funny punchline. It just didn't connect for me. Finn O'Donnevan is a pseudonym of Robert Sheckley, allowing him to have two stories in the issue. This was the choice of H. L. Gold (the editor), likely for the purpose of keeping a specific quality and theme for the magazine overall, but I think it's important to point out that in these early years of Galaxy, it wasn't that easy for new writers to break in.
"Assignment's End" by Roger Dee – Philip Alcorn has an unnatural ability of affecting people's moods – putting them in a state of such happiness that they'll do anything he asks. And they'll do so believing it's their own will. But he wants to understand why he's like he is and to also figure out the waking nightmares that come – hallucinations of being in the arctic near an unknown civilization. While Philip works to solve the puzzle of his abilities and the hallucinations, others become aware of his talent and seek him for their own purposes.
There's a good pacing with Dee's tale. It starts with a lot of dialogue and setting up the characters and premise then moves into more drama and action. This was my favorite story of the issue.
"Rough Translation" by Jean M. Janis – The crew from an exploratory ship that allegedly returned from Mars loses the ability to speak English clearly. They often substitute nonsensical words, like shurgub, in place of common vocabulary, making it impossible to understand them. Jonathan, a linguist, tries to help in translating, but he struggles to make sense of the crew's words. When he overhears his son using one of the nonsensical words, he begins to explore new ideas that could lead him to a translation.
Beyond Fantasy Fiction #9, November 1954, containing "Queen's Mate" by Jean M. Janis. Cover by Vidmer
There's some amusement in how things unfold, along with some unexpected moments. Author Jean Janis is an example of a new author who did find a way into the pages of Galaxy, even when facing the challenge of professional authors selling multiple stories in the same issue. Janis also had a story titled "Queen's Mate" published in a 1954 issue of Beyond Fantasy Fiction, Gold's other magazine that attempted to be the fantasy equivalent of Galaxy.
"Joy Ride" by Mark Meadows – Cybernetics work well, but when perfection of all machines and mankind becomes the aim, there's a question of free will, and at some point, someone will ask what it really means to live.
This story is told in the form of a report from the views of multiple sources. I think the style works nicely, presenting a narrative that really stands out.
"Collector's Item" by Evelyn E. Smith – A small party arrives on Venus and soon encounters a lizard-man who claims to be a native. But he's actually a prisoner from another planet who escaped his captors. He sees these exploration tourists as an opportunity to leave the planet, provided he can gain their trust – something that's much easier, given his telepathic ability.
There were several turns in the story that made it unpredictable for me. I found it highly enjoyable.
The issue also contained "For Your Information" by Willy Ley and "Galaxy's Five Star Shelf" (novel and anthology reviews) by Groff Conklin.
---
Matthew Wuertz's project to review every issue of Galaxy magazine in order of publication began with the January 1950 issue. See all his reviews here.