Vintage Treasures: Weird Shadows From Beyond, edited by John Carnell
Vintage Treasures: Weird Shadows From Beyond, edited by John Carnell
Weird Shadows From Beyond (Avon Books, August 1969). Cover by Josh Kirby
John Carnell edited the highly-regarded British SF magazines New Worlds (from 1946-64), Science Fantasy (1951-64), and Science Fiction Adventures (1958-63). In the US he's probably best known an an anthologist, editor of the long-running New Writings in SF (21 volumes from 1964-72), and individual volumes like No Place Like Earth (1952), Gateway to Tomorrow (1954), and Lambda I and Other Stories (1964).
I found a copy of his slender 1969 anthology Weird Shadows From Beyond in a small collection I bought on eBay earlier this year. Carnell's thoughtful introduction both intrigued me and nicely set the mood for the tales within:
A freshly turned grave with one mourner filled with hate; a telephone kiosk at night with something outside trying to get in; a ghoul playing knucklebones on a tombstone; a bodiless evening dress suit dancing in a moonlit glade; an iron shark hook; a handful of perfect teeth; a witch and a were-leopard — these are but a few of the ingredients which are an integral part of some of the stories in this collection of bizarre stories. Stories told with the consummate skill of modern writers, for the tree of the macabre has come a long way since its roots spawned in the day of the Gothic novel.

Doubtless those giants of yesterday — Poe, Blackwood, Dunsany, Lovecraft, Bierce, Wakefield, and the many others — would be pleased with their foster-children and somewhat amazed by present-day techniques of story-telling, yet, while more than half a century separates the old from the new, both classes of writer have the same aim in view; to entertain and at the same time to cause an occasional shudder or an uneasy feeling at dead of night.
Weird Shadows From Beyond contains ten short stories published between 1956 and 1964, seven of which were drawn from Carnell's Science Fantasy magazine. They include an Elric story by Michael Moorcock, a pair of stories by Mervyn Peake, and stories by William Tenn, Brian W. Aldiss, Theodore Sturgeon, E. C. Tubb, an original story by Eric C. Williams, and others. Here's the complete table of contents.
[Click the images for weirder versions.]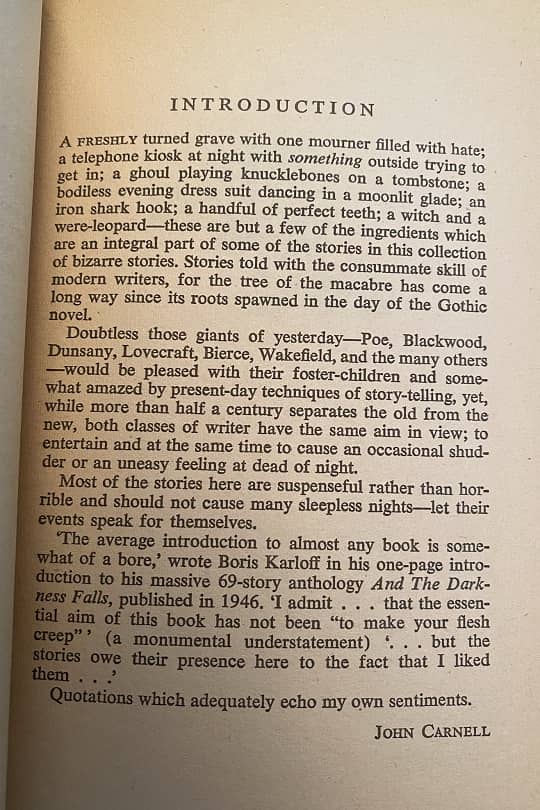 Carnell's one-page introduction to Weird Shadows from Beyond
The Table of Contents for Weird Shadows from Beyond:
Introduction by John Carnell
"Danse Macabre" by Mervyn Peake (Science Fantasy #61, October 1963)
"Blood Offering" by John Kippax (Science Fantasy, June 1961)
"Same Time, Same Place" by Mervyn Peake (Science Fantasy, August 1963)
"Master of Chaos" by Michael Moorcock (Fantastic Stories of Imagination, May 1964)
"Wednesday's Child" by William Tenn (Fantastic Universe, January 1956)
"Dial 'O' for Operator" by Robert Presslie (Science Fantasy, February 1958)
"The Flowers of the Forest" by Brian W. Aldiss (Science Fantasy, August 1957)
"Fresh Guy" by E. C. Tubb (Science Fantasy, v10 #29, 1958)
"The Garden of Paris" by Eric C. Williams (original to this collection)
"The Graveyard Reader" by Theodore Sturgeon (Science Fantasy #31, October 1958)
Over at Vault of Evil, Thirsty Dog offers up a fine story-by-story synopsis. These are filled with spoilers, so read with caution.
These three are super.

Robert Presslie – "Dial 'O' for Operator." Returning from a night on the docks, a prostitute is trapped inside the telephone booth by a formless, icy cold black thing. Charley Groom at the Telephone Exchange refers her distress call to the police, who duly investigate, only to find the booth empty. Still the terrified woman persists, insisting the thing is oozing through the roof ventilator. The blob retreats whenever she strikes a match, so Charley advises she tear up a directory, set it ablaze and make a dash for it.

Theodore Sturgeon – "The Graveyard Reader." Embittered widower leaves his dead wife's headstone blank convinced that the no good bitch was having an affair when she died. A stranger informs him that a grave reveals every last secret of the deceased, it is just a case of knowing how to read it. With the old man's help, he spends a year learning to doing so. The gift is blessing or curse, depending on how you use it.

"I learned how flimsy were the bases of so many of their fears, and how unimportant, in the long run, were the things on which so many of them pitifully spent their lives. More than anything else I learned how uncharacteristic of most of them were their cruelties, how excusable their stupidities; in short, how damned decent they were."

Mervyn Peake – "Danse Macabre." Harry and wife have separated, but their best clothes continue to get it on Friday night in the woods.

It's another collection left little impression on first acquaintance, several years on it's hitting the spot. Robert Presslie's Dial 'O' For Operator is a sci-horror instant classic. Also very fond of Danse Macabre, The Graveyard Reader, and this next, the single original in the collection.

Eric Williams – "The Garden Of Paris." It's Monsieur Delacroix's job to sift UNO crank mail for that rare instance of an anonymous tip which may actually require investigation. M. Abine, whose house overlooks the Zoological Gardens, is insistent that a Soviet cell are using the grounds to commit political assassinations on nights of a full moon. All nonsense, of course. The screams he reports are those of hapless passers-by being fed to a man-eating plant in the Cactus House! Delacroix and Abine learn that Philippe Medan, the MAD BOTANIST who cultivated the monster, is intent on scattering its seeds across the globe.

William Tenn – "Wednesday's Child." Wednesday Gresham is one crazy mixed up young woman who, in the opinion of Dr. Lorington, was not born but made by someone with no idea where all the parts belonged. He strongly advises that she she should never have children. Fabian Balik, Wednesday's slimy boss at the Advertising Agency, ignores Lorington's warning and seduces her. We visit the maternity ward.

Michael Moorcock – "Master of Chaos." Sword & Sorcery heroics. To claim the enchanted Castle Kaneloon for Queen Eloarde, , Earl Aubec of Maledor must first overcome monsters projected from his own darkest fears, including a giant steel Golem. Bloodied but unbowed, he finds his way to the boudoir of Mircella, the Dark Lady, who entices him into a fresh challenge.

Brian W. Aldiss – "Flowers of the Forest." In a fit of remorse, Hopkins, a man of violent impulses, resolves to track down his wife and explain why he had to disfigure her face. Hopkins travels to Sumatra to request the assistance of Subyata, 'the spirit of the jungle,' a powerful witch. When Subyata has him confront a past he doesn't wish to acknowledge, Hopkins angrily sticks her when his knife, whereupon he's pursued to his doom by her familiar, a were-leopard. Story takes its title from the Rafflesia, the corpse plant, "the biggest, ugliest flower on the whole planet" which we get to witness in action.

Mervyn Peake – "Same Time, Same Place." Their whirlwind romance comes to a grinding halt in a Cambridge Circus registry office when he finally catches sight of his bride in all her glory. Now the circus folk are out for his blood.

E. C. Tubb – "Fresh Guy" After the big bang, the few surviving humans dwell underground until such times as it's safe to return to the surface. Their re-emergence is eagerly anticipated by Sammy the Ghoul, Lupe the Werewolf, trad. vampire Count Boris and his despised progeny, Edward Smith. Smith is insistent on running the show his way. Sammy and the Count agree that, in this particular case, they might suspend the agreement by which monster does not feed on monster.

John Kippax – "Blood Offering." "He is all black, with the head of a shark and the body of a man!" Baines the village store-keeper is forced to accept there's something to ridiculous native superstitions when his hired hand invites the wrath of the local God.
Weird Shadows From Beyond was published in the UK by Corgi Books in 1965, and reprinted in the US by Avon Books in August 1969. It is 157 pages, priced at 60 cents. The cover is by Josh Kirby.
See all our recent Vintage Treasures here.