Sunken Realms and a Road of Bones: Tales From the Magician's Skull #5, edited by Howard Andrew Jones
Sunken Realms and a Road of Bones: Tales From the Magician's Skull #5, edited by Howard Andrew Jones
Tales From the Magician's Skull #5 (Goodman Games, December 2020). Cover by Sanjulian
I don't think there's a magazine out there I look forward to as much as Tales From the Magician's Skull, edited by Howard Andrew Jones and published twice a year by Goodman Games.
Yes, partly it's because it regularly features so many people I consider friends, including James Enge, John C. Hocking, Ryan Harvey, Violette Malan, Adrian Simmons, and of course Howard, who was Managing Editor here at Black Gate for many years. If you're a Black Gate reader in fact, you're guaranteed to find a great deal you'll love about the Skull — and not just because all of those lovely folks have written for BG over the years.
But I think the real reason I enjoy it is because the magazine is a tremendous amount of fun, and everything about it radiates an abiding love of adventure fantasy and sword & sorcery. Want an example? Here's an excerpt from Howard's introduction to the brand new issue — beginning with the welcome news that the magazine is open to submissions for the first time!
We will throw the gates wide on a trial basis for a limited time…. The Skull has decreed that we shall accept electronic manuscripts beginning on the anniversary of the birthday of the sacred genre's father, Robert E. Howard, January 22, 2021, and close upon that date sacred to mortal fools, April 1, 2021…
Get more details on the Call for Submissions here.
[Click the images for Skull-sized versions.]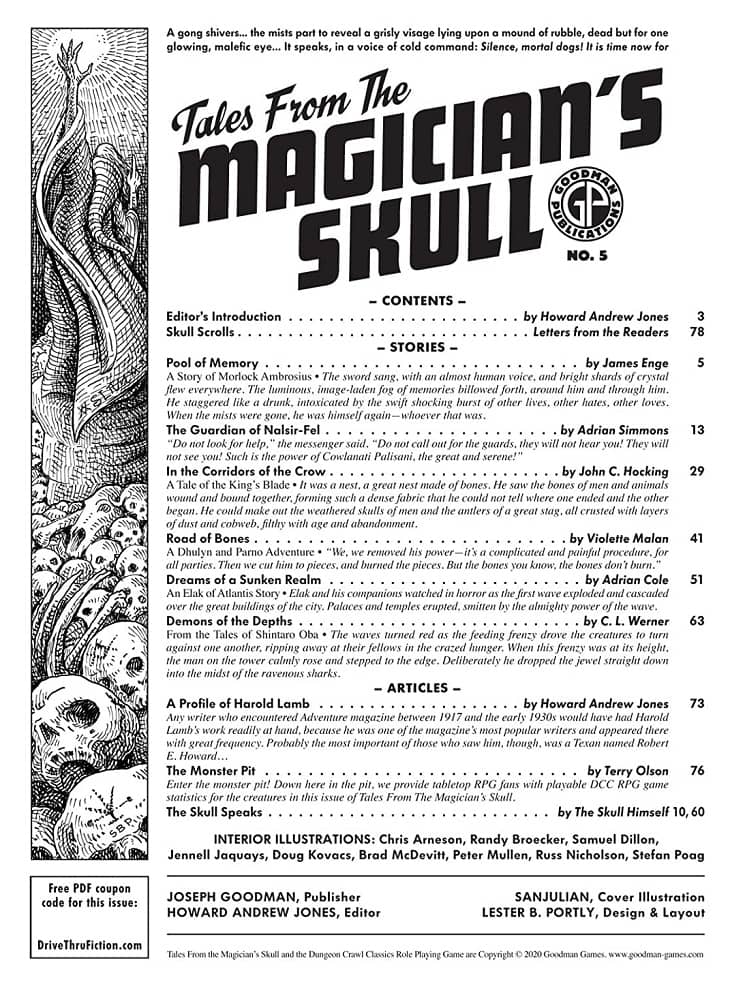 Table of Contents for Tales From the Magician's Skull #5 (click for more legible version)
Here's Howard on the contents of the newest issue.
At the Skull's behest we have scoured the world for fantastic new tales of sword-and-sorcery, and are pleased to present them to you. As you've come to expect, the issue is a mix of new and recurring authors and characters… First up you'll find James Enge, who brings us an all-new adventure of the brilliant Morlock, who himself is wrestling with a world he barely recognizes. Chris Hocking's hard-boiled Benhus, King's Blade, ventures into depths that might twist past our own reality in the company of his own secretive monarch. Clint Werner sends his brave samurai Oba onto the high seas to confront a horrific menace, and Violette Malan's Dhulyn and Parno get wrapped up in one of their strangest and most compelling adventures yet, allied with a wizard who might actually be one of the good guys.

New to us is an author who will be familiar to many, Adrian Simmons, editor of a well-known e-zine after our own heart, Heroic Fiction Quarterly, and author of a stirring tale of two adventurers thrust into a rescue mission for a young friend.

Adrian Cole rounds out the issue with another adventure of Elak of Atlantis, this time contending with ancient cosmic forces from the ocean depths.
A new Morlock story, a new Hocking, a Dhulyn and Parno tale, and a story from my buddy Adrian? Yes indeed, this magazine looks like a delight from end to end.
Just about the only thing missing is a new installment in Howard's ongoing — and excellent — adventures of the brilliant exiled general Hanuvar, which are usually issue highlights. But I expect he'll return in #6, which I'm reliably informed is already in the pipeline.
As I've mentioned before, one of the delights of Tales From the Magician's Skull is the top-notch interior artwork. Here's just a few examples.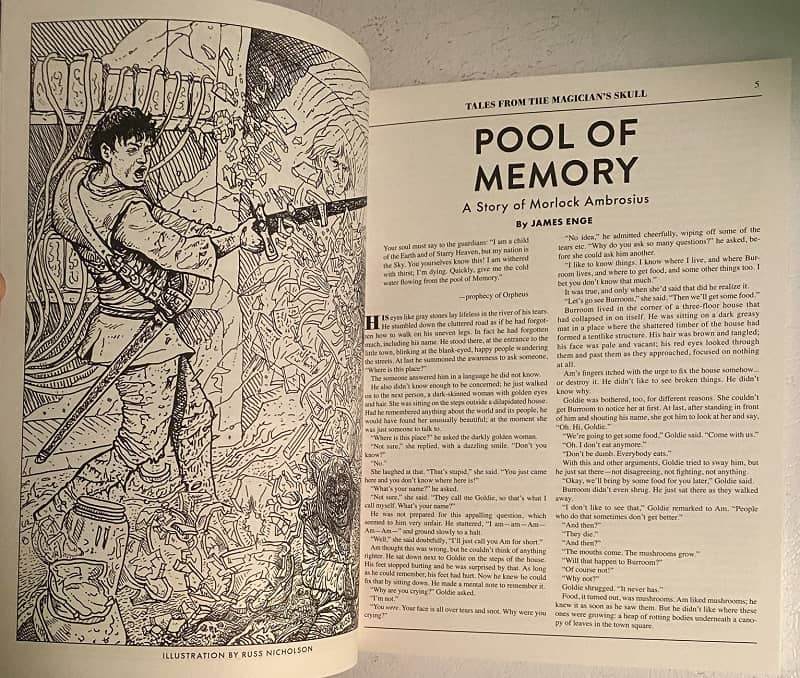 "Pool of Memory" by James Enge; art by Russ Nicholson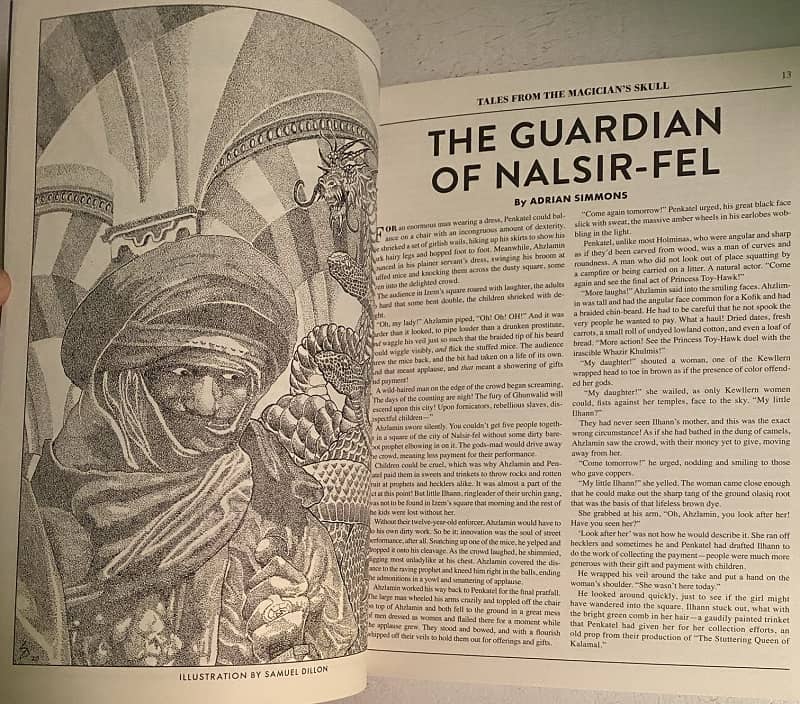 "The Guardian of Nalsir-Fel" by Adrian Simmons; art by Samuel Dillon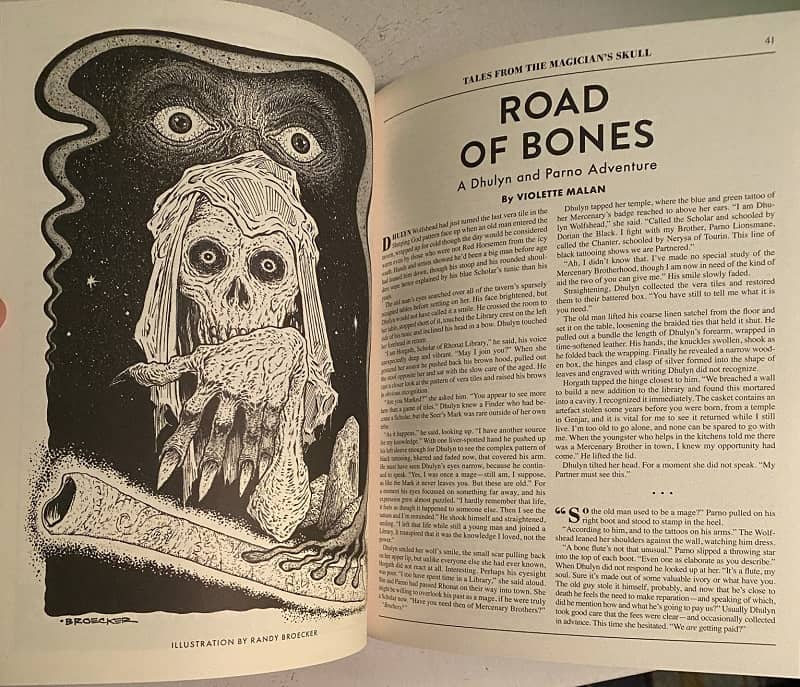 "Road of Bones" by Violette Malan; art by Randy Broecker
Our previous coverage of Tales From the Magician's Skull includes:
Witches, Thieves, and Dead Queens: Tales From the Magician's Skull #4, edited by Howard Andrew Jones
Rejoice, Mortals, for Tales from the Magician's Skull #3 is Here! by SELindberg
Support the Tales From the Magician's Skull Kickstarter!
In Search of a new Weird Tales: An Interview with Joseph Goodman, Howard Andrew Jones, and the Talking Skull!
The 1001 Treasures of Black Blade Publishing and Goodman Games: Gary Con 2018 Report, Part II
Support an Exciting New Magazine of Sword & Sorcery: Tales From the Magician's Skull
Tales From the Magician's Skull is edited Howard Andrew Jones and published roughly twice a year by Goodman Games. It is 80 oversized pages, priced at $14.99 in paper and $8 in PDF format at DriveThruPRG. The cover is by Sanjulian; interior illustrations are by Chris Arneson, Randy Broecker, Samuel Dillon, Jennell Jaquays, Doug Kovacs, Brad McDevitt, Peter Mullen, Russ Nicholson, and Stefan Poag.
Buy copies at the Goodman Games website, and see the original Kickstarter campaign here.
See all our recent magazine coverage here.