Ellsworth's Cinema of Swords: Gallic Gallantry
Ellsworth's Cinema of Swords: Gallic Gallantry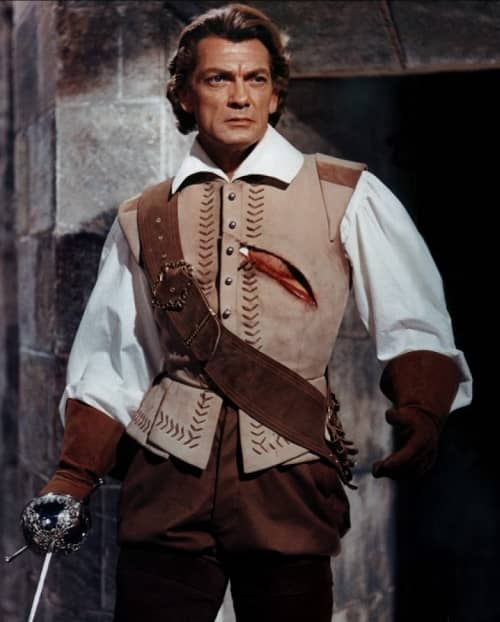 Le Capitan (1960)
As you might expect from the country that gave us Cyrano and d'Artagnan, the French film industry has always been enthusiastic about making swashbucklers. A lot of them have no available English-language versions, alas, but here are three of the best that do. I think you'll agree they all have a certain je ne sais quoi.
The Captain (or Le Capitan)
Rating: ****
Origin: France/Italy, 1960
Director: André Hunebelle
Source: Pathé DVD
This French film may be the best swashbuckler you've never seen. It's set in France a dozen years before the events of The Three Musketeers, when King Louis XIII was only 15 years old and still ruled by his mother, Marie de Médicis, and her lover, the Italian adventurer Concino Concini, whom Marie has elevated to the rank of prime minister. Concini's hired thugs are killing nobles who oppose him and looting their estates, and the movie opens with a mêlée in which Concini's assassins, led by their boss, Rinaldo, are raiding a count's château. The count's friend, the Chevalier de Capestang (Jean Marais), gallops up and leaps into the fray, turning the tide, but not before Rinaldo knifes the count in the back. As the thugs retreat Capestang is wounded by another thrown knife and is about to slain by the last assassin when the killer is shot down by a mysterious lady (Elsa Martinelli) in a male cavalier outfit.
The mystery woman nurses Capestang back to health but then disappears. Was she just a vision of delirium? Once healed, Capestang agrees to represent the grievances of the local nobles and travel to Paris to appeal to Concini — and maybe even the young king. Concini (Arnoldo Foà) tries to co-opt the capable Capestang, but he haughtily refuses, and Concini, in Italian, dubs him "Il Capitano" after the stock commedia dell'arte character of the strutting braggart. Capestang accepts the moniker as a badge of honor.
Fortunately, Le Capitan is no buffoon — that part goes to the comic actor Bourvil in the role of Cogolin, Capestang's loyal jester-slash-valet. Cogolin has a comic horse and a comic dog and does all the funny bits, leaving the derring-do to Capestang. And unlike director Hunebelle's 1953 version of The Three Musketeers, this time the do is daring indeed. Marais is an athletic swashbuckler who compares well with Errol Flynn and Doug Fairbanks, Sr., and moreover, he knows how to handle a blade; the swordplay in this film is impressive. Marais is said to have done all his own stunts, and while there are some long shots when Capestang is scaling a castle wall where I'd bet they used an expert climber, there are plenty of other closeups where it's clearly Marais leaping from a window or dangling on the end of a rope. And as in Hunebelle's Three Musketeers, the locations are nearly all authentic period sites, with scarcely a studio stage set to be seen.
Based on a now-forgotten 1907 novel by Michel Zevaco, the story gets the history mostly right but best of all nails the genre conventions. Capestang eventually finds his mysterious pistol-packing cavalier lady, and along the way we get carriage chases, a dwarf alchemist, a masked imposter, a dynamited drawbridge, and a torture dungeon under the Louvre. It's grand good fun. Spoiler: the young king is saved from his evil councilors. Vive le roi!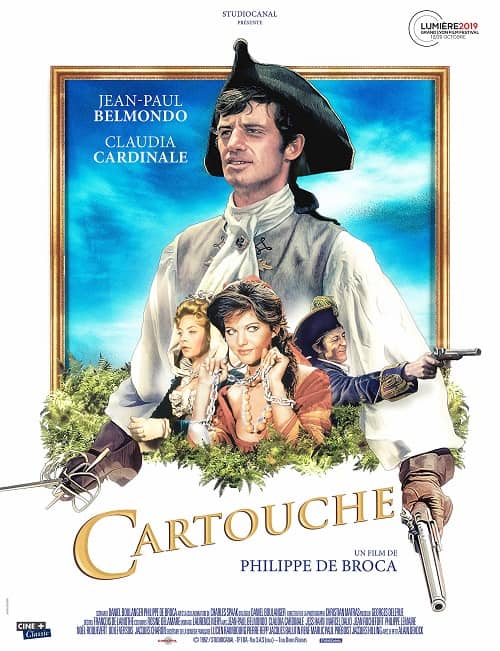 Cartouche (or Swords of Blood)
Rating: ***
Origin: France, 1962
Director: Philippe de Broca
Source: Anchor Bay DVD
This swashbuckler fictionalizing the life of a historical outlaw in 18th-century France starts out as a light farce and gradually gets serious. Dominique (Jean-Paul Belmondo) is a charming and brazen thief who runs afoul of the head of the Paris thieves' guild and gets a price put on his head. He escapes Paris by joining the army, and since this is a French farce and everyone in authority is a buffoon, a satirical massacre ensues. Dominique and two jovial accomplices, the knife-throwing Mole (Jean Rochefort) and simple strongman Gentle (Jess Hahn) escape the slaughter, stealing a carriage-load of army payroll gold in the process. Making their getaway, they hook up with the dancing pickpocket Venus (Claudia Cardinale) plus a rogue monk and a new outlaw gang is formed.
Gang leader Dominique takes the nom de voleur Cartouche and sets out to rob only oppressive aristocrats, distributing the excess spoils to the poor out of sheer ebullience and converting the downtrodden into willing accomplices. Cartouche is so successful that he returns to Paris and takes over the thieves' guild, turning their hideout into an opulent treasure-draped lair for his lover Venus. But all too soon Cartouche's roving eye is caught by a haughty countess, the wife of the lieutenant general of police, and that won't end well.
This film was a lavish production released just as Gallic heartthrob Belmondo's star was ascending to its height, and even in the silly first act his confidence and élan carry him through. There's real chemistry between Belmondo and the youthful Cardinale, who glows with joy and exuberance. The supporting cast is also strong, especially the always-enjoyable Rochefort as the Mole, who has a wry remark to make at every turn. However, beyond Rochefort's quips, the script isn't that great, consisting mostly of clichés recycled with a wink, and the humor is mainly broad slapstick, but as the story grows more serious the action gets tighter and the early goofiness is forgiven. Cartouche is a hero who harks back to the Romantic era, so in the end his career turns from comic to tragic. Mais bien sûr: it's French.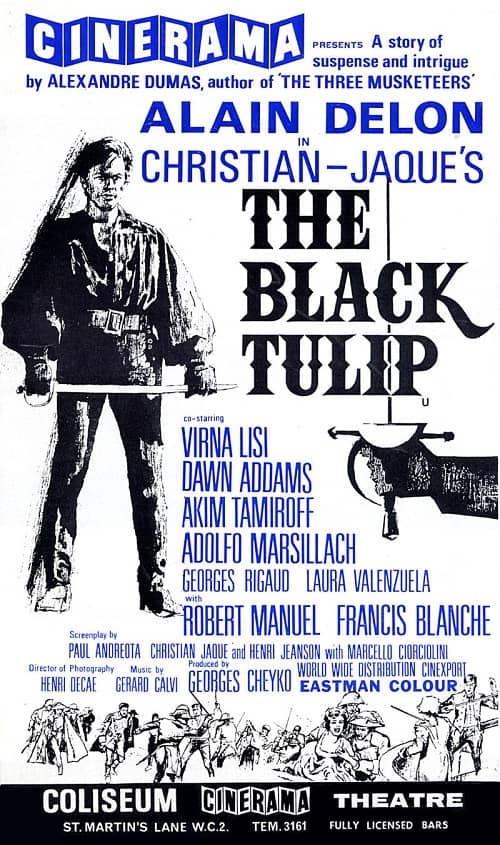 The Black Tulip
Rating: ***
Origin: France/Italy/Spain, 1964
Director: Christian-Jaque
Source: Video Dimensions DVD
When French matinee idol Alain Delon saw how much fun Jean-Paul Belmondo had making Cartouche (1962), he decided he wanted to star in a swashbuckler too, and the result is The Black Tulip, which takes its title from a novel by Alexandre Dumas but nothing else — though it has another Dumas connection, as we'll see.
In 1789, at the very beginning of the French Revolution, the aristocrats of a remote province are robbed and terrorized by a masked outlaw who calls himself the Black Tulip, a man of mystery who fences like a master and rides an intelligent wonder horse named Voltaire. Secretly the Tulip is a nobleman himself, the smug and supercilious Guillaume de Saint-Preux (Delon); unfortunately, when he's nearly trapped by his nemesis Baron de La Mouche (Adolfo Marsillach), he gets scarred on one cheek. If he shows his face in public before the wound heals, he'll be revealed as the Tulip, so Guillaume summons his lookalike brother Julien to temporarily take his place.
Identical brothers are a staple of the genre, of course, in film versions the male lead always gets to play both parts, and through the miracle of split-screen photography that's the case here. Julien, though diffident, prim, and priggish, is an ardent revolutionary, so he's thrilled to help his brother by appearing as Guillaume. In that guise, Julien learns of the approach of a regiment bent on putting down the rebels, so he warns Guillaume about it, assuming the Black Tulip will want to lead a counterattack — but is disillusioned to find that Guillaume cares nothing for his revolutionary ideals.
So, Julien puts his diffidence aside and assumes the identity of the Black Tulip as well as that of Guillaume. He falls in with the revolutionary Plantin (Francis Blanche), who turns out to be a grandson of "the musketeer Porthos." Plantin has raised his daughter Caro (Virna Lisi) as a boy and taught her the family Secret Thrust, so she's able to train Julien to be as good a fencer as Guillaume — and naturally they fall in love in the process. Swashbuckling ensues.
This film maintains its tone of light adventure more successfully than Cartouche, never veering too far into the silly or the grim, and if it's maybe five minutes too long, we'll forgive it. We'll also forgive its so-so swordplay because for a change most of the fencing is with cavalry sabers instead of small swords or rapiers, which is refreshing. Plus, you know, it has a wonder horse named Voltaire.
The previous installments in the Cinema of Swords are:
Olivia de Havilland — First Queen of the Swashbucklers
Goofballs in Harem Pants
Disney's Early Swashbucklers
'50s Vikings – Havoc in Horned Helms
Laughing Cavaliers
Charming and Dangerous: Douglas Fairbanks, Jr.
Eleven Samurai: Early Chambara Classics
Beyond Captain Blood: Three by Sabatini
3 Musketeers + 1 Long Nose
Louis Hayward, Everyman with a Sword (Part 1 of 2)
Days of Technicolor Knights
Louis Hayward, Everyman with a Sword (Part 2 of 2)
Laurence Olivier, Swashbuckler?
Tony Curtis Goes Yonda
The 7th Voyage and Its Children
The Good, the Bad, and Mifune
The First British Invasion
Wholesome Buccaneers (Pt. 1)
The Tale of Zatoichi
The Sign of the Z!
---
LAWRENCE ELLSWORTH is deep in his current mega-project, editing and translating new, contemporary English editions of all the works in Alexandre Dumas's Musketeers Cycle, with the fourth volume, Blood Royal, just published by Pegasus Books in the US and UK. His website is Swashbucklingadventure.net.
Ellsworth's secret identity is game designer LAWRENCE SCHICK, who's been designing role-playing games since the 1970s. He now lives in Dublin, Ireland where he works as a consultant for narrative-based video games.