New Treasures: The Ruthless Lady's Guide to Wizardry by C. M. Waggoner
New Treasures: The Ruthless Lady's Guide to Wizardry by C. M. Waggoner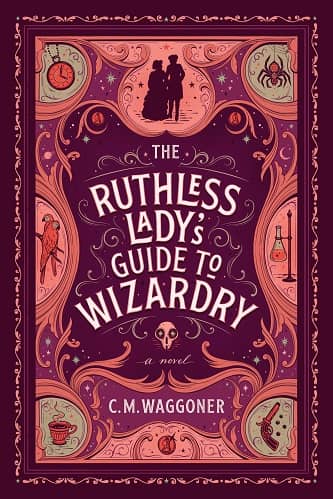 C. M. Waggoner's debut novel was Unnatural Magic (which we covered here almost exactly a year ago). Her latest, published last month by Ace, is set in the same world. I admit I'm very intrigued by the description for The Ruthless Lady's Guide to Wizardry, the tale of a down-and-out fire witch and a young gentlewoman who team up to stop a deadly conspiracy.
Dellaria Wells, petty con artist, occasional thief, and partly educated fire witch, is behind on her rent in the city of Leiscourt — again. Then she sees the "wanted" sign, seeking Female Persons, of Martial or Magical ability, to guard a Lady of some Importance, prior to the celebration of her Marriage. Delly fast-talks her way into the job and joins a team of highly peculiar women tasked with protecting their wealthy charge from unknown assassins.

Delly quickly sets her sights on one of her companions, the confident and well-bred Winn Cynallum. The job looks like nothing but romance and easy money until things take a deadly (and undead) turn. With the help of a bird-loving necromancer, a shapeshifting schoolgirl, and an ill-tempered reanimated mouse named Buttons, Delly and Winn are determined to get the best of an adversary who wields a twisted magic and has friends in the highest of places.
Come on, I know that description is like nothing else you've ever read. (Romance, undead, and a reanimated mouse named Buttons! That's a winning combo right there.) Martin Cahill at Tor.com is very taken with this book:
Waggoner's characters absolutely shine… Agatha Christie in design and Pratchett-esque in execution… The plot… is [a] daring sequence of events that kept me enthralled and rooted to my seat for hours on end. A protection job turns into a murder mystery, turns into a revenge quest, turns into a courtship, turns into something like Breaking Bad by way of "let's burn it down from the inside," and ends up somewhere around the end of a Shakespearean comedy and tragedy combined.
The Ruthless Lady's Guide to Wizardry was published by Ace Books on January 12, 2021. It is 384 pages, priced at $17 in trade paperback and $11.99 in digital formats. The cover art and design is by Jess Cruickshank. Read the complete first chapter at Tor.com.
See all our coverage of the best new science fiction and fantasy right here.