Vintage Treasures: Alien Earth by Megan Lindholm
Vintage Treasures: Alien Earth by Megan Lindholm
Alien Earth (Bantam Spectra, 1992). Cover by Oscar Chichoni
Megan Lindholm is a bestselling fantasy writer under her pseudonym Robin Hobb. But before she began producing epic fantasy trilogies under that name in the late 90s, she had a successful career as Lindholm, writing highly respected novels such as Wizard of the Pigeons, Cloven Hooves, and the 4-volume Windsingers series. She also dabbled in science fiction, most notably with her 1992 novel Alien Earth, the tale of small team of humans who return to Earth thousands of years after the dying planet was evacuated.
Alien Earth's ecological themes resonate well with modern readers, and the book enjoys a 4.1 average rating at Goodreads today. However my favorite review is by Rob Weber at Fantasy Literature, who calls it "A magnificent science fiction tale." Here's an excerpt:
Alien Earth is set in a far future. Humanity has managed to poison Earth to such an extent that the alien Arthroplana step in and offer, what is in their view, the only possible solution to the catastrophe unfolding on our home planet: complete evacuation…

Centuries after the evacuation, Captain John Gen-93-Beta of the Beastship Evangeline is approached with an unthinkable mission. A faction dissatisfied with Arthroplana rule asks him to return to the dead planet Earth to find out if the Arthroplana are right in saying the planet is beyond recovery. The Arthroplana will not approve of what John's employers are trying to achieve, so the whole mission is complicated by blackmail, manipulation and the need for secrecy… Setting out with a small crew, John heads for Earth without any of them knowing the details of John's assignment. Each of the five travelers — the Beast Evangeline, her Arthroplana keeper Tug, Captain John, his crew mate Connie, and stowaway Raef —have their own agenda…

Lindholm expertly weaves the stories of these five very different characters into a magnificent science fiction tale. If you happen to come across a copy, I highly recommend you seize the opportunity.
A number of writers have explored Megan Lindholm/Robin Hobb's career at Black Gate. Here's some of our most popular coverage over the years.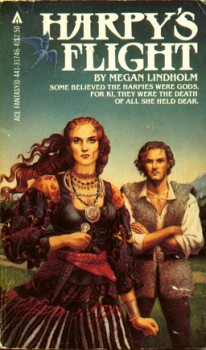 Harpy's Flight by Megan Lindholm (aka Robin Hobb) by Fletcher Vredenburgh (2013)
Robin Hobb on What's Wrong with Epic Fantasy (2014)
Fool's Quest by Robin Hobb (2015)
Fool's Assassin: How Robin Hobb Writes Lyrical Fantasy Without Being Boring by M Harold Page (2016)
Robin Hobb Wraps Up the Fitz and the Fool Trilogy with Assassin's Fate by John ONeill (2017)
Vintage Treasures: Cloven Hooves by John ONeill (2020)
Alien Earth was published as a paperback original by Bantam Spectra in July 1992. It is 385 pages, priced at $5.99. The cover is by Oscar Chichoni. It has been out of print in the US since 1992, though Collins released an ebook version in 2011.
See all our recent Vintage Treasures here.