A Tale of Horrific First Contact: The Sentience Trilogy by Terry A. Adams
A Tale of Horrific First Contact: The Sentience Trilogy by Terry A. Adams
Covers by James Gurney, Richard Hescox, and Stephan Martiniere
Every time an author completes a trilogy, we bake a cake at the Black Gate rooftop headquarters. Given how long some big fantasy trilogies take to wrap up, we've learned patience over the years. Even so, we rarely have have to wait 27 years, as dedicated fans did for Terry A. Adams popular Sentience trilogy.
It opened with Sentience, Adams' debut novel, which made quite a splash in 1986.  It was nominated for the Locus Award for Best First Novel; Locus magazine said "Adams writes with an elaborate, intricate prose … [and] weaves an elegant tale that makes for fascinating reading," and Voya called it "an exciting story, well told and well written…. An excellent SF thriller by a new writer." John Clute at The Science Fiction Encyclopedia describes the series this way:
Begins in the conflict between "true" humans and D'Neerans, who are human telepath, and builds into a Space-Opera sequence involving new races and challenges to their female telepath protagonist, who saves several worlds. They are told in a skittish but engaging style designed to give some sense of a telepath's way of thinking.
Ken Richards gave the first book a 4-star review at Goodreads. Here's an excerpt from his more detailed review.
[Click the images to embiggen.]
Sentience exhumes the now rather unfashionable trope of telepathy, and uses it effectively and cleverly to introduce one of the more fascinating alien First Contact episodes (and concept of an alien society) I have read.

The human Polity has spread across many worlds, one of which is home to the somewhat despised D'neerans, who are telepaths, not true-humans. In the opening chapter, we are introduced to Hanna Korath, seemingly faced with certain death and under attack by hostile forces. Her audacity in the face of danger buys just enough time for salvation, and thereby the opportunity to fulfill her ambition to join the Endeavour exploratory mission as an exopsychologist.

The Endeavour is seeking out a mysterious and elusive communication. But it is Hanna who will undergo a traumatic and near fatal transformative encounter with the secretive alien race.
Sentience was followed three years later by The Master of Chaos, and 24 years after that, the final book arrived. Here's the back covers for all three.
All three volumes were published by DAW. Here's the complete details.
1 Sentience (381 pages, $3.50 in paperback, February 1986) — cover by James Gurney
2 The Master of Chaos (496 pages, $4.50 in paperback, April 1989) — cover by Richard Hescox
3 Battleground (501 pages, $37.99 in paperback, October 2013) — cover by Stephan Martiniere
How did readers react to the 24-year gap between books 2 and 3? That's well summarized in this enthusiastic Amazon review by Robert Thorbury.
A Welcome Continuation to the Saga

The horrific first contact with the People of Zeig-Daru changed Hanna forever. She came out victorious against all odds, but at great personal cost. All of that took place in a book called Sentience, by Terry A. Adams. In the following story, The Master of Chaos, Hanna befriended a group of benign aliens, the Uskosians, but again horrible things happened to her and her friends, and she ended up for a time turning renegade. Her experiences would be enough to unhinge anyone, so no surprise there.

At the start of Book Three, called Battleground, Hanna finds herself in quite a predicament. She has a newborn son, Mickey, conceived in Book Two, but she does not have her freedom. Technically she is still an outlaw. Were it not for her friends the Uskosians, she would probably be in prison. Or worse…

To try to prove her worth to the Interworld Polity, the main interstellar human government, Hanna begins teaching others, especially fellow D'Neeran telepaths, the art of dealing with aliens… And then clues to another alien civilization are uncovered, and Hanna has little choice but to leave Earth, and her son, to head up another First Contact mission, on board a ship called Endeavor Three. This will prove to be her biggest challenge yet. It appears that these beings have been at war for centuries and live for nothing but combat…

I bought those first two books way back in 1989, but never got around to reading them until recently. For that I'm very glad, because I would have gone nuts waiting for 25 years to find out what happened to Hanna after Book Two… I really grew attached to Hanna as a character, deeply flawed though she is. For one thing, she never gives up….

Things still get pretty heavy. This is not light reading. Of course, there is always room for more adventures, and I hope Terry Adams writes some.
There's no word of any additional books in the series. In fact, other than these three novels, Terry A. Adams hasn't published any other science fiction.
The first two volumes in the trilogy have been out of print for over 30 years. Fortunately for modern readers, simultaneous with the publication of Battleground DAW thoughtfully rereleased the first two books in a handsome omnibus edition, The D'neeran Factor, still available in digital formats.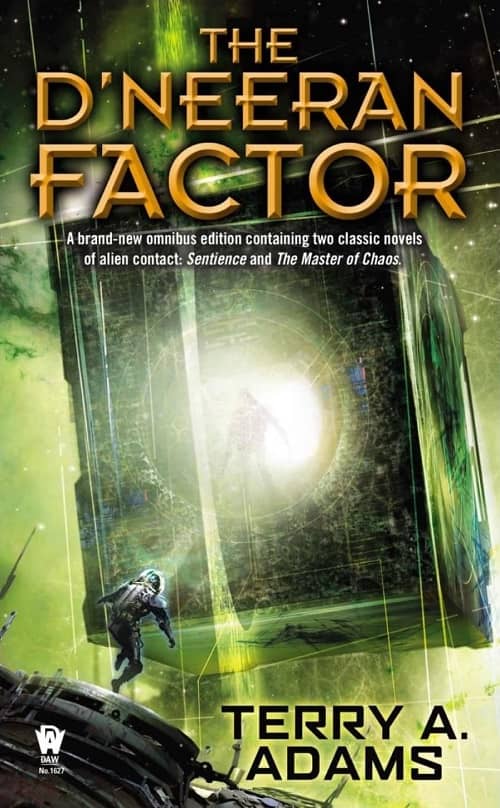 The D'neeran Factor, a paperback omnibus volume containing
Sentience and The Master of Chaos (DAW, 2013). Cover by Stephan Martiniere
Here's another advantage to collecting vintage paperbacks (as if you needed one): you can recognize worthwhile trilogies, even when the component volumes are separated by decades.
See all our recent Vintage Treasures here.