A Tour of a Pop-Culture Phenomenon: Marvel: The First 80 Years
A Tour of a Pop-Culture Phenomenon: Marvel: The First 80 Years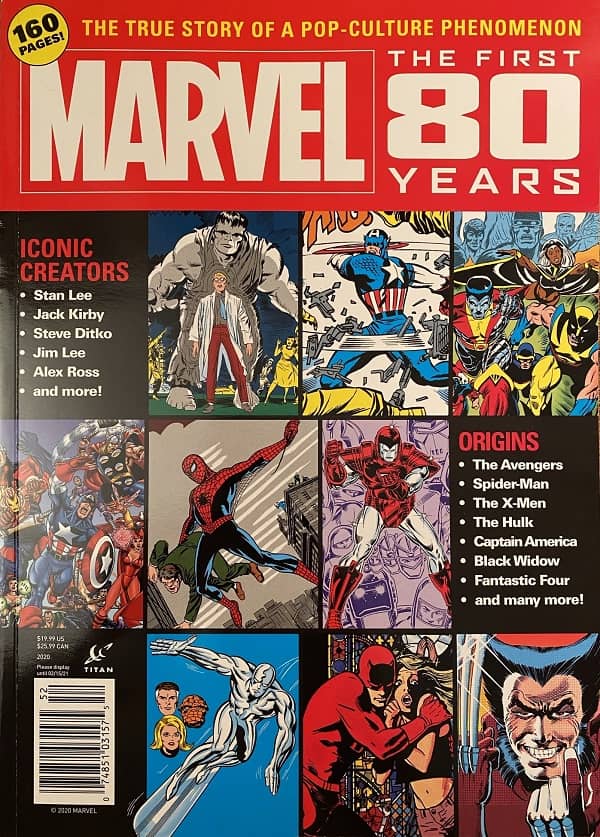 Marvel: The First 80 Years, magazine edition from Titan Comics. On sale November 2020
I was in Barnes & Noble yesterday, picking up some new releases, including a new Stellaris anthology and the latest Year's Best anthology from John Joseph Adams (here's the complete stack of titles I walked out with), and literally on my way out of the store my eye fell on a colorful cover in the magazine section. I reversed course to get a closer look, and three minutes later I was back in the checkout line, buying one more item.
The magazine was Marvel: The First 80 Years, a 160-page full color special release from Titan. It's a little pricey, even with my B&N discount ($19.99 cover price), but according to the scant facts I can find on the internet, it's a limited release magazine version of the upcoming book Marvel: The First 80 Years, scheduled for hardcover release in two weeks with a $29.99 price tag.
I didn't know any of that yesterday, tho. I shelled out nearly 20 bucks for an oversize magazine because it looked more than worth the money. Have a look at the gorgeous interior photo spreads below and see if you agree.
[Click the images for superhero-sized versions.]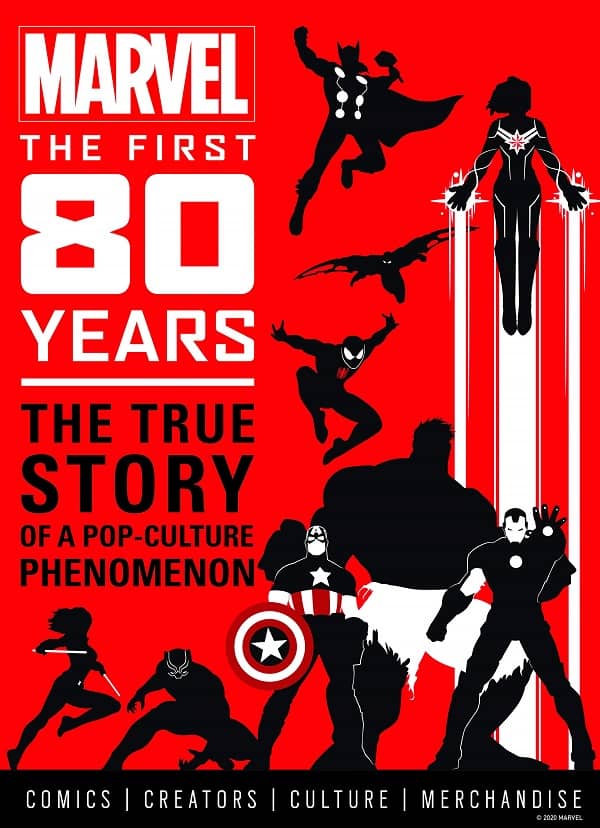 Marvel: The First 80 Years, in hardcover from Titan Comics. On sale November 24, 2020
There's an argument to be made that Marvel Comics is the single most important American pop-cultural phenomenon in the last 50 years. Certainly they influenced fantasy and science fiction in an unprecedented way, and popularized the SF concepts that dominated the imagination of my youth — including mutants, interdimensional travel, powered armor, and super-advanced civilizations, and all the delightful apparatus of the Marvel Age of Comics.
Marvel in fact was my real introduction to fantastic fiction, and while my comic reading diversified as I became an adult, I still consider the seminal work of Stan Lee, Steve Ditko and Jack Kirby to be among the most creative and important genre fiction of the 20th Century.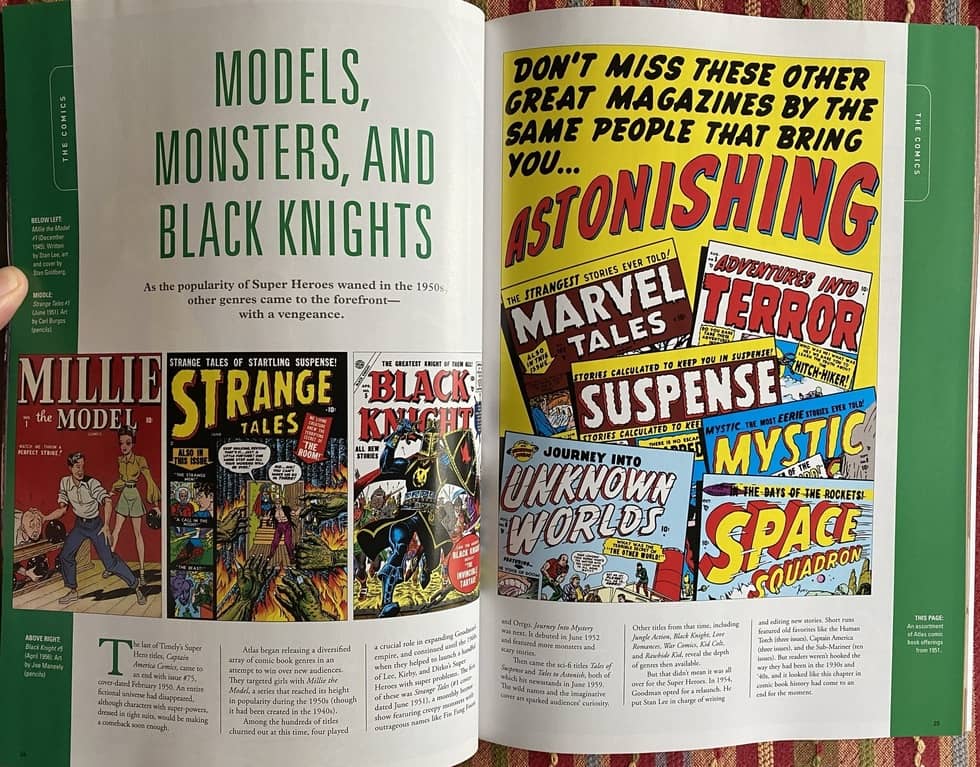 The early years of Marvel: Monsters, Westerns, and Science Fiction comics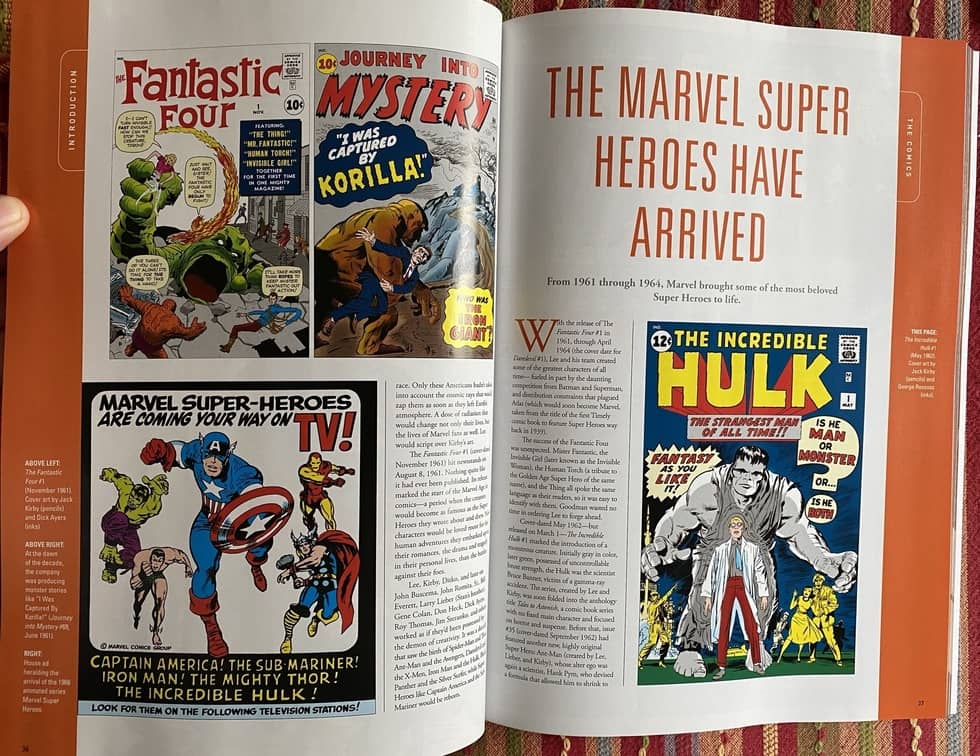 The early 60s and the birth of the Marvel Age of Super Heroes
The tale of Marvel and the talented contributors who made it the powerhouse it is today isn't one that can easily be contained in 160 pages, and to their credit the writers and editors behind Marvel: The First 80 Years — chiefly Fabio Licari and Marco Rizzo, with translation by John Rugman — don't even try.
Instead, this is mostly a pictorial history of Marvel's greatest hits, organized by decade. Even before I picked up it I knew what I wanted in a book titled Marvel: The First 80 Years, and the three minutes I took to flip through before I bought it told me it's pretty much exactly what I was hoping for.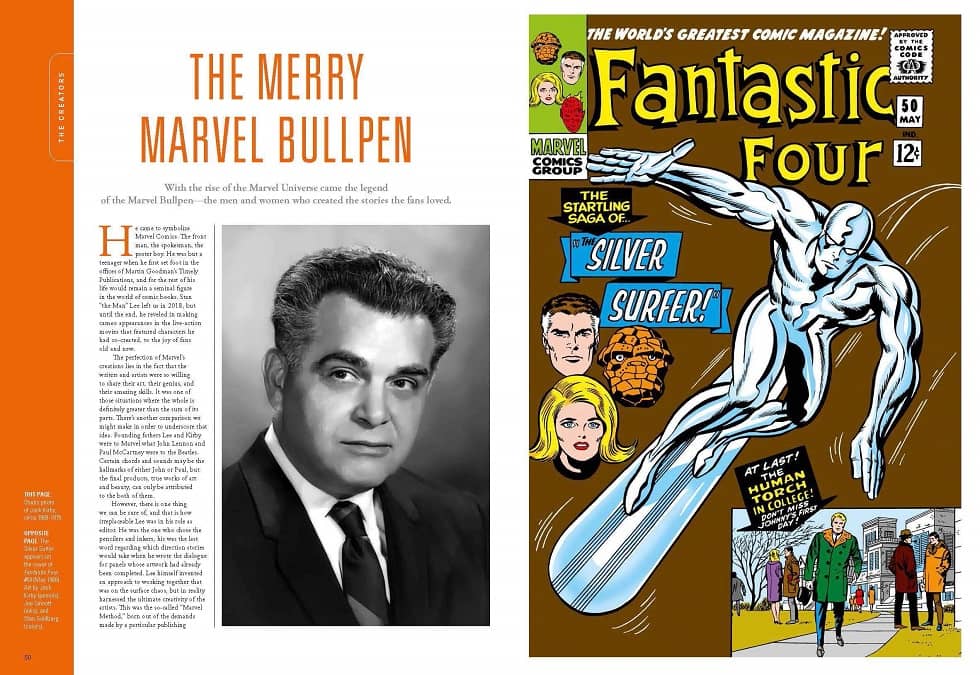 Jack Kirby, the creative force behind most of Marvel's early superhero successes, especially Fantastic Four
It opens with a look at the founding of Marvel, known as Timely Comics in the 30s, and the company's history and early successes with monster and horror comics in the 50s and 60, including Strange Tales, Journey Into Mystery, and Tales to Astonish. In those years the company nurtured an audience that was to prove receptive to the Marvel Age of Super Heroes when it arrived in 1961, with Fantastic Four #1.
The book moves quickly though each decade, highlighting key issues with a running chronological timeline at the bottom of the page. This is the kind of thing that will trigger debate on whether they chose the right issues.
They didn't, of course. The Marvel Universe is vast, and very different things to different people, and no two will agree completely. But I think most folks will agree the editors did a fine job. Besides, it's really all about cramming in as many of our favorite comics as they can, and part of the joy of a book like this is spotting that cherished comic that meant so much when you were eleven years ago, given full-page treatment on page 51.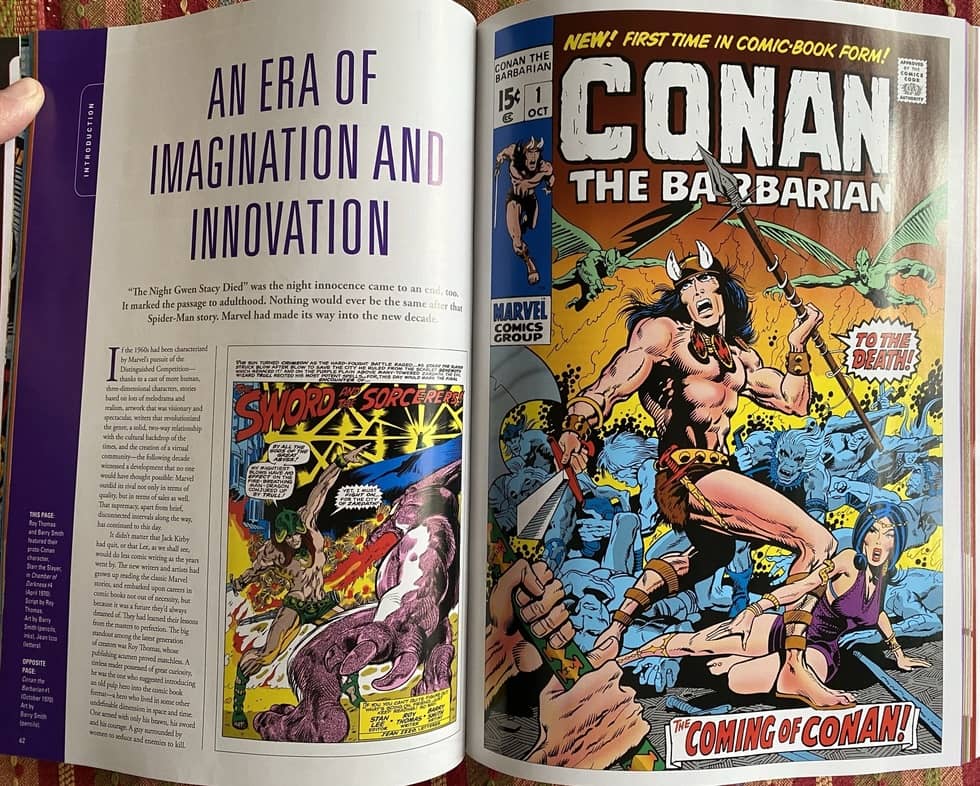 The 70s and the Coming of Conan
I think every old school Marvel fan will pick up this magazine in the same spirit I did. With a combination of excitement and a curmudgeonly eye, and a healthy skepticism that the editors will get it right. Is it all going to be Secret Wars and X-Men and Punisher movie tie-ins, or will they cover:
The glorious monster comics we loved so well in the 60s, like Journey Into Mystery and Tales to Astonish?
The birth of the superhero era in the 60s?
The Merry Marvel Bullpen?
The genius of Jack Kirby?
The 70s and the arrival of Conan the Barbarian, Tomb of Dracula, and the cosmic storylines of Jim Starlin in Avengers and Warlock?
The 80s and the Frank Miller's Daredevil, Roger Stern's Spider-Man, and Walt Simonson's Thor?
The 90s and the era of the superstar artists?
The 2000s and beyond?
Yes, they do — all that and a lot more. This book was obviously written by people who love and respect Marvel as much as its most ardent fans.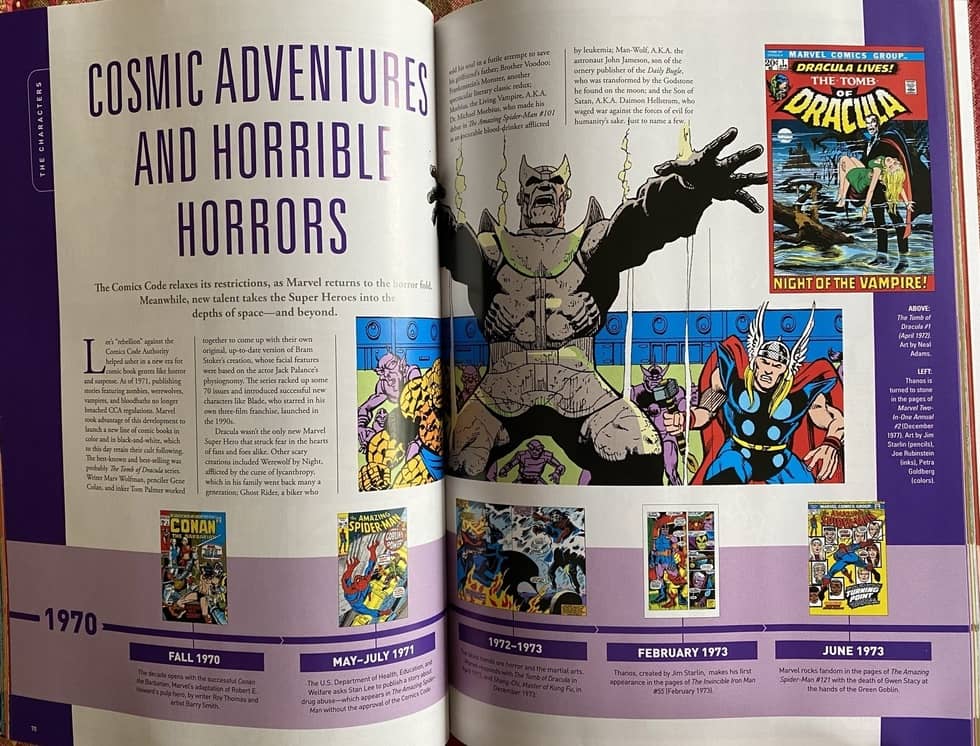 Marvel survived the loss of Kirby and Stan Lee's departure by turning to talents like Jim Starlin, Roy Thomas, and others
Flipping through Marvel: The First 80 Years wasn't just an exercise in nodding at how much the editors got right, capturing the comics I considered important. No really great survey book is 100% pure nostalgia.
I also made some fine discoveries, or was reminded of comics and storylines I haven't thought of in years. For me, it triggered a desire to re-read Steve Gerber's Howard the Duck, Gary Friedrich's 1972-73 run on Ghost Rider, and even (God help me) Age of Apocalypse.
I think that's evidence of a superior product. A book that doesn't just reinforce my love of a cherished subject, but which deepens and strengthens it. This is a book that you can spend hours with, and come away wanting to explore more of the rich history of Marvel.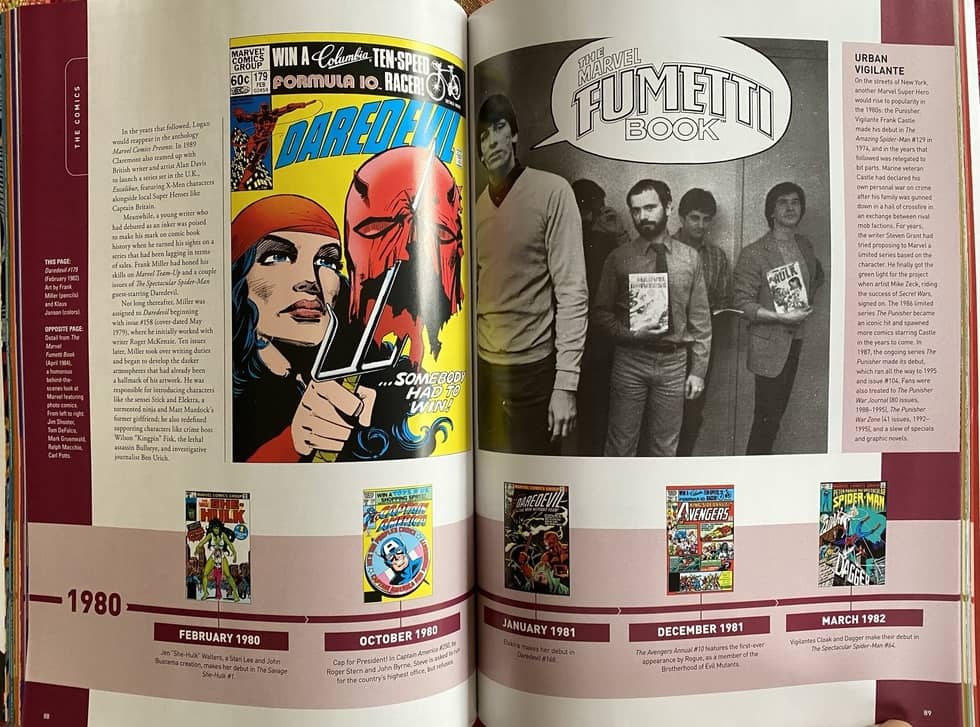 Frank Miller's run on Daredevil defined Marvel Comics in the 80s
It's easy to do these days as well — easier than ever. As older comics have skyrocketed in value, Marvel (and other companies such as Image and DC) have made high-quality reprints available in inexpensive black & white volumes like the Marvel Essentials series, which collect runs of major titles like X-Men, Spider-Man and Fantastic Four, and also fan favorites like Tomb of Dracula, Conan, Howard the Duck, Iron Fist, Marvel Team-Up, and even nearly forgotten books like Monster of Frankenstein, Killraven, Tales of the Zombie, and Rawhide Kid. You can see the full list of Marvel Essentials here.
More recently Marvel has begun producing full color reprints in inexpensive paperback Epic Collections, which I highly recommend.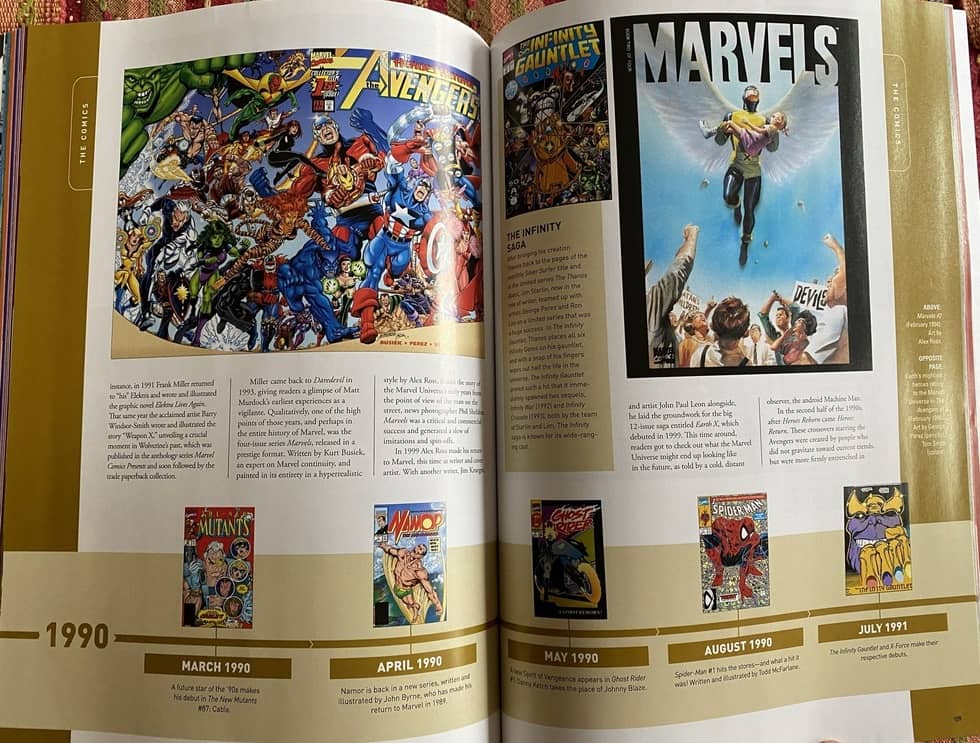 Marvel in the 90s
In addition to covering the topics, creators, and pivotal issues and storylines I expected (and demanded) to see — and being filled with delightful surprises — Marvel: The First 80 Years is also marvelously well designed and laid out. Most pages are packed with content, with callouts to groundbreaking comic runs (like Jim Starlin's The Infinity Gauntlet, the 1991 mini-series that laid the groundwork for the two-page Avengers Infinity War storyline) in short sidebars.
But occasionally the editors will do away with all of that to devote an entire two-page spread to a single comic panel, as they did with John Romita's jaw-dropping depiction of Spider-man witnessing the destruction of the World Trade Center on 9/11.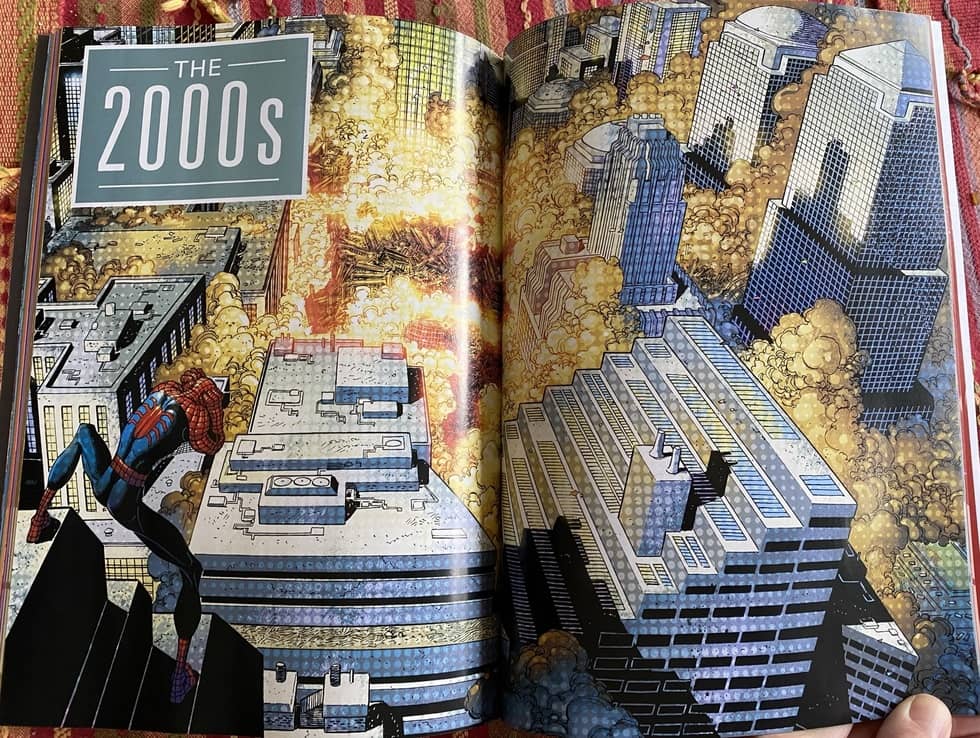 Spider-man witnesses 9/11 in New York (from Amazing Spider-Man #36, by J. Michael Straczynski and John Romita Jr.)
Marvel: The First 80 Years was published by Titan Magazines in November 2020. It is 160 pages, priced at $19.99 in full color. I haven't found it for sale at Amazon or other outlets, and it may only be available in select markets in the US. It you see a copy, you might consider grabbing it.
See all our recent comics coverage here.