New Treasures: Entanglements edited by Sheila Williams
New Treasures: Entanglements edited by Sheila Williams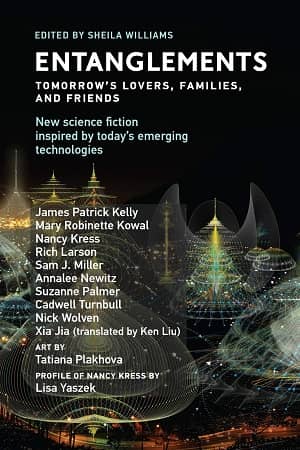 "Entanglement," one of the more fascinating concepts underpinning quantum theory, tells us that particles may be inextricably linked — never truly behaving independently, no matter how far apart they are. It's a powerful idea that, of course, has powerful parallels in the non-quantum world of human relationships, which makes it irresistible to science fiction writers.
Sheila Williams, editor of Asimov's Science Fiction, has assembled an enticing new anthology that invites ten of the best writers in the field to explore the idea: James Patrick Kelly, Mary Robinette Kowal, Nancy Kress, Rich Larson, Ken Liu, Sam J. Miller, Annalee Newitz, Suzanne Palmer, Cadwell Turnbull, Nick Wolven, and Xia Jia (translated by Ken Liu). Entanglements also includes art by Tatiana Plakhova, and a number of non-fiction pieces. In a starred review, Publishers Weekly says "Readers will be captivated." Here's a sample from the Science review by Esha Mathew.
The world-building in this compilation is frequently full and often insidiously terrifying, particularly in those stories that use the familiar as breadcrumbs to lure the reader in. The very first tale, "Invisible People" by Nancy Kress, begins with a mundane morning routine and carefully layers in a story about two parents reeling from an unsanctioned genetic experiment on their child. In "Don't Mind Me," Suzanne Palmer uses the shuffle between high school classes as a foundation on which to build a story about how one generation uses technology to enshrine its biases and inflict them on the next…. It is chilling how entirely possible many of the fictional futures seem….

This volume balances darker-themed stories with those in which technology and people collide in uplifting and charming ways. In Mary Robinette Kowal's "A Little Wisdom," for example, a museum curator, aided by her robotic therapy dog–cum–medical provider, finds the courage within herself to inspire courage in others and save the day. Meanwhile, in Cadwell Turnbull's "Mediation," a scientist reeling from a terrible loss finally accepts her personal AI's assistance to start the healing process. And in arguably the cheekiest tale in this compilation, "The Monogamy Hormone," Annalee Newitz tells of a woman who ingests synthetic vole hormones to choose between two lovers, delivering a classic tale of relationship woes with a bioengineered twist…

The 10 very different thought experiments presented in this volume make for a fun ride, revealing that human relationships will continue to be as complicated and affirming in the future as they are today. I would recommend the Netflix approach to this highly readable collection: Binge it in one go, preferably with a friend.
Here's the complete table of contents.
Introduction by Sheila Williams
"Invisible People" by Nancy Kress
Profile: Nancy Kress by Lisa Yaszek
An interview with Nancy Kress, by Lisa Yaszek
"Echo the Echo" by Rich Larson
"Sparklybits" by Nick Wolven
"A Little Wisdom" by Mary Robinette Kowal
"Your Boyfriend Experience" by James Patrick Kelly
"Meditation" by Cadwell Turnbull
"The Nation of the Sick" by Sam J. Miller
"Don't Mind Me" by Suzanne Palmer
"The Monogamy Hormone" by Annalee Newitz
"The Monk of Lingyin Temple" by Xia Jia
Contributors
In addition to her Asimov's duties, Sheila has edited over two dozen anthologies, including the Asimov's Science Fiction: 30th Anniversary Anthology, The Best of Asimov's Science Fiction Magazine 2002 (with Gardner Dozois, 2003) and A Woman's Liberation: A Choice of Futures by and About Women (with Connie Willis, 2001).
Entanglements was published by The MIT Press on September 15, 2020. It is 240 pages, priced at $19.95 in trade paperback and $14.99 in digital formats. The cover is by Tatiana Plakhova.
See all of our recent New Releases here.