A Dead Colony and a Deep Space Mystery: The Memory War by Karen Osborne
A Dead Colony and a Deep Space Mystery: The Memory War by Karen Osborne
Here's something interesting — an ambitious two-book space opera from debut novelist Karen Osborne. Opening novel Architects of Memory, which Publishers Weekly calls "a twisty, political space opera about corporate espionage and alien contact," will be released in trade paperback on Tuesday. Book Two, Engines of Oblivion, arrives in February.
Here's a snippet from the feature review of the first book at The Nerd Daily.
Architects of Memory by Karen Osborne is a stellar debut that explores the corruption in capitalism and what we will go through to protect the ones we love.

Salvage pilot, Ashland Jackson, just wants to finish her company indenture and get the citizenship she desperately needs to gain access to the treatment for the celestium sickness that is quickly killing her. When Ash and the crew of the Twenty-Five stumbled upon a mysterious weapon while on a salvage op, they are thrown into a world of corporate espionage and betrayals. As buried secrets and alliances become revealed, Ash and the crew must figure out who to trust and how to keep the weapon out of the wrong hands….

Architects of Memory is a good debut that leads me to believe Karen Osborne will definitely be taking up space on my favourites of science fiction bookcase. Her subtle way of building up characters brings them to life in ways that few authors can achieve. If you are looking for a science fiction story with authentic characters, twisty plots, a stuffed unicorn toy, and plenty of action and feels, then this is the one for you!
Here's a peek at the back cover for Architects of Memory, and complete publishing deets both volumes.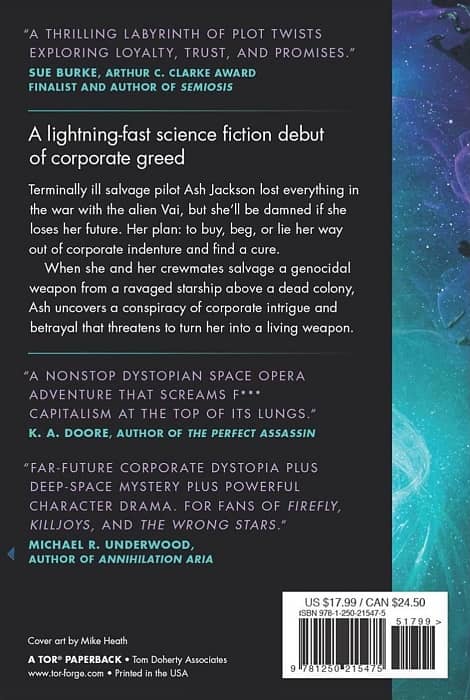 Back cover for Architects of Memory
Architects of Memory (Tor, 352 pages, $17.99 trade paperback/$9.99 digital, September 8, 2020)
Engines of Oblivion (Tor, 416 pages, $17.99 trade paperback/$9.99 digital, February 9, 2021)
See all our recent coverage of the best new SF and fantasy series here.