Future Treasures: The Year of the Witching by Alexis Henderson
Future Treasures: The Year of the Witching by Alexis Henderson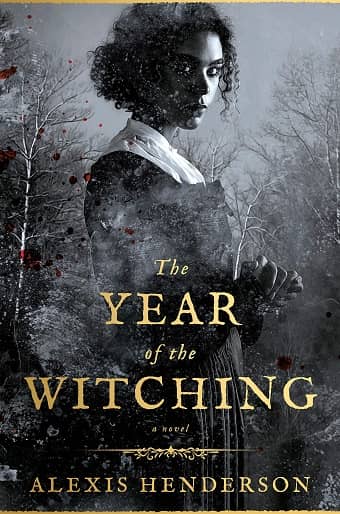 You know how much I enjoy a good debut. And The Year of the Witching, arriving in hardcover from Ace next week, looks very promising indeed. Publishers Weekly calls it "riveting… [it] announces Henderson as an exciting new voice in dark fantasy," and Dhonielle Clayton says it "takes witchcraft to its very depths… horrific." Here's the description.
A young woman living in a rigid, puritanical society discovers dark powers within herself in this stunning, feminist fantasy debut.

In the lands of Bethel, where the Prophet's word is law, Immanuelle Moore's very existence is blasphemy. Her mother's union with an outsider of a different race cast her once-proud family into disgrace, so Immanuelle does her best to worship the Father, follow Holy Protocol, and lead a life of submission, devotion, and absolute conformity, like all the other women in the settlement.

But a mishap lures her into the forbidden Darkwood surrounding Bethel, where the first prophet once chased and killed four powerful witches. Their spirits are still lurking there, and they bestow a gift on Immanuelle: the journal of her dead mother, who Immanuelle is shocked to learn once sought sanctuary in the wood.

Fascinated by the secrets in the diary, Immanuelle finds herself struggling to understand how her mother could have consorted with the witches. But when she begins to learn grim truths about the Church and its history, she realizes the true threat to Bethel is its own darkness. And she starts to understand that if Bethel is to change, it must begin with her.
There's a lot to like about this book, not the least of which is the intriguing setting and the hints of mystery. But I was pleased to see the early reviews focus on the characters, especially the heroine. Here's a snippet from Anuska G's rave review at The Nerd Daily.
The Year of the Witching is exactly the kind of fast-paced, terrifying, and witchy story I needed. The premise promises a deliciously dark and twisted tale of social revolution set in a dystopian world, and Henderson does not disappoint… The Year of the Witching is the best kind of horror/paranormal fiction, and not just because the bleak, eerie setup and the graphic depiction of the horrors of the Darkwood will haunt your dreams for days to come. The true horror of this story lies in the brutally honest way Henderson describes the atrocities committed in the name of religion…

The best thing about Henderson's debut, however, is its iron-willed, multi-layered heroine.
The Year of the Witching will be published by Ace Books on July 21, 2020. It is 368 pages, priced at $26 in hardcover and $13.99 in digital formats. The cover is by Larry Rostant. See all of our recent coverage of the best upcoming SF and fantasy here.