Future Treasures: Peace Talks by Jim Butcher
Future Treasures: Peace Talks by Jim Butcher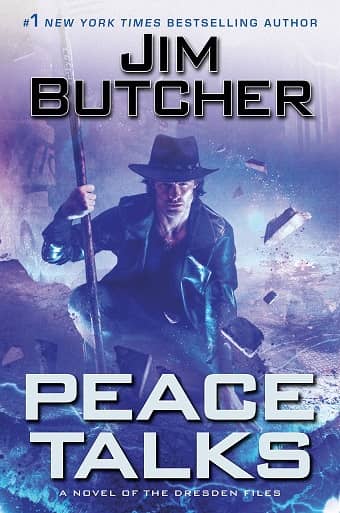 It's been six long years since we've seen Harry Dresden.
The Dresden Files was one of the first big breakout fantasy hits of the 21st Century; beginning with Storm Front in 2000, and continuing at roughly a book a year until Skin Game, the 15th novel in the series, was published in 2014. Author Jim Butcher took a long pause after that — but now Harry Dresden returns in his long-awaited sixteenth novel, Peace Talks, which arrives in hardcover from Ace Books next week.
Tor.com broke the news last December with an announcement that included a handy summary of the series to-date:
A contemporary urban noir series that has been described as "Buffy the Vampire Slayer starring Philip Marlowe" (Entertainment Weekly), the Dresden Files follows Harry Dresden, Chicago's only professional wizard, as he takes on supernatural cases throughout the city and an alternate magical realm. Peace Talks follows wisecracking private investigator Harry Dresden as he joins the White Council's security team to ensure negotiations between the Supernatural nations of the world remain civil. Harry's task is challenging, because dark political manipulations threaten the very existence of Chicago — and everything he holds dear.
A book as hotly anticipated as this doesn't need early reviews to heighten the anticipation… but there's no reason they shouldn't try. Here's a snippet from Publishers Weekly's review.
Butcher ramps up the tension for wizard Harry Dresden in this open-ended 16th installment… When Thomas Raith, Harry's half-brother, attempts to assassinate the leader of the Svartalves, one of the groups in attendance, Harry comes under suspicion for his role in the crime. With the aid of vampire Lara Raith and human detective Karrin Murphy, Harry frees Thomas from prison and certain death. Along the way, he discovers a new threat that could upend both the mundane and supernatural worlds… When Butcher finally pushes the story forward, readers are rewarded for their patience with gritty magical worldbuilding and bursts of dark humor.
Peace Talks will be published by Ace Books on July 14, 2020. It is 352 pages, priced at $28 in hardcover and $14.99 in digital formats. The cover is by Chris McGrath. Read the first six chapters for free at Jim Butcher's website.
See all our recent coverage of the best forthcoming releases in SF, fantasy and horror here.