New Treasures: Escaping Exodus by Nicky Drayden
New Treasures: Escaping Exodus by Nicky Drayden
Escaping Exodus by Nicky Drayden. Harper Voy­ager, October 2019. Cover by Courtney 'Seage' Howlett
I missed Nicky Drayden's Escaping Exodus when it was published late last year. Seems I wasn't the only one — the book has only 19 reviews on Amazon, far fewer than her debut The Prey of Gods, which won the Compton Crook Award for Best First Novel, and has over 100 Amazon reviews.
It's a pity it hasn't connected with more readers yet, as Escaping Exodus is generating good critical buzz. Kirkus praised its "top-notch worldbuilding and sharp characterization," and Tom Whitmore at Locus Online was even more enthusiastic, saying "it's got a breakneck pace: I wanted to take just a little longer to be with these people as they grow." Here's an excerpt from his review.
On a generation ship, two young people from different classes meet and fall in love. One rises, one falls, and their complex and forbidden rela­tionship causes a major rupture in the society. This is a classic SF trope: Drayden takes it to new places.

In Escaping Exodus, people use a pod of space whales as generation ships to escape an (unnamed) catastrophe on Earth. The people "ter­raform" the interior of the beasts, exploiting both the beasts' internal systems and the biota that have adapted to live inside them; as those systems are exhausted, the society has to move from one beast to another. There are ten different groups, each with a different social system… Nicky Drayden's new novel builds on the amaz­ing strengths she's shown before. If you can imag­ine a feminist, Afro-centric, queer Heinlein juve­nile, with a strong discussion of class politics, then you might get close to what she's doing here. I don't think I could have imagined such a book be­fore reading this one. This is something I've been missing.
The sequel, Escaping Exodus: Symbiosis, is scheduled to be released next January. Here's a sneak peek at the cover.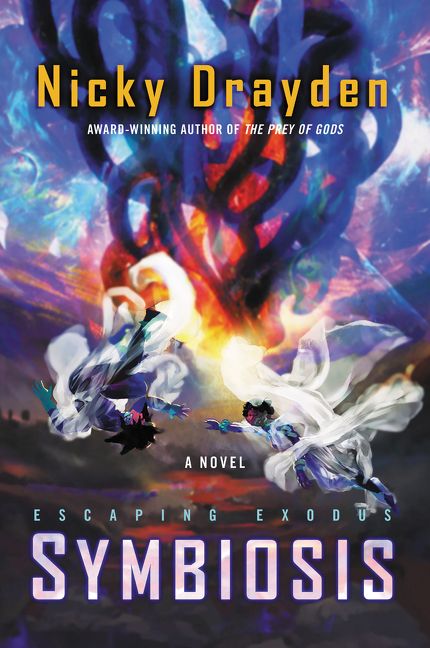 Escaping Exodus was published by Harper Voy­ager on October 15, 2019. It is 336 pages, priced at $15.99 in trade paperback and $11.99 in digital formats. The cover is by Courtney 'Seage' Howlett. Escaping Exodus: Symbiosis is due on January 5, 2021, also from Harper Voyager.
Listen to an audio excerpt of Escaping Exodus here, and read Chapter One here.
See all our recent New Treasures here.