New Treasures: War Girls by Tochi Onyebuchi
New Treasures: War Girls by Tochi Onyebuchi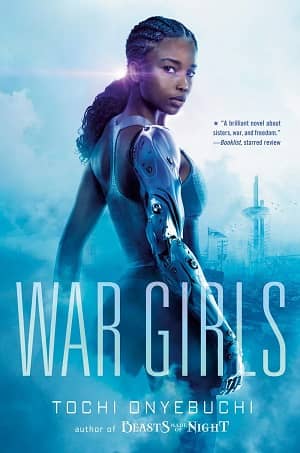 Tochi Onyebuchi's debut Beasts Made of Night made a big splash in 2017. VOYA said it was "Unforgettable," and Buzzfeed called it a "compelling Nigerian-influenced fantasy… [with] brilliant worldbuilding."
His latest is the science fiction novel War Girls, which he describes as "Gundam in Nigeria." I'm always on the lookout for something new, and that's definitely a pitch I don't hear every day. Booklist calls it "Brilliant," and in a starred review Publishers Weekly said:
Set amid the horrors of war in a world ravaged by climate change and nuclear disaster, this heart-wrenching and complex page-turner, drawn from the 1960s Nigerian civil war, will leave readers stunned and awaiting the second installment.
Here's the publisher's description.
Two sisters are torn apart by war and must fight their way back to each other in a futuristic, Black Panther-inspired Nigeria.

The year is 2172. Climate change and nuclear disasters have rendered much of Earth unlivable. Only the lucky ones have escaped to space colonies in the sky.

In a war-torn Nigeria, battles are fought using flying, deadly mechs and soldiers are outfitted with bionic limbs and artificial organs meant to protect them from the harsh, radiation-heavy climate. Across the nation, as the years-long civil war wages on, survival becomes the only way of life.

Two sisters, Onyii and Ify, dream of more. Their lives have been marked by violence and political unrest. Still, they dream of peace, of hope, of a future together.

And they're willing to fight an entire war to get there.
War Girls is the opening novel in a new series. It was published by Razorbill on October 15, 2019. It is 464 pages, priced at $18.99 in hardcover and $10.99 in digital formats. The cover is by Nekro. Read the complete first chapter at Gizmodo, and listen to an audio sample here.
See all our recent New Treasures here.