A Brainy Psychological Fantasy: Fireborne by Rosaria Munda
A Brainy Psychological Fantasy: Fireborne by Rosaria Munda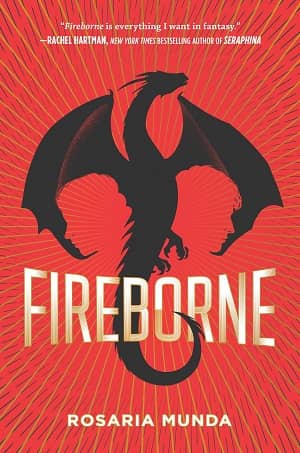 Upon successfully overthrowing the cruel dragonborn families, the leaders of the Revolution imprison their previous masters to await trial. But the oppressed population is hungry for revenge. Vigilantes overrun the building and start to exact their own bloody justice.
Atreus, the new realm's First Protector, discovers one group still in the process of murdering the Drakarch of the Far Highlands' family. Only the dragonlord himself and his youngest son, a boy of about seven or eight, are still alive when Atreus arrives.
The Drakarch begs Atreus to spare his son. Atreus murmurs an order to a guard, who takes the boy away. Then he slits the dragonlord's throat.
Lee, the Drakarch's son, becomes the only member of the dragonborn caste to survive the Revolution. He grows up in an orphanage in Cheapside, where he befriends another orphan, Annie. No one knows who he really is. Even the First Protector, his savior, appears to have forgotten him. He knows he must keep his identity secret, but at the same time, he thirsts to regain the exalted position that had once been his birthright. Stripped of his privileges, Lee must fight for his rank like everyone else.
Now a teenager, Lee stands on the brink of attaining his dream: to become Firstrider, the best dragonrider in the land and commander of the dragon fleet. He has aced the entrance exam, been chosen by a dragon, and gained recognition as an elite rider. Now he must compete against the other top riders to prove he's the best. Perhaps it's ironic that Lee rides to serve those who killed his family. But if he can become Firstrider, not only will he win back the power that his father lost, but also he will prove himself to have been worthy of his birthright all along.
Prevailing over his classmates is Lee's greatest concern, that is, until he learns that he isn't the last remaining member of the dragonborn, after all. His cousin, with whom he played as a child, contacts him in secret. She reveals that members of the other dragonborn families escaped and created a refuge in another land. They have their own dragons and riders. Now the time has come for them to retake their ancestral country, restoring the old order.
Lee must choose. Will he defend the life he's made for himself under the new regime? Or will he help the dragonlords recapture the possibilities he had thought were dead?
Rosaria Munda's Fireborne is a brainy fantasy that, while marketed as YA, will likely appeal to us adult readers more than teens. While the dragonriders' rivalries offer plenty of high-flying action and drama, the novel's central tensions are psychological in character: Which way will Lee jump? Will he and Annie ever manage to connect romantically? Munda creates a complex world with many layers of gray. Our hero and heroine must repeatedly make decisions in which there are no good options. They must then follow through and enforce those choices, even to the point of acting as villains. Inspired by classics like Plato's Republic and Virgil's Aeneid, the book also presents a detailed portrait of the politics and government of a four-tiered society. Many adult readers of a scholarly bent will find this material interesting, and the plot is intelligent, mature, and unpredictable. Readers can look forward to a jaw-dropping twist near the end.
G.P. Putnam's Sons Books for Young Readers published Fireborne on October 15, 2019. It is Rosaria Munda's debut. To read an excerpt, point your browser here. According to goodreads.com, a sequel is scheduled for publication in 2020.
---
Elizabeth Galewski is the author of The Wish-Granting Jewel, a fantasy novel, and Butterfly Valley, a tale of travel and transformation based on true events. To learn more, please visit her official author's website at www.elizabethgalewski.com.