The Most Daring Burglary of Your Career: Age of Thieves
The Most Daring Burglary of Your Career: Age of Thieves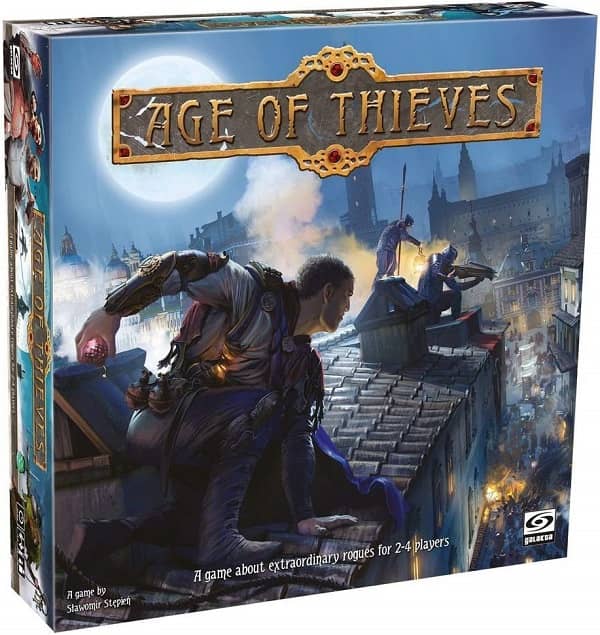 I attended Gen Con back in August, took comprehensive notes and hundred of photos of games I wanted, and then came home and gave up. I mean, seriously. So many games.
I'm starting to emerge from this cocoon of total capitulation, and making feeble efforts to sample recent board games again. A few weeks ago publisher Galakta had an online sale, and I bought a copy of Age of Thieves on Amazon for $28. After that I began to timidly look though some of my Gen Con photos, and pretty soon I was buying a Traveller card game and then the off-the-wall Degenesis RPG. I'm not looking for a medal or anything, but hey, it's a start.
As for Age of Thieves, I'm pretty pleased with it. It's a competitive game of thieves attempting a daring heist, and then an even more daring escape from a port city as the guards close in. It's a unique premise, and the map and the art design are gorgeous. Here's the description.
Age of Thieves is a fantasy board game of strategy and adventure set in Hadria, a port metropolis located on the northern fringes of a mighty Empire. Each player becomes a master thief about to commit the most daring burglary of his career. During the game players may use unique abilities of their thieves as well as various action cards, which represent maneuvers, alchemical potions or complicated devices inspired by visionary ideas of Renaissance inventors… The thief who will manage to escape through one of four city gates taking with him the Emperors' Jewel or other valuable loot worth the most Victory Points (VP) will be the winner of the game. Anyone who will stay inside Hadria after the event deck is depleted will be caught and mercilessly thrown inside the city dungeon, their names erased from the annals of the omnipotent Guild.
Age of Thieves is a fairly simple 2-4 player game that lasts 1-2 hours, and is especially suitable for folks who prize imaginative settings. It was published by the Polish development house Galakta, who describe it as "a clockpunk game of strategy and adventure," and that's pretty much spot on.
[Click the images for city-sized versions.]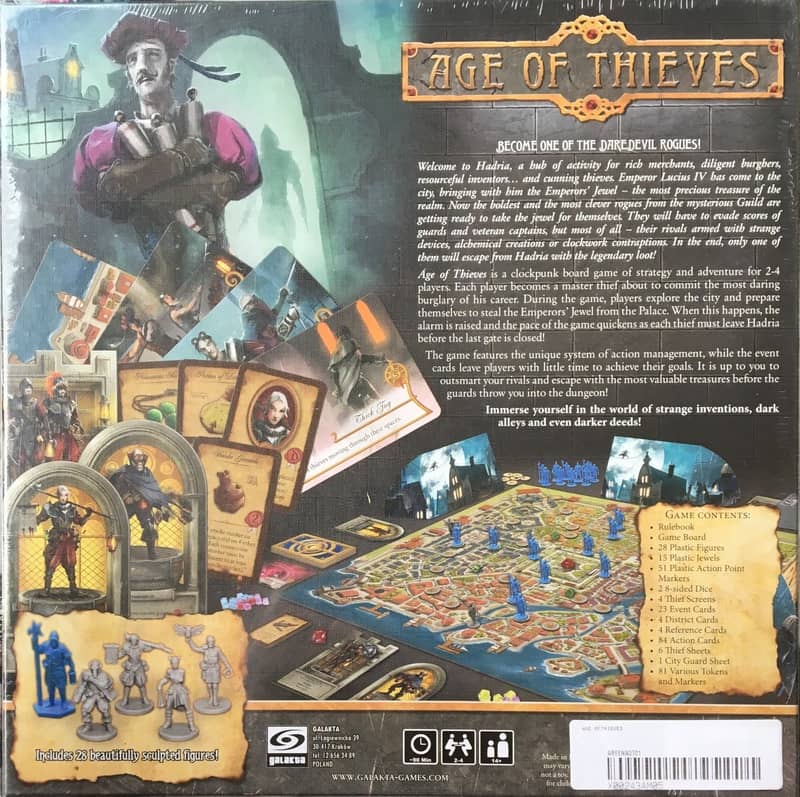 Back cover of Age of Thieves
Niko at Meople's Magazine has spent a lot more time than I have with the game; here's a sample from her insightful feature review.
Age of Thieves is not about collecting victory points or anything mundane like that. It is about nothing less but fleeing a city under a full-fledged state of alarm – with guards roaming the streets and alleys – while casually carrying the most valuable jewels you can out of the city…

At the start of the game, however, the game board representing the city is a much calmer place… Things change dramatically once the ruby has been stolen and the alarm is raised. Only one of the four city gates remains open as a possible place to escape, and it is this quarter in which additional guards and captains are deployed. Plus, they are more alert now, acting quicker, seeing further and moving faster. And as if that were not bad enough already – the clock is ticking fast until the city goes into full lockdown mode, and every thief remaining within the city walls is caught for good…

The cool part about Age of Thieves is how it integrates the traditional roleplay concept of initiative into its mechanics along with a clever structure of planning and execution phases. Basically, each player in their turn can play and execute the effects of any number of action cards. Some cards are always at your disposal (e.g. basic movement and refreshing your card hand) while for the rest you depend on the draw pile…

Age of Thieves works really well for a number of reasons. Due to the limitation on possible rounds, it keeps the duration in bay without making that number feel arbitrary.

Its biggest strength is maybe that the rules create a very good atmosphere and immersion, which starts quite relaxed, but grows more and more tense as the big heist approaches, only to break into a rush from one moment to the next… in summary, Age of Thieves delivers a very captivating play experience and a lot to like.
I think it's fair to say that it wasn't the reviews (or the discount price) that first intrigued me about Age of Thieves; it was the gorgeously detailed map. Here's a closer look.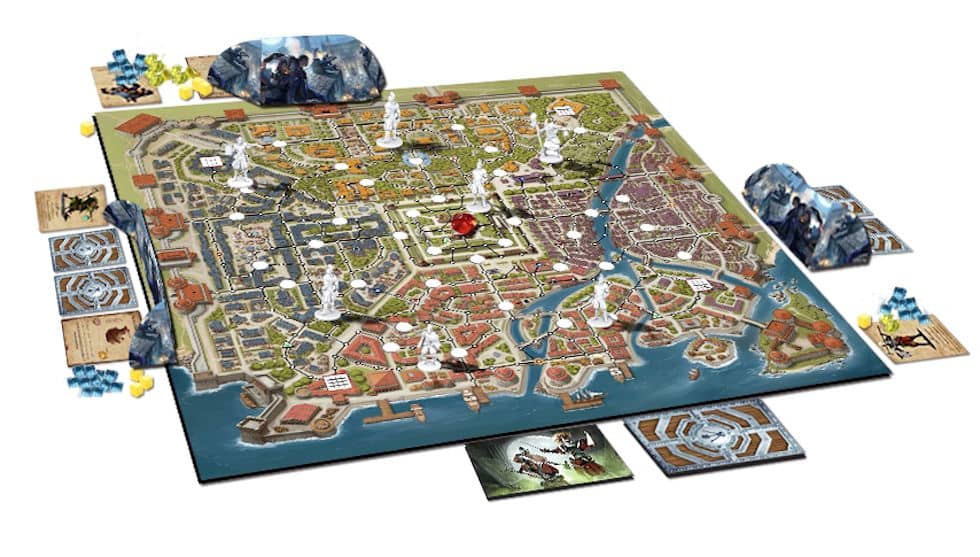 In many ways the port city of Hadria reminds me of Lankhmar, Ankh-Morpork, and other great fantasy cities. If nothing else, you could throw away the rest of the box and use the map for a kick-ass urban D&D session.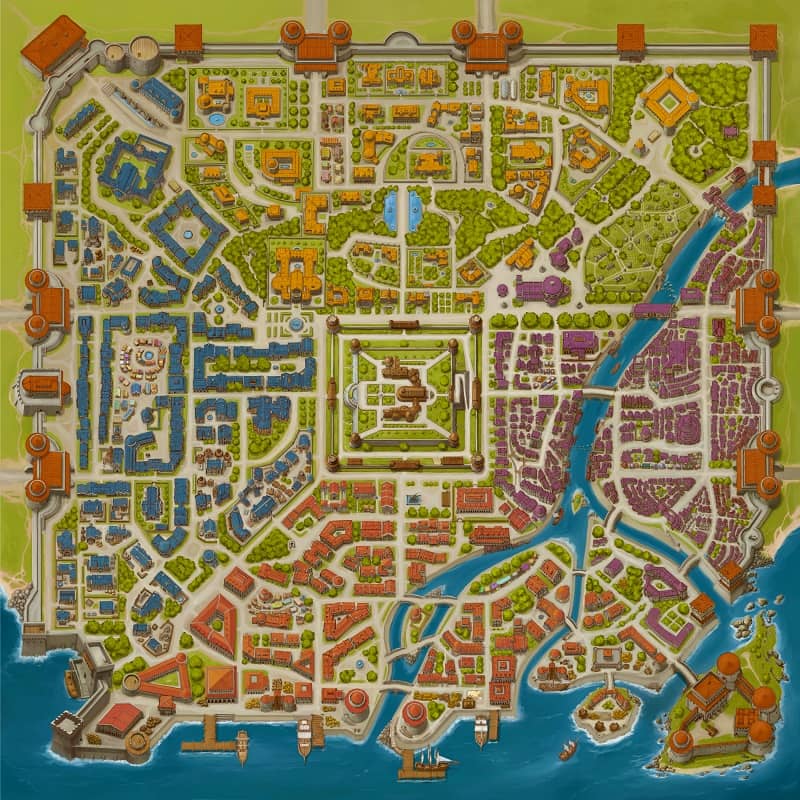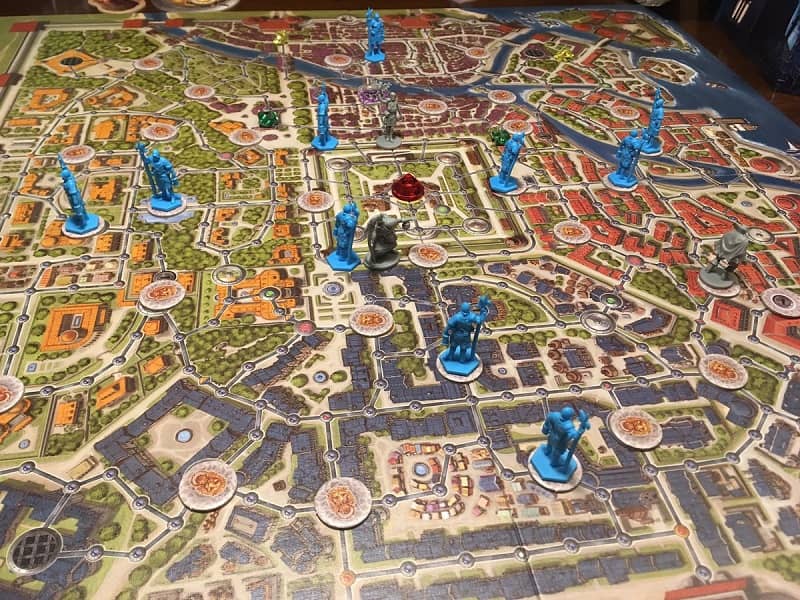 Age of Thieves has a single expansion, Masters of Disguise, which added the dangerous Undercity, new Burglary Cards, new components and rules.
Masters of Disguise is the first expansion to the best-selling clockpunk game Age of Thieves. It introduces a plethora of new components and rules, giving you lots of variants to enrich your gaming experience. Become Julien or Delilah, new, powerful thieves with unique actions and abilities. Enter the dreaded Undercity as you travel through the sewers. Prove your skill with new Burglary Cards that enable you to plan your turn even more strategically than before. Finally, enjoy a brand new Scenario which gives you a chance to steal more jewels than ever before… if you are willing to take more risk!
Masters of Disguise was released in 2017, and retails for around $25.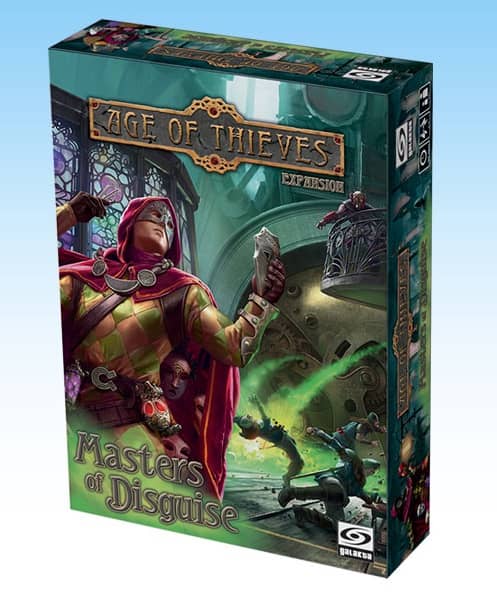 Masters of Disguise (Galakta, 2017)
Age of Thieves was published by Galakta in 2016. It retails for around $42 in the US. See all the details at the publisher's webpage here, the BoardGameGeek entry here, or download the full-color rulebook for free here.
See all our latest Gaming coverage here.