New Treasures: Salvaged by Madeleine Roux
New Treasures: Salvaged by Madeleine Roux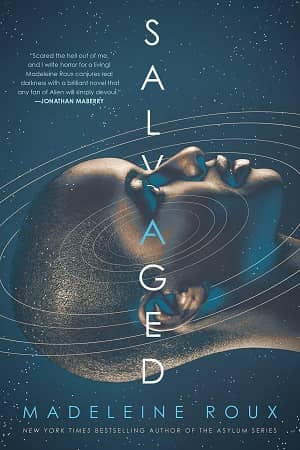 When you've been reading and reviewing long enough, you grow a little numb to book blurbs. At least, I thought you did. But that was before I came across Madeleine Roux's new science fiction-horror novel Salvaged, which has blurbs that didn't just get my attention. They grabbed me by my collar and made me spill latte all over my shirt.
Christopher Golden calls the book "A breathless, claustrophobic twist on the SF thriller, full of deep space dread, conspiracies, and malevolent alien spores… This is the Alien we need right now." And Seanan McGuire says it's "The prose equivalent of playing a survival horror game… Beautifully written." And Jonathan Maberry raves "Salvaged scared the hell out of me, and I write horror for a living! … a brilliant novel that any fan of Alien will simply devour. Brava!"
See what I mean? Anything with " deep space dread, conspiracies, and malevolent alien spores" and which draws multiple comparisons to Alien definitely deserves my attention. Here's an excerpt from the starred review at Publisher's Weekly.
In a spacefaring future, Rosalyn Devar is a xenobiologist who takes a job as a salvager — janitor of dead space crews — to get away from her father, his business, and the man who hurt her. When caught drinking on the job, she's given one more chance: clean up the Brigantine, a research ship whose crew is dead. But they aren't. Aboard the Brigantine, she meets Edison Aries, the captain, and his undead crew. They are infected with a mysterious fungus, Foxfire, that has taken root in their minds, convincing them that it is their mother and that Rosalyn needs to join them. Stranded aboard the Brigantine, Rosalyn and Edison try to outwit the other crew members and Mother, while looking for a way to stop Foxfire from spreading.. This entertaining, deeply disturbing, and clever story hits all the right notes for those who like a little horror with their SF.
Salvaged was published by Ace Books on October 15, 2019. It is 368 pages, priced at $16 in trade paperback and $9.99 in digital formats. The cover was designed by Faceout Studio/Jeff Miller.
See all our recent New Treasures here.