Fantasia 2019, Day 14: Koko-di Koko-da
Fantasia 2019, Day 14: Koko-di Koko-da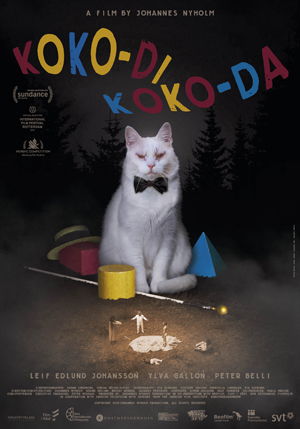 There was only one film I planned to watch on July 24, and that was writer-director Johannes Nyholm's Koko-di Koko-da. It promised to be a strange movie about characters trying to break out of a time loop, and I settled in at the De Sève Theatre wondering at the horror elements implied by the film's description in the festival catalogue.
It's a little difficult to describe the plot of this movie without giving away a major swerve at the end of the first act. But: an opening section introduces us to the happily-married Tobias (Leif Edlund Johansson) and Elin (Ylva Gallon). Then we see tragedy strike, and after an interlude with shadow-puppets we skip forward three years to the main part of the movie. Tobias and Elin are on the verge of separating, sniping at each other as they set out on a vacation together. They end up camping overnight in the woods, and in the morning are attacked by three vicious wanderers: the brutal giant Sampo (Morad Khatchadorian), the sinister Cherry (Brandy Litmanen), and a short ringmaster named Mog (Peter Belli). With them is an attack dog. Tobias and Elin are killed — and then Tobias awakes at dawn and the whole thing begins again.
We eventually come to understand what is happening here, and roughly why. The conclusion ties up the loop in an interesting mobius strip of causality. And one of the loops follows Elin instead of Tobias, producing an unusual resolution. But there are problems here.
Before I get to them, I want to note what the movie does right, and how I read what it's trying to do. To start with, it looks very nice, and it's shot with a strong eye for point-of-view. The woods are a place of dread, not just dark but cold and damp. The more joyous early part of the movie is bathed in light, brighter in atmosphere, but still with an almost subliminal sense of weirdness.
Character is the driver of the film, and the basic sense of who the leads are is very strong. This is not true of the wanderers, but that's fine; their purpose is to drive events, to put stress on Elin and Tobias. I am not sure that the dramatic structure really helps bring out the interaction and relationship of those two. But then again the film seems to aim at establishing them less through dialogue and more through a close observation of their actions — not just what they do but how they do it, their every shiver and every wild glance.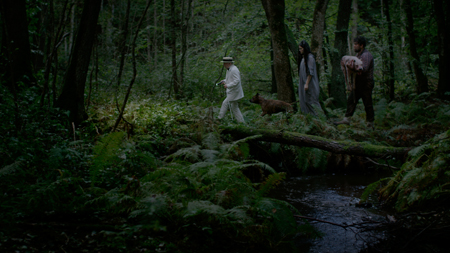 There is a conscious theatricality to the film, but it's not necessarily what is usually evoked by the word. This is closer to theatre of the absurd (with moments of grand guignol), and the time-loop format plays to that style. I'm not sure the movie ultimately ends in the meaninglessness of the absurd, but that is the effect for much of the film's brief (86 minute) run-time.
Yet while there are interesting elements in the film's construction, it ultimately did not work for me. And the reasons start, frankly, with the way it handles the time-loop structure. It's an approach, or subgenre, that has become incredibly common in recent years. We've grown to accept protagonists who learn every beat of the loop they're trapped in and manipulate it; we've grown to accept that we don't need to see every single iteration of a loop. Koko-Di Koko-Da ignores that kind of sophistication of genre. Rather than give us a loop that heroes try to solve, it gives us a seemingly hopeless situation that ends the same every time, across only a half-dozen or so iterations, apparently without skipping any.
The sensibility's very different, then, which is interesting, but by trying to move away from plot mechanics the film undercuts the basic structure of the loop. There's even one iteration that begins with snow on the ground — one iteration with snow, and one only, snow not so far as I could see caused by anything any of the characters did in the previous loop. In other words, the movie violates one of the basic aspects of its structure, the idea that the characters begin again in the same place every time. Sometimes you can break a rule and get away with it. In this case, the breaking of the rule feels like sloppiness, like a deliberate lack of interest in narrative.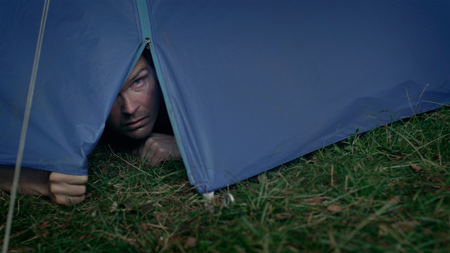 I will note that I've heard that some people had a problem with Tobias' less-than-heroic actions. He theoretically could attack the three wanderers and their dog, instead of escaping, as he usually tries to do. I don't think that would make sense — he's outnumbered, they have a gun, they have a dog. There's not much he or Elin can do; that's the point, I'd say. But along these lines it's worth noting that the violence in the film is fairly extreme, down to a scene of sexual violence, and while that's not inherently a problem it's baffling when we find out what force has apparently caused the loop.
Finally, I have to say that in my reading the opening section doesn't hook up to the rest of the story on more than a basic plot level. That is, I don't see much in the way of visual and thematic echoes, so that the opening act — shot so differently, with a different emotional landscape — feels like a different movie. There are disturbing theatrical performers in those scenes, perhaps a little like the three brutal wanderers, but their connection to the people in the woods is too distant to really work.
Overall, Koko-di Koko-da (the title comes from a nonsense song repeated in the movie) has the sense of a film trying to tell a symbolic and artistically ambitious story on top of a genre structure. The first problem is that not all the symbols work, not all the way through the movie. And the second is that the genre structure's mishandled; it's almost rudimentary. I don't think Koko-di Koko-da is a good film. But I have to say that it's much better than most bad movies, and perhaps more memorable than some good ones.
Find the rest of my Fantasia coverage from this and previous years here!
---
Matthew David Surridge is the author of "The Word of Azrael," from Black Gate 14. You can buy collections of his essays on fantasy novels here and here. His Patreon, hosting a short fiction project based around the lore within a Victorian Book of Days, is here. You can find him on Facebook, or follow his Twitter account, Fell_Gard.