Gozdilla, King of the Criterions
Gozdilla, King of the Criterions
October 29th, 2019, will be a very bad day for secret mad-money stashes, vacation change jars, and even kids' college funds, but it will be a great (shall I say monstrously great?) day for kaiju lovers everywhere. Why? Because on that day, the prestigious Criterion Collection will release a colossal blu-ray set containing all fifteen Godzilla films from the Showa Era (the Showa Era being the years of Emperor Hirohito's reign, from 1926 to 1989.) Never before have all of these films been collected together in a uniform edition of the highest technical quality… but now they will be, just in time for rubber-suit monster enthusiasts to have the greatest Halloween film festival ever.
Criterion numbers its releases, and in recent months speculation has been mounting — what would the company choose to follow number 999? (John Sayles' fine period drama, Matewan.) Would it be a foreign film or an American one? A silent movie or one from the sound era? A polished studio masterpiece or a raw, rebellious indie? My money was on Sam Peckinpah's apocalyptic western, The Wild Bunch, but on July 25th the suspense ended with Criterion's announcement that number 1000 would not be a single film at all, but instead would be an unprecedented set. Godzilla: the Showa-Era Films, 1954-1975 promises to be a must-have for all Criterion completists and for every fan of the King of the Monsters.
[Click the images for — you knew this was coming! — Godzilla-sized versions.]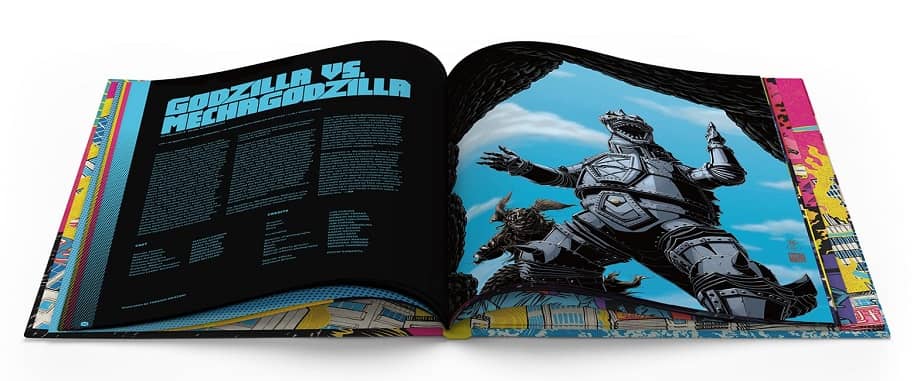 The Book
Criterion released an outstanding edition of the first Godzilla film in 2012 (spine number 594), containing both the heavily-reworked American version and the original Raymond Burr-less Japanese release, which is still a startlingly serious, even somber film. Now we will have all fourteen of its successors, movies which might be less serious than their Hiroshima-shadowed progenitor but which are unequaled for fun, imagination, and excitement.
The films that will be included in the eight blu-ray set are:
Godzilla (1954)
Godzilla Rides Again (1955)
King Kong vs. Godzilla (1963)
Mothra vs. Godzilla (1964)
Gidorah, the Three-Headed Monster (1964)
Invasion of Astro-Monster (1965)
Ebirah, Horror of the Deep (1966)
Son of Godzilla (1967)
Destroy All Monsters (1968)
All Monsters Attack (1969)
Godzilla vs. Hedorah (1971)
Godzilla vs. Gigan (1972)
Godzilla vs. Megalon (1973)
Godzilla vs. Mechagodzilla (1974)
Terror of Mechagodzilla (1975)
Like the first 2012 Criterion edition of the 1954 Godzilla, this release will include both the American and Japanese versions. Extras will include commentaries on both versions of that first Godzilla film, interviews with many cast and crew members, including the father of Godzilla, director Ishiro Honda, a special-effects documentary, an interview with director Alex Cox (Repo Man) about his giant monster love, and perhaps best of all, a hardcover book containing an essay by film historian Steve Ryfle, notes on each film by Ed Godziszewski, and new illustrations commissioned exclusively for this Criterion edition. Take a look at them. They're breathtaking; by themselves they're almost worth the price of admission.
As for that price, you can pre-order the set right now directly from Criterion for $179.96 plus tax. (Shipping is free.) That might seem to be a lot of money, but when you consider that it comes out to about twelve dollars a movie for Criterion blu-rays, and then you throw in the book, I think you'll agree that the price is actually ridiculously low. (The Amazon pre-order price is currently $164.99 but as is often the case with them, that price is likely to go down between now and October.) Whoever you order from, do it fast, before Ryan Harvey buys out the entire run.
So… what are you waiting for? Crack open that vacation jar — you need to stay around the house and get some of those home improvement projects done anyway, and as for the college fund, well, what's wrong with the local community college? The kids can live at home and write papers with titles like Japanese Kaiju vs. American Big Bugs: Differing Views of Radiation and Society During the Postwar Years, all while studying the subtle changes of expression that flit across Nick Adams' face during the course of Gidorah, the three-Headed Monster. Watching all fifteen of these wonderful films — now that's what I call an education!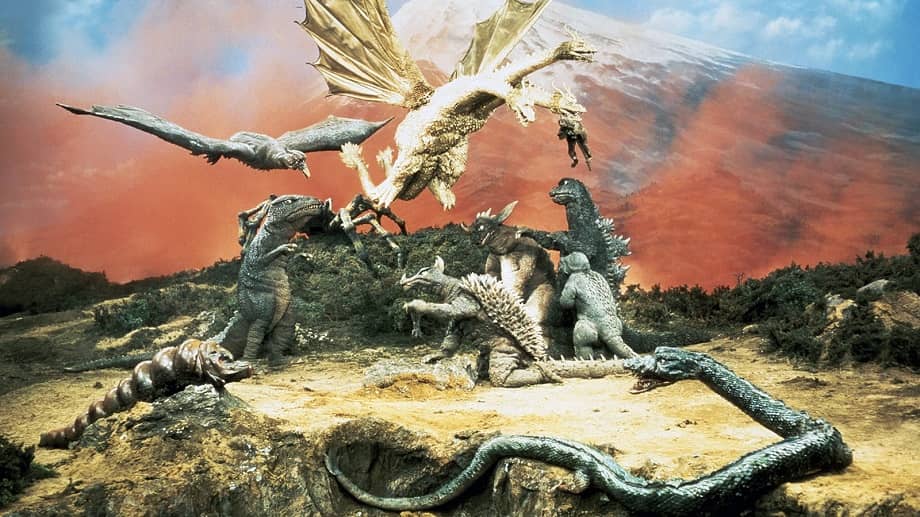 All that's left to do now is wait for Criterion 1001. I'm still hoping for The Wild Bunch. But 1002… maybe… War of the Gargantuas? Please?
---
Thomas Parker is a native Southern Californian and a lifelong science fiction, fantasy, and mystery fan. When not corrupting the next generation as a fourth grade teacher, he collects Roger Corman movies, Silver Age comic books, Ace doubles, and despairing looks from his wife. His last article for us was a review of the Criterion release Detour