Goth Chick News: Feeling at Home at the Oddities and Curiosities Expo
Goth Chick News: Feeling at Home at the Oddities and Curiosities Expo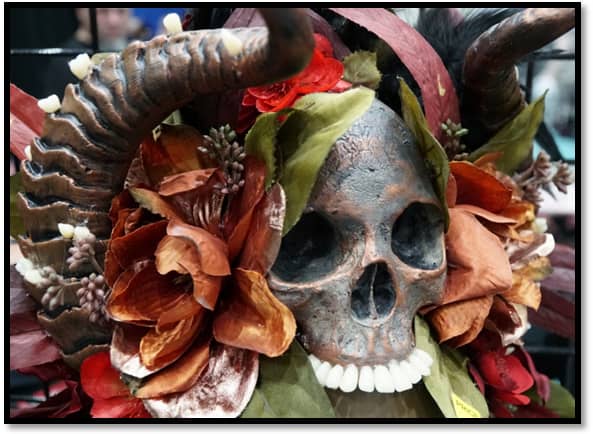 We here at Goth Chick News have the pleasure of covering several trade shows annually, dealing with a variety of topics on and near the horror industry. Many of these concern haunters both professional and amateur who pour their money and talent into one month a year when the U.S. embraces all things scary.
But as the band Ministry told us in 1986, for some every day is Halloween, and in 2018 a show came through Chicago which catered to this crowd in particular. Unfortunately, I was unable to attend its premier in the Windy City but corrected that in late July when the Oddities and Curiosities Expo came back through town, drawing together precisely what its name implied; two show-floor levels of artists specializing in the odd and curious.
Targeted toward "the lovers of the strange and unusual," the O&CE describes itself as…
The first and Original Traveling Oddities event. We have expanded from 2 cities in 2017 to 8 cities in 2018 and now for 2019 we have 16 cities! We want to support local/national vendors, dealers and small businesses by giving them a place to sell and feel welcome. We have vendors on all spectrums of weird, creepy and unusual. Our goal is to bring like-minded people together and have events that people truly enjoy.
Organizers Tony and Michelle have partnered with Ripley's Believe It or Not, a taxidermy school, suspension artists (read, people hanging from their piercings) and over a hundred vendors and craftspeople to put on an exposition which more than lives up to its name.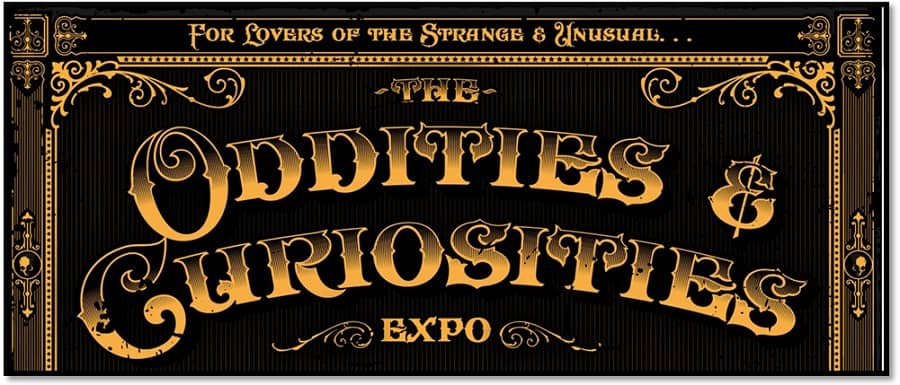 Here was a collector and seller of Victorian funerary art, a woman who made wind chimes out of cattle bones, a purveyor of antique surgical instruments and more dead stuffed things under glass that you could count. The art made from animal bones was so numerous that I had to ask where does one acquire the 'raw material'? I learned that stout of heart artisans sometimes pick up actual roadkill, but mostly work with local slaughterhouses and furriers to come pick up the unused bits which then must be soaked in acidic baths to remove the… uh… leavings. The sparking clean finished products are then turned into all manner of items, some beautiful, some disturbing, and all making you go, "it's made out of what?"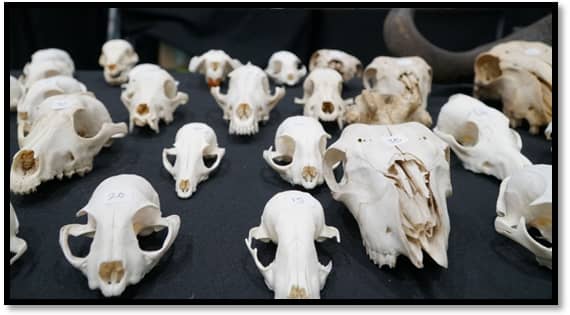 Though it was very difficult to choose, here are a few of our favorite picks, and all pieces are available for sale via the artists' website.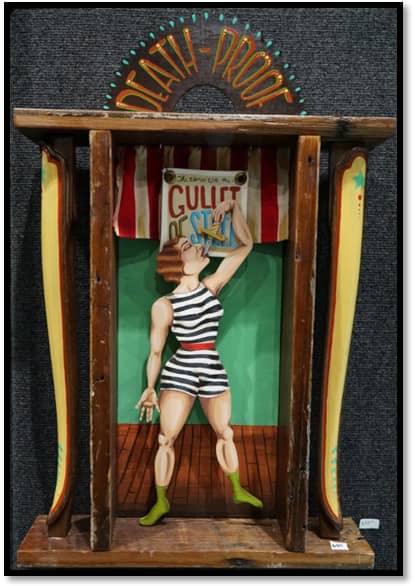 Feral Femme Art
Feral Femme Art by Rachaela Dirsaria were the first to grab our attention. Rachaela creates beautiful 3D folk art pieces themed around carnival freak shows. The attention to detail, the colors and the craftsmanship make these small treasures not only a must-have for collectors of carnival art, but for anyone looking for a special conversation piece for an office, library or entertainment space. Rachaela's one-of-a-kind creations are available for sale online starting at $125, where you can also view her entire collection.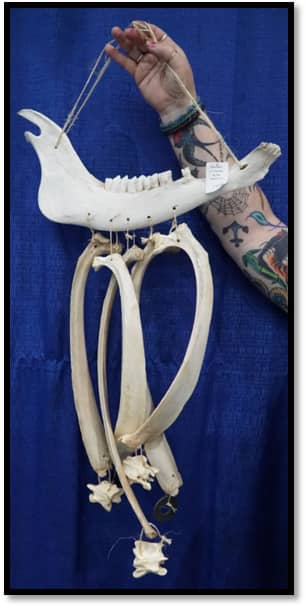 Cow Bone Wind Chimes
Moving on we met Hanna Bert of Hannabert Creations, who gets the award for the most creative use of a cow jaw. Though she had an incredibly interesting collection of upcycled dolls which were definitely the stuff of nightmares, her cow bone wind chimes made me whip out my credit card. These were just too odd to pass up and when hung off my front porch, a great way to keep nosey neighbors and unwanted solicitors away. Want a set of your own and a couple of doll head night lights to go along with it? Check out all her offerings on her website.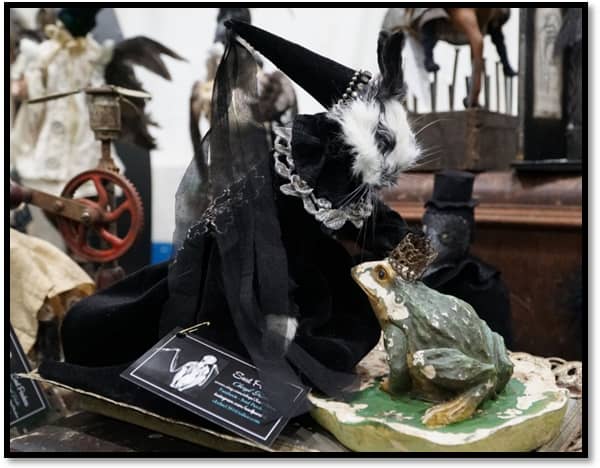 Soul Perchers
Next up is Cheryl Kuhn's Soul Perchers art. Inspired by a love of things old, broken, discarded and dead, Cheryl's creations all feature one or more of these components. All showcase taxidermy using only ethically sourced animals, such as road kill or creatures that have been found dead from natural causes. It all sounds incredibly creepy, but the results remind me of things you'd find on the shelves in an Edwardian sitting room or a nineteenth-century London "adventurers club". Don't let the description put you off; Cheryl's art has a beautiful antique quality that could be at home nestled among your favorite books.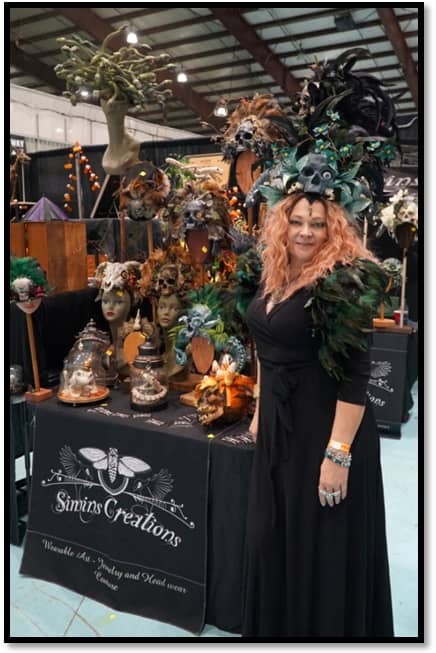 Simin's Creations
Simins Creations exemplify what can only be described as fantasy beauty. German artist Simin Koenig has created the most fantastical headdresses which have been featured internationally by Australian Polynesian dance groups, and seen as costuming for Burning Man, Renaissance fairs across the country, masquerade balls, galleries, and model photoshoots. Each headdress is unique and can just as easily serve as a piece of stationary art as a wearable one. Check out these as well as her jewelry designs at her website where you can see my particular favorites, her voodoo headdresses and hats.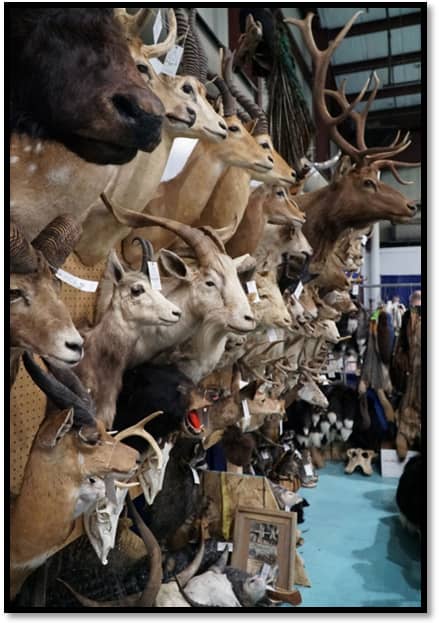 Tony's Trading Post
Tony's Trading Post Taxidermy specializes in antique pieces which have been collected from all over the country. The proprietors are careful to explain they are not taxidermists themselves, but purchase old pieces for resale and for rental by movie and television production companies. Being an avid animal lover myself, I can't imagine hunting something down to stuff it. However, my Scottish roots makes a library with great-granddad's Ibis trophy from his African safari in 1903, seem exceedingly appealing and I can reconcile that with the idea antique taxidermy pieces. I was especially fond of the enormous shed buffalo horns which seemed to scream dining room center piece when two were stood up side by side. Check out their extensive offerings on their site, or contact them directly for special requests.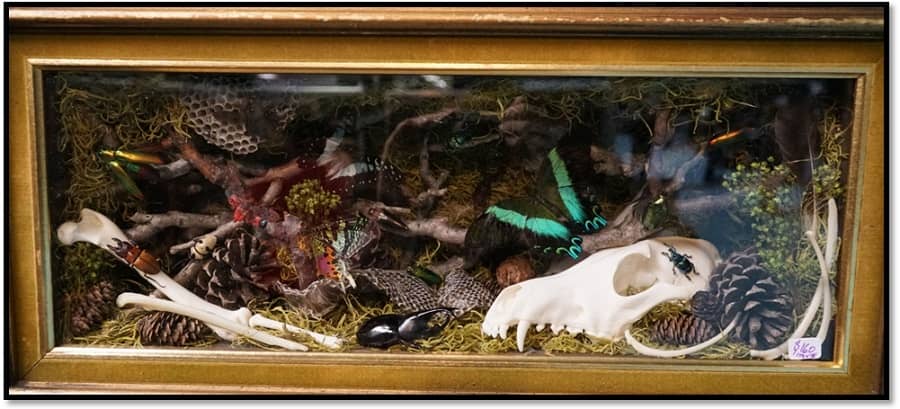 The Art of Price Jones
Artist Price Jones from Oklahoma had a collection of the most unusual shadow boxes we had ever seen. I couldn't stop staring at one that looked like a frozen corner of a summer night sky, swarming with small bats. Growing up in the Midwest, watching dozens of bats, swooping and diving low through the trees at dusk, consuming hundreds of mosquitoes was kind of an obsession. Ok yes, I was a weird little kid, but Price's art captured that moment perfectly and that was only one of his boxes. The whole booth reminded me of an exhibit at the Field Museum, and though this might not be everyone's idea of awesome décor, I for one, really couldn't stop staring. Price does more traditional artwork as well, and you can contact him on his Facebook page to inquire about your own Price Jones original.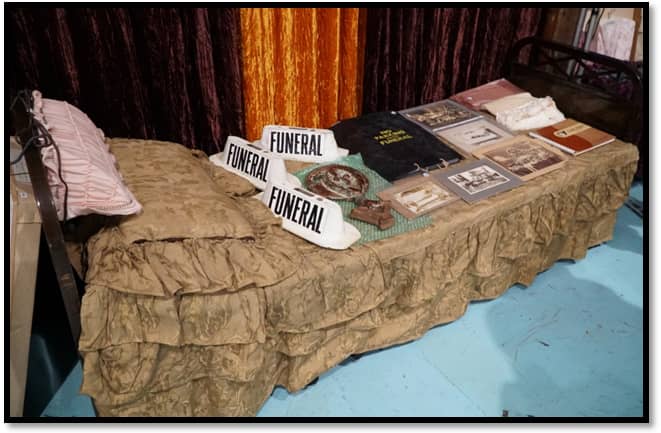 Attila's Funatorium
Last but not least was a gentleman who introduced himself as Attila Bethlenfalvy, owner and operator of the Funatorium, offering "assessing, consulting, and appraising services for vintage funerary pieces, collections, funeral home contents, and vintage funeral coaches." He was selling quite a collection of antique funeral home accoutrements but was also helping promote the Simpsons Funeral Museum in Chatham, Virginia, a "4500 square foot museum where visitors can experience the history of funerary practices through several centuries." Black Gate photog Chris Z and I agreed that in spite of his name, Attila was one of the most charming and interesting people we me that day, explaining his pieces with the enthusiasm of an avid collector. I couldn't help but think if you wanted your funeral to be extremely well attended, make arrangements in advance with Attila to promote it, and provide your mourners with a guided tour of your facility and a full explanation of your choice of coffin design.
I mean, it was the Oddities and Curiosities Expo after all…
The O&CE continues its nationwide event schedule, with Detroit, Austin, Kansas City and New Orleans among its upcoming stops. You really must experience this for yourself so checkout future dates at their website, then post a question or comment here or by dropping a line to sue@blackgate.com.