A Celebration of Classic British Horror: Gaslight, Ghosts & Ghouls by R. Chetwynd-Hayes, edited by Stephen Jones
A Celebration of Classic British Horror: Gaslight, Ghosts & Ghouls by R. Chetwynd-Hayes, edited by Stephen Jones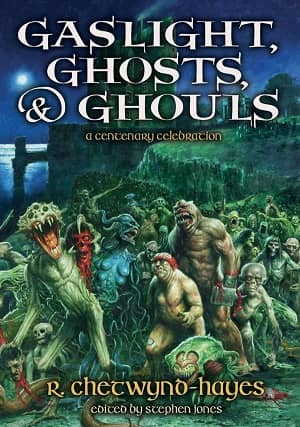 In a May 30 Facebook post, Stephen Jones announced a major new career retrospective of British horror writer R. Chetwynd-Hayes, who died in 2001. Chetwynd-Hayes published early fiction in The Pan Book of Horror Stories in the sixties, and wrote the classic The Monster Club, the basis for the 1980 film starring Vincent Price and John Carradine.
Jones was Ron's co-editor for two posthumous anthologies, Great Ghost Stories (2004) and Tales to Freeze the Blood: More Great Ghost Stories (2006). He also helped him compile several collections, and published Ron's fiction in multiple anthologies. He's the perfect man for the job of assembling a "Best of" survey of the five-decade career of one of the great names in 20th Century British horror. Here's Stephen:
R. Chetwynd-Hayes… was one of the most important horror writers and editors working in Britain. Not only was he happy to write about such genre standards as ghosts, demons, ghouls, vampires and werewolves, but he also delighted in making up his own bizarre monster variations that managed to stretch the imaginations of both author and reader alike…

Ron published an impressive twenty-four collections of short fiction, twenty-four anthologies (including twelve volumes of the influential Fontana Book of Great Ghost Stories series), thirteen novels and more than 220 short stories. His work was adapted for the movies, television, radio and comics, and reprinted in various languages around the world. One of his publishers described him as "Britain's Prince of Chill", and his volumes of ghost stories and humorous tales of terror once filled the shelves of nearly every public library in the UK…

With the centenary of his birth fast approaching this year, I decided that it was time to finally compile the "Best of" collection… as it was such a monumental occasion to be celebrated, we decided to go well beyond that — to create a volume that truly did justice to Ron's work and his enduring legacy… Gaslight, Ghosts & Ghouls: A Centenary Celebration contains sixteen of Ron's highly original tales of terror and the supernatural, which invariably combined horror and humour in equal measure, giving them a style that was uniquely the author's own. These not only include a rare reprint of one of his novellas featuring "the world's only practising psychic detective" Francis St. Clare and his vivacious assistant Frederica ("Fred") Masters, but also two tales that have never been reprinted since their original publication, plus a vampire novella that is appearing in print for the very first time!
Gaslight, Ghosts & Ghouls: A Centenary Celebration also contains the longest interview with Ron ever published, conducted by Jo Fletcher and Jones, a detailed Bibliography, a full-color portfolio of covers by Les Edwards, rare photos, endpapers by John Bolton and Graham Humphreys, and a back cover painting by Walter Velez. It will be published by PS Publishing in three formats, including a jacketed hardcover, signed slipcase, and deluxe limited edition. The unsigned hardcover is offered at £25.00. It will premiere at FantasyCon in Glasgow, Scotland, October 18th–20th. The cover, "The Monsters Escape," is by Les Edwards. Pre-order copies of the book here.