Sentient Mining Robots, Interstellar Warfare, and an A.I. Revolution: The Corporation Wars by Ken MacLeod
Sentient Mining Robots, Interstellar Warfare, and an A.I. Revolution: The Corporation Wars by Ken MacLeod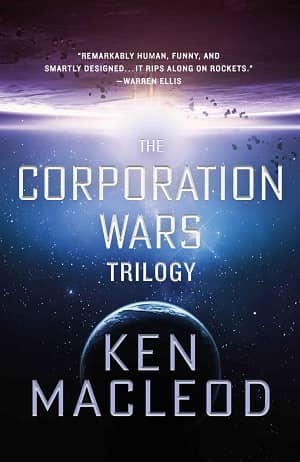 Scottish writer Ken MacLeod is the author of Cosmonaut Keep, The Cassini Division, Newton's Wake, and roughly a dozen other science fiction novels. His books have been nominated for the Hugo, Nebula, Clarke, and British Science Fiction Awards. His Corporation Wars trilogy (Dissidence, Insurgence, and Emergence) is a fast-paced space opera told against a backdrop of interstellar drone warfare, virtual reality, and an A.I. revolution. In his review of the second volume at Locus Online, Russell Letson said:
MacLeod manages big Ideas (po­litical and futurological) and propulsive action without short-changing either side of that classic science-fictional tension-of-opposites, a trait he shares with Iain M. Banks and Charles Stross. I'm going add one more name and then duck be­hind the sofa: Heinlein.
I was sloppy about picking up the originals when they first appeared; that usually means I have to painstakingly track down out-of-print copies. But not this time! Orbit came to my rescue with a gorgeous (and gorgeously economical) 879-page omnibus brick: The Corporation Wars Trilogy. If you're interested in an acclaimed space opera from a modern master, this is an excellent gift for yourself. Here's the description.
In deep space, ruthless corporations vie for control of scattered mining colonies, and war is an ever-present threat.

Led by Seba, a newly sentient mining robot, an AI revolution grows. Fighting them is Carlos, a grunt who is reincarnated over and over again to keep the "freeboots" in check. But he's not sure whether he's on the right side.

Against a backdrop of interstellar drone combat Carlos and Seba must either find a way to rise above the games their masters are playing or die. And even dying might not be the end of it.
The Corporation Wars was published by Orbit on December 11, 2018. It is 896 pages, priced at $19.99 in trade paperback and $13.99 in digital formats. The cover was designed by Lisa Marie Pompilio.
If you're in the market for fine value in reading, check out our recent coverage of fat omnibus editions here.