The Golden Age of Science Fiction: On Wings of Song, by Thomas M. Disch
The Golden Age of Science Fiction: On Wings of Song, by Thomas M. Disch
The Campbell Memorial Award, not to be confused with the John W. Campbell Award for Best New Author, was founded in 1973.  The award is a juried award and presented to the best SF novel published in the US. The award was founded by Harry Harrison in memory of the long-time editor of Astounding and Analog magazine. The first Campbell Memorial Award was presented to Barry N. Malzberg's novel Beyond Apollo. The award is presented at the University of Kansas in Lawrence and over the years a weekend conference has grown up around the presentation of this award and the Sturgeon Award, which was founded in 1987 to honor short stories. In 1980, the award was presented on July 31.
Originally published from February through April in The Magazine of Fantasy and Science Fiction, Disch's 1979 novel On Wings of Song takes place in a Balkanized United States, where Daniel Weinreb lives in an Iowa ruled by a conservative Christian movement which bans a variety of activities, including singing. After an ill-advised jaunt to Minneapolis to see a movie with a friend who disappears, Daniel finds himself harassed by his friend's powerful father and eventually sent to a penal camp for a minor infraction.  While there, Daniel learns the secret of flying and its connection to singing. Freed from the prison camp, Daniel flees to New York to pursue a career as a singer and learn the art of flying, although his success leaves his idealism and hope in tatters.
Many of the social issues Disch discusses in On Wings of Song are still inherent in American civilization. He depicts a heartland significantly more conservative than the coastal regions and nearly gleeful in its attempts to force a common and restrictive form of religion-cum-government on its people. Because Daniel is a victim of this cruelty, it comes off as harsh and unrelenting, Disch's satire almost without humor. The powerful are basing their actions on their religious beliefs rather than using their religious beliefs as justification for their actions, the earnestness of the situation making it that much more horrific than hypocrisy.
The satire is not only aimed at the restrictive Midwest, but also at the freedom of New York. As can be expected for a novel that is forty year old, some of the satire bites and other targets seem dated.  The sadness of a book like this is how little some things have changed, even as there is some joyfulness to be taken in areas which have improved.
Disch's On Wings of Song topped John Crowley's Engine Summer and J.G. Ballard's The Unlimited Dream Company.
---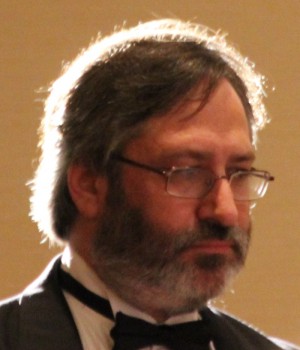 Steven H Silver is a sixteen-time Hugo Award nominee and was the publisher of the Hugo-nominated fanzine Argentus as well as the editor and publisher of ISFiC Press for 8 years. He has also edited books for DAW and NESFA Press. He began publishing short fiction in 2008 and his most recently published story is "Webinar: Web Sites" in The Tangled Web. Steven has chaired the first Midwest Construction, Windycon three times, and the SFWA Nebula Conference 6 times, as well as serving as the Event Coordinator for SFWA. He was programming chair for Chicon 2000 and Vice Chair of Chicon 7.