A New Gem from a Seasoned Master: Guy Gavriel Kay's A Brightness Long Ago
A New Gem from a Seasoned Master: Guy Gavriel Kay's A Brightness Long Ago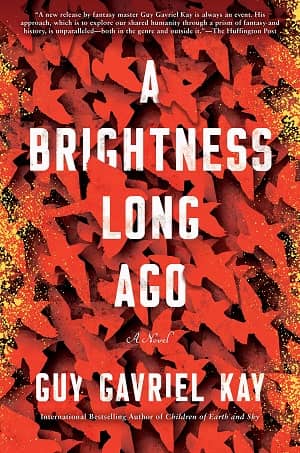 By any measure, Guy Gavriel Kay is a giant in the field of fantasy. He has won a World Fantasy Award (for Ysabel in 2008) and been nominated for three others. He has won the Aurora and Sunburst awards, and in 2014 was made a member of the Order of Canada. Even before the release of his first series, the critically acclaimed Fionavar Tapestry (The Summer Tree, The Wandering Fire, The Darkest Road) Kay had already established himself as an important figure in the fantasy world by editing The Silmarillion with Christopher Tolkien. Every one of his thirteen novels has enjoyed stunning critical success. And on a personal note, his work, with its lyrical prose, insightful character work, and brilliant world building, has been an inspiration to me throughout my career.
It is no exaggeration to say that the release of a new Guy Gavriel Kay novel is always a notable event in our genre. The May 14 publication of his latest work, A Brightness Long Ago (Berkley), promises to be no exception. Moving, intriguing, surprising, and ultimately deeply satisfying, it ranks with Tigana, The Lions of Al-Rassan, Ysabel, and Under Heaven as one of Kay's very best.
A recitation of the plot of A Brightness Long Ago hardly does justice to the richness of this narrative. An old man, Guidanio Cerra, reflects on his past, in particular his life-altering romance with a young noblewoman, Adria Ripoli. They first meet on a night in Danio's youth when Adria has come to the city-state of Mylasia, posing as an innocent who has been sent to satisfy the sadistic sexual appetites of Mylasia's Count Uberto. In reality, she has come to assassinate the Count. But Adria is wounded in their encounter and is unable to flee the palace without help. Danio knows the count was a brute, and he admires Adria's strength and courage, as well as her beauty. He also knows of her noble heritage. He offers his aid, allowing her to evade capture.
They next meet when Adria rides a mount in the famed race of Bischio. It is rare for a woman to ride, unheard of for the daughter of a noble house to do so, though in this, too, she attempts to keep her identity hidden. The extravagant wagering on the race attracts the notice of rival mercenary commanders, Teobaldo Monticola di Remigio and Folco Cino d'Acorsi, and the contest's unexpected outcome draws Danio into the drama of the men's blood feud.
To reveal more would be to spoil some truly wonderful moments of drama, suspense, passion, tragedy, and vengeance. It is enough to say that the pace of this tale does not flag.
As with so much of Kay's work, though, there is far more to this book than just a terrific yarn. The author specializes in tales that incorporate real-world historical traditions into imagined settings. In this case, he has created a version of early Renaissance Italy that fits neatly with other books he has set in the same fictionalized extrapolation of our world's history. All the events chronicled in the novel take place against the backdrop of the impending fall of Sarantium, the so-called "city of cities."
Sarantium is the setting for Kay's Sarantine Mosaic, a duology consisting of Sailing to Sarantium (1998) and Lord of Emperors (2000). The fictional city is modeled after Constantinople, which was conquered by the Ottoman Empire in 1453.
Covers by Keith Birdsong
Incorporating elements of our history into his world building in this way lends incredible depth to his settings. His cities, countrysides, palaces, and sanctuaries are more than vibrant; they are transportive, carrying the reader to places that feel magical and exotic, and at the same time convincingly familiar. Kay juxtaposes small seemingly mundane details with trenchant insights into key aspects of city life, all to great effect:
Mylasia was a city of emerging merchants, controlled for a time by a dark and detested lord. They endured him because he could ensure safety for the farmlands and hunting lodges they were all acquiring outside the walls, and for their ships in the harbour (at sea, safety was not in his control).

The girl who'd killed Uberto had escaped past all the guards in the square. The count's heir was a child and would need a steward. The chancellor was known to be smooth, greedy, and cunning, but no leader of mercenary soldiers…

These things put together smelled of fish left over at the end of a market day, as the phrase went.
Whether we are following a battle or a horse race, the rules of law or the customs of commerce, the machinations of city-state politics or the intimacies of a burgeoning love affair, we are always aware of where and when we are. This world holds up to scrutiny, and it is a place to which I returned with eagerness each time I picked up the volume to continue reading.
Of course, A Brightness Long Ago is not merely about places and events. Ultimately, like all great novels, it is about people. Fans of Kay will find here some character elements that they have seen before. A young protagonist drawn into a world of conflict and intrigue for which he is only partially prepared. A young healer (Kay's father was a surgeon), also drawn by circumstance into events that ramify far beyond her small world. A rivalry between powerful, almost mythic personalities that acts as a maelstrom, pulling others around them into their conflict and manifesting far beyond the rivalry's roots. And a romance that sparks and grows both in spite of and because of monumental forces of history.
At the same time, in Brightness Kay has made some choices relating to character and narrative that we have not seen before in his canon of novels. Most notably, Danio's chapters are written in first person, something Kay has not attempted with any previous character. The approach instills Danio's voice with a freshness and immediacy that sets this story apart.
The sailors say the rain misses the cloud even as it falls through the light or dark into the sea. I miss her like that as I fall through my life, through time, the chaos of our time. I dream of her some nights, still, but there is nothing to give weight or value to that, it is only me, and what I want to be true. It is only longing.
In previous books, Kay has taken to stepping outside of his third person narrative voice to offer observations on the nature of life and death, love and fate. On other occasions, he has stepped away from point of view to describe the distant futures of certain characters, thus sharing information his narrators can't possibly know. Some of these asides are interesting, a few are compelling. In other cases, though, they have felt like digressions from the story at hand, intrusions by the author into the conversation between character and reader. As such, these moments can be distracting, even frustrating.
In Brightness, however, Kay largely confines such ruminations to Danio's first person narrative, and in so doing makes them far more integral to the tale, and, specifically, to the deepening of Danio's character. Put another way, the asides in this book feel more organic to the narrative voice.
Danio's point of view often reads as a character looking back on earlier episodes in his life, judging himself as well as those with whom he interacted. This perspective, though, is balanced by additional chapters, written in the third person points of view of Adria and other characters, which convey the immediacy of events happening in the moment. The result is a work that reads at times as mature and contemplative, and at others as deeply suspenseful and uncertain. It is an effective mix, offering emotional depth without sacrificing narrative momentum.
A Brightness Long Ago is not a perfect novel. To be honest, I'm not sure such a beast exists. Even with Kay's digressions embedded in Danio's point of view, some might find them heavy-handed and unnecessary. We get information on the fates of certain characters that some readers, especially those not steeped in the details of Kay's other works, might feel are superfluous. But such complaints are minor in the context of such a huge achievement. This is not a book to be nit-picked. It is a book to be celebrated.
Fans of Kay's other works will enjoy the details large and small that connect A Brightness Long Ago with not just the Sarantine books, but also The Lions of Al-Rassan, The Last Light of the Sun, and 2016's Children of Earth and Sky, for which Brightness serves as a sort of prequel. That said, those who are picking up a Guy Gavriel Kay novel for the first time will find in this newest effort a story that stands fully on its own. This is a fine entry to Kay's writing, showcasing as it does the elegance and realism of his world building, the exceptional thoroughness of his research, the poetry of his prose, and the heart-wrenching power of his storytelling. It is more than another entry in a long sequence of fine novels. It is a new gem, the work of an artist at the peak of his abilities.
And, in the end, it is also just a damn good book. It will engage you, move you, keep you reading way too far into the night. And it will remain with you long after you turn that last page.
---
David B. Coe is the award-winning author of more than twenty novels and as many short stories. His newest novel, written under the pen name D.B. Jackson, is Time's Demon, volume II in The Islevale Cycle. It will be released by Angry Robot Books on May 28, and is the sequel to 2018's critically acclaimed Time's Children.
As D.B. Jackson, he also writes the Thieftaker Chronicles, a historical urban fantasy set in pre-Revolutionary Boston. Under his own name, he has most recently published Knightfall: The Infinite Deep, a tie-in with the History Channel's Knightfall series. He is also the author of the Crawford Award-winning LonTobyn Chronicle, the Winds of the Forelands quintet, the Blood of the Southlands trilogy, the novelization of Ridley Scott's movie Robin Hood, and The Case Files of Justis Fearsson, a contemporary urban fantasy. He is co-editor of Temporally Deactivated, a short story anthology coming out later this year.
David has a Ph.D. in U.S. history from Stanford University. His books have been translated into more than a dozen languages.
http://www.dbjackson-author.com
http://www.DavidBCoe.com
http://www.dbjackson-author.com/blog
https://twitter.com/DBJacksonAuthor
https://www.facebook.com/DBJacksonAuthor
http://www.facebook.com/david.b.coe