Time Travellers This Way Please
Time Travellers This Way Please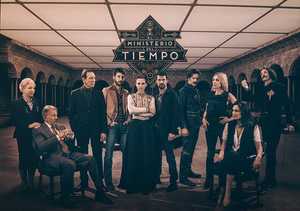 Sound familiar? Of course. In fact, in the very first episode I was reminded of two other shows I've  enjoyed watching, Warehouse 13, and Timeless. I didn't find this detracted, however, there were enough differences to give Minsterio some freshness.
The protagonists of Timeless, like Ministerio, are a team of a woman and two men. However, that's only a by-product of their real job, which is to find and capture another time traveller who is trying to change the timeline. The Ministry also has its enemies but we don't learn that until the third episode. The first couple of episodes set up the world, and the complications that the characters themselves bring to it.
This setup introduces what for me is a very typically Spanish element: bureaucracy. It's been said that the Spanish invented bureaucracy, and I'm inclined to believe it, but I'm  not going to elaborate on that here. Suffice to say that this is the ministry of time. This is a government office, run by government functionaries, as civil servants are called in Spain. Strangely (to me at least) this doesn't slow down the action, but it does lend a certain Kafkaesque quality to it.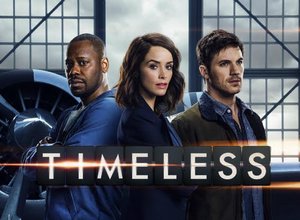 In any case, both Timeless and Ministerio deal with a conflict between opposing points of view, and because of this, both series call up similar philosophical issues: how much do we really know about history? Is the story we know the truth? Is there an objective truth at all? If the timeline is changed, would we even know? Under what circumstances (if any) are we justified in changing the known timeline?
There's another element of similarity that I touched on above: the three protagonists. Each show has one historian (women) who is nominally in charge of the group, one soldier (neither of whom likes to take orders from a woman), and one – well OK, one show has a man to pilot the time machine and the other has a paramedic. (There's also the fact that in one show there's a time machine, and in the other time travel is made possible by the existence of a number of "portals." I'm afraid I'm not sure if these were discovered or invented.)
For me, a great deal of interest and depth of plot is added to Ministerio by the reactions of the characters because they all come from different spots on the timeline. We have a gentleman soldier from the 1560's for whom everything – including the concept of time travel itself – is new; the historian is the first female university student from the late 1800's; and the paramedic is from 2014.  This mix gives a nice stranger-in-a-strange-land tone to even those scenes set in the present day.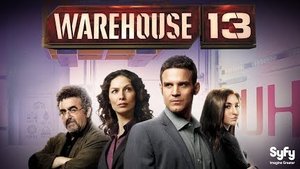 Oddly enough it's the bureaucratic aspect of Ministerio that most reminded me of Warehouse 13 – after all, the Warehouse itself is part of a secret government department. At least, that's what they're telling new recruits. Both series involve secret buildings, secret passages, and stuff happening under the noses of the unsuspecting public. A public which includes the protagonists.
As serious as things are, both Ministerio and Warehouse have an underlying sense of humour. "Who's this Alatriste guy and why do people keep asking me if I'm him?" says Alonso, the guy from the 1560's. Finally the 21st century guy explains that Alonso bears a remarkable resemblance to the fictional character Diego Alatriste from the series of novels by Arturo Perez-Reverte set in, you guessed it, the 1560's. When they have occasion to visit a bookstore, Alonso manages to steal a copy of the first in the series – just so he can find out what everyone is talking about.
It's refreshing, in Ministerio, to watch a time-travelling story in which the main focus is on the history of another country and another culture. Example: one of the first people saved from an unexpected death is Lope de Vega, arguably the most important playwright in Spanish literature. (Think Shakespeare) We don't get so see a lot of that over here.
---
Violette Malan is the author of the Dhulyn and Parno series of sword and sorcery adventures (now available in omnibus editions),  as well as the Mirror Lands series of primary world fantasies. As VM Escalada, she writes the Faraman Prophecy series, currently in two books, Halls of Law, and Gift of Griffins. Like her page on Facebook and follow her on Twitter @VioletteMalan.