The Golden Age of Science Fiction: David Langford
The Golden Age of Science Fiction: David Langford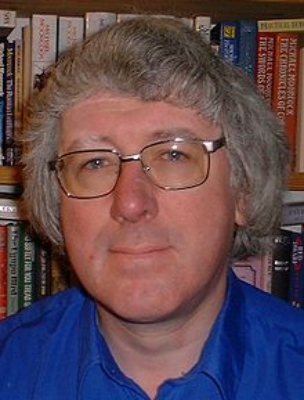 The Fan Activity Achievement Awards (FAAN) were founded in 1976 by Moshe Feder and Arnie Katz. The award was presented annually from 1975 through 1980 and then became moribund until it was revived in 1994 and presented at Corflu, a convention for fanzine fans. Due to a change in the eligibility year, o awards were presented in 1996, but it has been presented annually since then. The Best Fan Writer Award was presented in the inaugural year to Don C. Thompson. From 1977-1979, Bob Shaw had a three year streak, which was broken in 1980 by David Langford, who won his only FAAN Award in 1980.
Considering David Langford as a fan writer from the perspective of 2019 is very different from his role in 1979. It has now been 10 years since his most recent Best Fan Hugo nomination and 12 years since the last time he won that award (although only 7 since he won his most recent Hugo Award for Best Related Work for The Encyclopedia of Science Fiction, Third Edition). In 1979, he hadn't won any of the record-tying 29 Hugo Awards that have been voted to him.
Langford began publishing fiction in 1975 with the story "Heatwave" and his first book-length piece of fiction, An Account of a Meeting with Denizens of Another World, 1871 made its appearance in 1979.
From a fannish point of view, in August of 1979, Langford published the first issue of Ansible, which ran between 4 and 10 pages in quarto format until 1987. He ceased publication of it from 4 years before picking up again as a 2 page A4 newssheet in October 1991 and has been publishing it monthly since then.
From August 1978 through June 1980, Langford edited six issue of the newsletter The Northern Guffblower in support of the Get Up-and-over Fan Fund, which was established in 1977 to bring an Australian fan to Britain for the 1979 Worldcon. The fund was one by John Foyster.
From March of 1976 to April 1982, Langford co-published six issues of the fanzine Drilkjis in collaboration with Kevin Smith. They published one issue in August 1979. Langford also published the apazine Cloud Chamber during 1979. The first issue appeared in 1976, with one issue appearing in 1979. The apazine had more than 160 issues published through December 2011.
At the time of his win for the FAAN Writer in 1980, Langford may have been best known for the fanzine Twll-ddu, which he began publishing in 1976. Two issues appeared in 1979, in April and July. By the time Langford ceased publication of Twll-ddu in 1983, he had published a total of 20 issues.
In 1980, Langford was the winner of the Trans-Atlantic Fan Fund, traveling to Noreascon Two and publishing a record of his travels in The Transatlantic Hearing Aid.
Readers who are interested in reading the fannish writing Langford was publishing in 1979 can find issues of Ansible, Cloud Chamber, Drilkjis, The Northern Guffblower, Twll-Ddu, and other fanzines he's published on the Ansible website. Furthermore, some of his best fannish writing has been collected in the NESFA Press collection The Silence of the Langford, an expanded version of Let's Hear It for the Deaf Man.
Langford bested a field containing Arthur Hlavaty, Steve Leigh, and Kevin Smith to win his first award, five years before he would win his first Hugo Award and nine years before he began his run as Hugo Award winner for Best Fan Writer for 20 consecutive years.
---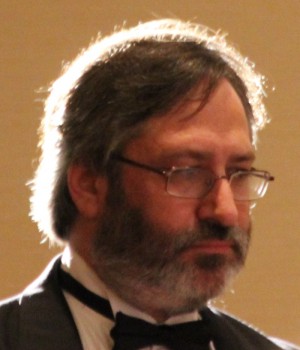 Steven H Silver is a sixteen-time Hugo Award nominee and was the publisher of the Hugo-nominated fanzine Argentus as well as the editor and publisher of ISFiC Press for 8 years. He has also edited books for DAW and NESFA Press. He began publishing short fiction in 2008 and his most recently published story is "Webinar: Web Sites" in The Tangled Web. Steven has chaired the first Midwest Construction, Windycon three times, and the SFWA Nebula Conference 6 times, as well as serving as the Event Coordinator for SFWA. He was programming chair for Chicon 2000 and Vice Chair of Chicon 7.