Future Treasures: The Light Brigade by Kameron Hurley
Future Treasures: The Light Brigade by Kameron Hurley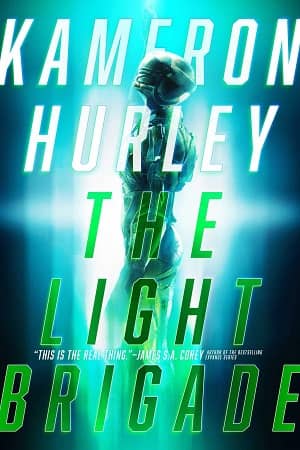 Kameron Hurley's debut novel God's War, which eventually became part of her Bel Dame Apocrypha trilogy, was nominated for a Nebula Award; she won a Hugo in 2014 for Best Related Work. Her big space opera from last year, The Stars Are Legion, showed a very difference side to her, and was one of the most acclaimed books she's ever published, with an Honorable Mention for the James Tiptree Award, a nomination for the Campbell Award, and a fifth-place finish for the Locus Award for Best SF Novel.
Her latest is something new again — a science fiction thriller about a futuristic war during which soldiers are broken down into light in order to get them to the front lines on Mars. It's based on a short story with the same title originally published in John Joseph Adams' Lightspeed Magazine (read it here); the novel version arrives in hardcover from Saga Press in two weeks.
They said the war would turn us into light. I wanted to be counted among the heroes who gave us this better world.

The Light Brigade: it's what soldiers fighting the war against Mars call the ones who come back… different. Grunts in the corporate corps get busted down into light to travel to and from interplanetary battlefronts. Everyone is changed by what the corps must do in order to break them down into light. Those who survive learn to stick to the mission brief — no matter what actually happens during combat.

Dietz, a fresh recruit in the infantry, begins to experience combat drops that don't sync up with the platoon's. And Dietz's bad drops tell a story of the war that's not at all what the corporate brass want the soldiers to think is going on.

Is Dietz really experiencing the war differently, or is it combat madness? Trying to untangle memory from mission brief and survive with sanity intact, Dietz is ready to become a hero — or maybe a villain; in war it's hard to tell the difference.
The Light Brigade will be published by Saga Press on March 19. It is 354 pages in hardcover, priced at $26.99 in hardcover and $7.99 in digital formats. The cover is by Eve Ventrue.
See all our recent Future Treasures here.