New Treasures: The Ingenious by Darius Hinks
New Treasures: The Ingenious by Darius Hinks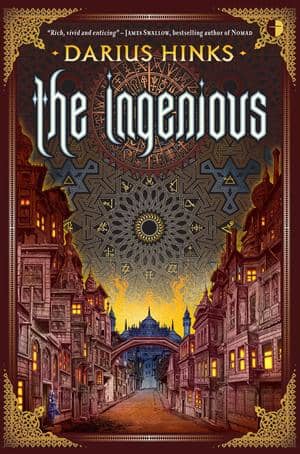 Darius Hinks has had a distinguished career as a fantasy writer. His first novel, Warrior Priest, won the Gemmell Morningstar award. Most of his fiction has been set in the Warhammer and Warhammer: 40K universes, including the Orion trilogy, Sigvald (2011), Blood of Sanguinius (2017), the just-released Mephiston: Revenant Crusade (Jan 8, 2019) and the upcoming Blackstone Fortress (May 14, 2019).
His latest novel (and the second of three planned for release this year) is his first non-licensed work, and it's certainly the first to catch my eye. In his article "7 Impossible Fantasy Cities Worth the Visit" at the Barnes & Noble Sci-Fi & Fantasy Blog, Sam Reader says:
Floating outside of time and space and only coming to rest once a year for the annual Conjunction — during which it adds new districts to itself — Athanor is a massive living city controlled by a secretive group of alchemists known as the Curious Men. While the danger of the place is immediately obvious within two chapters of Darius Hinks' new novel — its lower levels are ruled by a twisted gang of mutants, the cops know how to hide a body way too well (and also all wear cultist uniforms), and one of the Curious Men has been straight-up murdering people with a skin-shroud so he can take control of and literally bend reality. At the same time, the place feels vibrant and alive in a way few fictional metropolises do, literally pulsing and teeming with life as it travels through and around spacetime. Its constantly changing nature gives it the sense of a wild, beautiful, protean place, its danger as seductive as it is horrifying.
Here's the book description.
Political exiles are desperate to escape from the impossible city that imprisons them, in this bloody and brilliant epic fantasy

Thousands of years ago, the city of Athanor was set adrift in time and space by alchemists, called "the Curious Men." Ever since, it has accumulated cultures, citizens and species into a vast, unmappable metropolis.

Isten and her gang of half-starved political exiles live off petty crime and gangland warfare in Athanor's seediest alleys. Though they dream of returning home to lead a glorious revolution, Isten's downward spiral drags them into a mire of addiction and violence. Isten must find a way to save the exiles and herself if they are ever to build a better, fairer world for the people of their distant homeland.
The Ingenious was published by Angry Robot on February 5, 2019. It is 349 pages, priced at $12.99 in trade paperback. The cover is by John Coulthart. Read an excerpt from the first chapter here, and see all our recent New Treasures here.