The Golden Age of Science Fiction: The 1973 John W. Campbell Award for Best New Writer: Jerry Pournelle
The Golden Age of Science Fiction: The 1973 John W. Campbell Award for Best New Writer: Jerry Pournelle
Steven Silver has been doing a series covering the award winners from his age 12 year, and Steven has credited me for (indirectly) suggesting this, when I quoted Peter Graham's statement "The Golden Age of Science Fiction" is 12, in the "comment section" to the entry on 1973 in Jo Walton's wonderful book An Informal History of the Hugos. You see, I was 12 in 1972, so the awards for 1973 were the awards for my personal Golden Age. And Steven suggested that much as he is covering awards for 1980, I might cover awards for 1973 here in Black Gate.
It seems appropriate in a year that represents my dawning as an SF reader, I should cover the dawning of an award that since then has celebrated the dawning of what we (as fans) think might be a significant career. This is the John W. Campbell Award for Best New Writer. Some people think the full name of the award includes a parenthetical addition: (Not a Hugo). This is because the award is sponsored by Dell Magazines (publisher of Analog, where John Campbell was the long time Editor), but administered by the World Science Fiction Society, and as such voted on using the same process and schedule as the Hugo Awards.
The very first Campbell Award, in 1973, went to Jerry Pournelle. Writers are eligible for the award for the two years after their first professional SF/Fantasy publication. While Pournelle had published a thriller, Red Heroin, in 1969 under the name Wade Curtis, his first SF story was "Peace With Honor," under his own name, in the May 1971 Analog. This was the first story in his Co-Dominion future history, and the first to feature John Christian Falkenberg, one of his primary heroes. His nomination was based on that story, on another Falkenberg story, "The Mercenary," and on the novel A Spaceship for the King (set much later in the Co-Dominion universe), as well, perhaps, on three stories that appeared in Analog under the "Wade Curtis" name: "Ecology Now!", "A Matter of Sovereignty," and "Power to the People."
I first encountered Pournelle with some stories in Analog in 1974, such as "Extreme Prejudice." I soon searched out his earlier stories in back issues of Analog borrowed from my library, and I remember reading, with particular enjoyment, the serialized version of A Spaceship for the King.
[Click the images for bigger versions.]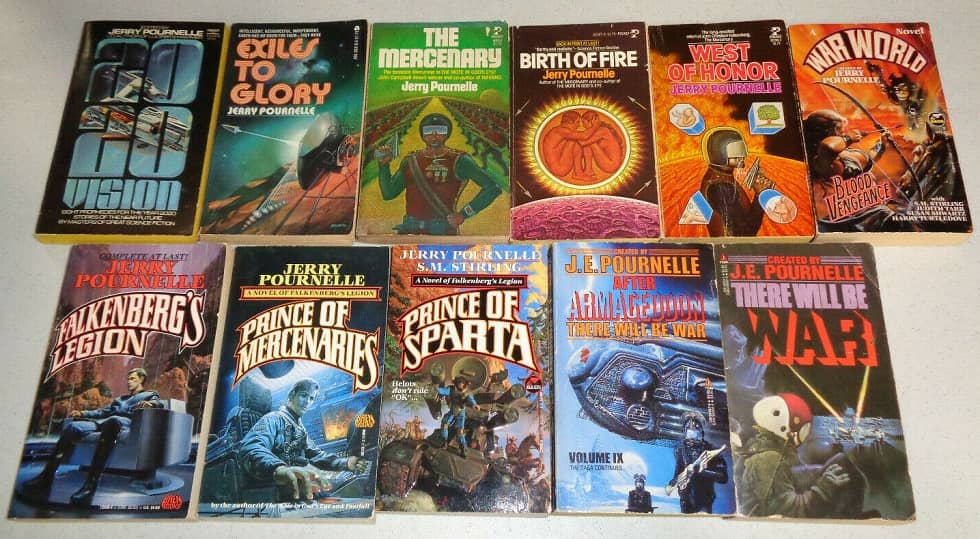 Some of Jerry Pournelle's early paperbacks
I certainly thought then, and still think, that he was an excellent choice for the award. That said, the other nominees were an outstanding bunch: Ruth Berman, Robert Thurston, George Alec Effinger, Lisa Tuttle, and some guy named George R. R. Martin. All of them were worthy nominees.
Pournelle's subsequent career amply justified his win. He continued to write enjoyable novels, perhaps achieving his greatest success with his first collaboration with Larry Niven, The Mote in God's Eye. He also edited a great many anthologies. And he was a prominent writer of non-fiction, particularly in his Galaxy science column, A Step Further Out, which was a favorite feature of mine when I was first buying Galaxy in the mid-70s, and later in a long-running column on personal computing for Wired magazine. He died in 2017 at the age of 84.
---
Rich Horton's last article for us was a look at the 1973 Phoenix Award winner, Thomas Burnett Swann. His website is Strange at Ecbatan. See all of Rich's articles here.