The Golden Age of Science Fiction: Lou Tabakow
The Golden Age of Science Fiction: Lou Tabakow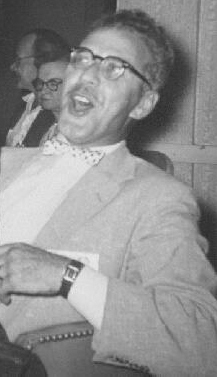 Peter Graham is often quoted as saying that the Golden Age of Science Fiction is 12. I was reminded of this quote last year while reading Jo Walton's An Informal History of the Hugo Awards (Tor Books) when Rich Horton commented that based on Graham's statement, for him, the Golden Age of Science Fiction was 1972. It got me thinking about what science fiction (and fantasy) looked like the year I turned twelve and so this year, I'll be looking at the year 1979 through a lens of the works and people who won science fiction awards in 1980, ostensibly for works that were published in 1979. I've also invited Rich to join me on the journey and he'll be posting articles looking at the 1973 award year.
The E. Everett Evans Big Heart Award was founded in 1959 and the first recipient was E.E. "Doc" Smith. The award was originally named in honor of E. Everett Evans, a fan who helped run the first Westercon and was active in publishing a fanzine in FAPA as well as participating in activities for LASFS (The Los Angeles Science Fiction Society). He helped found the N3F (National Fantasy Fan Federation). From is founding until 2000, the award was administered by Forrest J Ackerman and was one of the awards traditionally presented as part of the Hugo Award ceremony at Worldcon. In 2000, Ackerman stepped down as the administrator with David A. Kyle taking over. In 2006, Kyle renamed the award the Forrest J Ackerman Big Heart Award. The award was renamed a second time in 2018 and is currently the David A. Kyle Big Heart Award.
Lou Tabakow was born on January 14, 1915. He owned a dry cleaner in Cincinnati when Dale Tarr introduced him to science fiction fandom in the 1930s. When Tarr, Charles Tanner, and Ross Rocklynne founded the Cincinnati Fantasy Group (CFG) in 1935, Tabakow became the organization's founding Secretary/Treasurer. Within a few years, Tabakow was functioning as the group's President, a position he retained until his death, when he was succeeded by Bill Cavin.
Through his position within CFG, Tabakow helped found several long-running conventions, including Midwestcon, in 1949. Midwestcon is widely considered to have been the first relaxacon held. It has long drawn from the greater Midwest and over the years has been attended by pros as well as fans, despite its lack of programming.
At Midwestcon 9, in 1959, Tabakow became one of the founding members of First Fandom. Other founders included C.L. Barrett, Don Ford, Lynn Hickman, and Bob Madle. The purpose of First Fandom at the time was a fellowship of fans who were active prior to December 31, 1937. Although only a few fans who were originally eligible for First Fandom are still alive, the club still exists with the purpose of remembering those who established fandom and reveling in the history of early fandom.
In the early 1960s, Tabakow helped found a second relaxacon, Octocon, held in Sandusky, on Lake Erie. While Octocon originally was founded as a way for fans from Detroit, Toledo, Cleveland, and Cincinnati to get together, it eventually migrated south to Cincinnati, where CFG took over its running and it became a fall relaxacon, although never gained the standing that Midwestcon has.
Not content to have founded two annual conventions, in 1966, Tabakow became one of the founders of Marcon, held annually in Columbus. Originally held in March, the convention is now held in May and has created the acronym "Multiple Alternative Realities Convention" to explain the meaning of the convention's name.
Tabakow was also one of the people responsible for the 1949 Cinvention, the World Science Fiction Convention, held in Cincinnati and chaired by Don Ford. Tabakow was also one of the driving forces behind the 1966 Tricon, the Worldcon held in Cleveland, where he, Ben Jason, and Howard DeVore, served as chairmen (representing Cincinnati, Cleveland, and Detroit).
In the 1950s, he tried his hand at publishing some stories, debuting in the March 1951 issue of Other Worlds Science Stories with "The Wedding Present." He appeared in Astounding the next year with "Pest," written in collaboration with Randall Garrett. Through the rest of the decade, he had a handful of publications in those magazines as well as The Magazine of Fantasy and Science Fiction before he turned away from writing. At the end of his life, he published a couple of short pieces about Isaac Intrepid in collaboration with Mike Resnick.
In 1973, Tabakow was the Fan Guest of Honor at the first Windycon, held in Chicago. He was a Guest of Honor at Dubuquon II in 1979 and at Rivercon V in 1980. At Noreascon Two, the 1980 Worldcon, held in Boston, Tabakow was honored with the Big Heart Award for his decades of contributions to science fiction fandom and conventions. Noreascon Two was the last convention Tabakow was to attend. He died on May 16, 1981, one month before Midwestcon 32.
---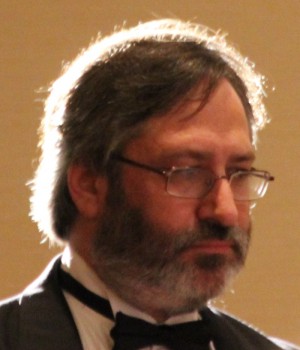 Steven H Silver is a sixteen-time Hugo Award nominee and was the publisher of the Hugo-nominated fanzine Argentus as well as the editor and publisher of ISFiC Press for 8 years. He has also edited books for DAW and NESFA Press. He began publishing short fiction in 2008 and his most recently published story is "Webinar: Web Sites" in The Tangled Web. Steven has chaired the first Midwest Construction, Windycon three times, and the SFWA Nebula Conference 6 times, as well as serving as the Event Coordinator for SFWA. He was programming chair for Chicon 2000 and Vice Chair of Chicon 7.