The Golden Age of Science Fiction: Lou Tabakow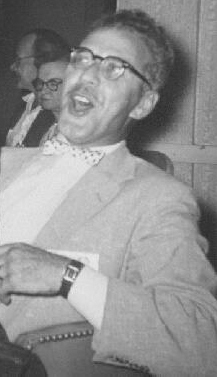 Peter Graham is often quoted as saying that the Golden Age of Science Fiction is 12. I was reminded of this quote last year while reading Jo Walton's An Informal History of the Hugo Awards (Tor Books) when Rich Horton commented that based on Graham's statement, for him, the Golden Age of Science Fiction was 1972. It got me thinking about what science fiction (and fantasy) looked like the year I turned twelve and so this year, I'll be looking at the year 1979 through a lens of the works and people who won science fiction awards in 1980, ostensibly for works that were published in 1979. I've also invited Rich to join me on the journey and he'll be posting articles looking at the 1973 award year.
The E. Everett Evans Big Heart Award was founded in 1959 and the first recipient was E.E. "Doc" Smith. The award was originally named in honor of E. Everett Evans, a fan who helped run the first Westercon and was active in publishing a fanzine in FAPA as well as participating in activities for LASFS (The Los Angeles Science Fiction Society). He helped found the N3F (National Fantasy Fan Federation). From is founding until 2000, the award was administered by Forrest J Ackerman and was one of the awards traditionally presented as part of the Hugo Award ceremony at Worldcon. In 2000, Ackerman stepped down as the administrator with David A. Kyle taking over. In 2006, Kyle renamed the award the Forrest J Ackerman Big Heart Award. The award was renamed a second time in 2018 and is currently the David A. Kyle Big Heart Award.
Lou Tabakow was born on January 14, 1915. He owned a dry cleaner in Cincinnati when Dale Tarr introduced him to science fiction fandom in the 1930s. When Tarr, Charles Tanner, and Ross Rocklynne founded the Cincinnati Fantasy Group (CFG) in 1935, Tabakow became the organization's founding Secretary/Treasurer. Within a few years, Tabakow was functioning as the group's President, a position he retained until his death, when he was succeeded by Bill Cavin.
Through his position within CFG, Tabakow helped found several long-running conventions, including Midwestcon, in 1949. Midwestcon is widely considered to have been the first relaxacon held. It has long drawn from the greater Midwest and over the years has been attended by pros as well as fans, despite its lack of programming.