The Golden Age of Science Fiction: Stephen Fabian
The Golden Age of Science Fiction: Stephen Fabian
Peter Graham is often quoted as saying that the Golden Age of Science Fiction is 12. I was reminded of this quote last year while reading Jo Walton's An Informal History of the Hugo Awards (Tor Books) when Rich Horton commented that based on Graham's statement, for him, the Golden Age of Science Fiction was 1972. It got me thinking about what science fiction (and fantasy) looked like the year I turned twelve and so this year, I'll be looking at the year 1979 through a lens of the works and people who won science fiction awards in 1980, ostensibly for works that were published in 1979. I've also invited Rich to join me on the journey and he'll be posting articles looking at the 1973 award year.
In 1972, the British Fantasy Society began giving out the August Derleth Fantasy Awards for best novel as voted on by their members. In 1976. The name of the awards was changed to the British Fantasy Award, although the August Derleth Award was still the name for the Best Novel Award. A category for Best Artwork was created in 1977 and ran for three years until 1979. Stephen Fabian won the award in its second year. In 1980, the Artwork Award was replaced by an award for Best Artist and Fabian won the inaugural award. The category has remained part of the awards to the present day, although a re-alignment in 2012 means the awards are now selected by a jury rather than the full membership of the British Fantasy Society. In 1980, the awards were presented at Fantasycon VI in Birmingham.
Fabian was born on January 3, 1930 in Garfield, New Jersey. Fabian was self-taught and heavily influenced by Edd Cartier, Hannes Bok, and Virgil Finlay. He began creating sketches for fanzines in the mid-1960s, but it wasn't until he was laid off from a job due to the oil embargo of the 1970s that he turned his skills towards professional artwork. On the day that he received word of the layoffs, he also received invitations from Sol Cohen and Jim Baen to submit work for their consideration for inclusion in Amazing Stories (Cohen) and Galaxy (Baen). His first paid work was a cover for Robert E. Howard's Western The Vultures.
His work was also championed by book collector and publisher Gerry de la Ree, who published several portfolios of Fabian's work, bringing him to the attention of both fans and publishers who were able to give him work.
While much of Fabian's work is black and white and has been used for interior artwork, several of his black and white illustrations have been used on covers, including, in 1979, the covers of The Fountains of Paradise, Devils in the Dark, and issue of Science Fiction Review. He also works in color and his covers from 1979 included the novel Siva!, by Walt and Leigh Richmond, Morreion, one of Jack Vance's Tales of the Dying Earth, and the January issue of Fantastic.
Many of Fabian's paintings draw on the traditions of sword and sorcery fantasy, often featuring muscular figures, both male and female, standing up against loathsome creatures. Damsels in distress also appear in many of this works. These figures are often the primary focus of his pieces, with the background appearing almost incidentally to the characters he includes in his work.
Publishers like Donald M. Grant and Bob Weinberg made heavy use of Fabian's work and he eventually began to work in the gaming field, with artwork appearing in the mid-1980s as interior artwork for TSR's Ravenloft and Dragonlance lines.
Fabian had previously been nominated for the British Fantasy Award for Artwork in 1977 and 1978, winning in the latter year for his illustration "The End of Days," that appeared in Chacal #2. He would be nominated three more times in the Best Artist category, winning a second time in 1985. Fabian was also nominated for seven World Fantasy Award for Best Artists between 1975 and 2000, eventually winning a Life Achievement Award from the organization in 2006. He was nominated for the Best Fan Artist Hugo in 1970 and 1971 and for the Best Professional Artist Hugo seven times between 1975 and 1981. Fabian was also nominated for the Balrog Award for Best artist each year from 1979 to 1982.
Fabian beat out Dave Carson and Rowena Morrill for the British Fantasy Award for Best Artist in 1980.
---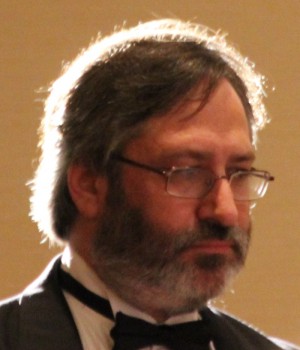 Steven H Silver is a sixteen-time Hugo Award nominee and was the publisher of the Hugo-nominated fanzine Argentus as well as the editor and publisher of ISFiC Press for 8 years. He has also edited books for DAW and NESFA Press. He began publishing short fiction in 2008 and his most recently published story is "Webinar: Web Sites" in The Tangled Web. Steven has chaired the first Midwest Construction, Windycon three times, and the SFWA Nebula Conference 6 times, as well as serving as the Event Coordinator for SFWA. He was programming chair for Chicon 2000 and Vice Chair of Chicon 7.