Amazing Science Fiction, November 1959: A Retro-Review
Amazing Science Fiction, November 1959: A Retro-Review
Here's an issue of Amazing from Cele Goldsmith's first year as editor. Indeed, this was probably on the newsstands the day I was born (October 5, 1959). So, no, I didn't read it when it came out!
The cover is by Leo Summers. The interiors are by Summers and Virgil Finlay. Norman Lobsenz' editorial is about the real-life basis of one of the aspects of the cover novel, Robert Bloch's Sneak Preview. There is a feature article by Poul Anderson called "Science and Superman: An Inquiry," which takes a rather skeptical view of the idea that humans might be evolving into "supermen."
E. Cotts' book review column covers One Against Herculum, by Jerry Sohl; Tomorrow Times Seven, by Frederik Pohl; and Secret of the Lost Race, by Andre Norton. She gives some mild praise to Sohl, raves about Pohl's collection, and is a little disappointed with the Norton novel.
The letters in "… Or So You Say" are by Claire Beck, Chris Roe, Craig Wisch, Kenneth E. Cooper, Clayton Hamlin, Michael Carroll, Jonathan Yoder, Richard C. Keyes, Billy Joe Plott, and James W. Ayers. The only name familiar to me is Billy Joe Plott.
[Click the images for amazing sized versions.]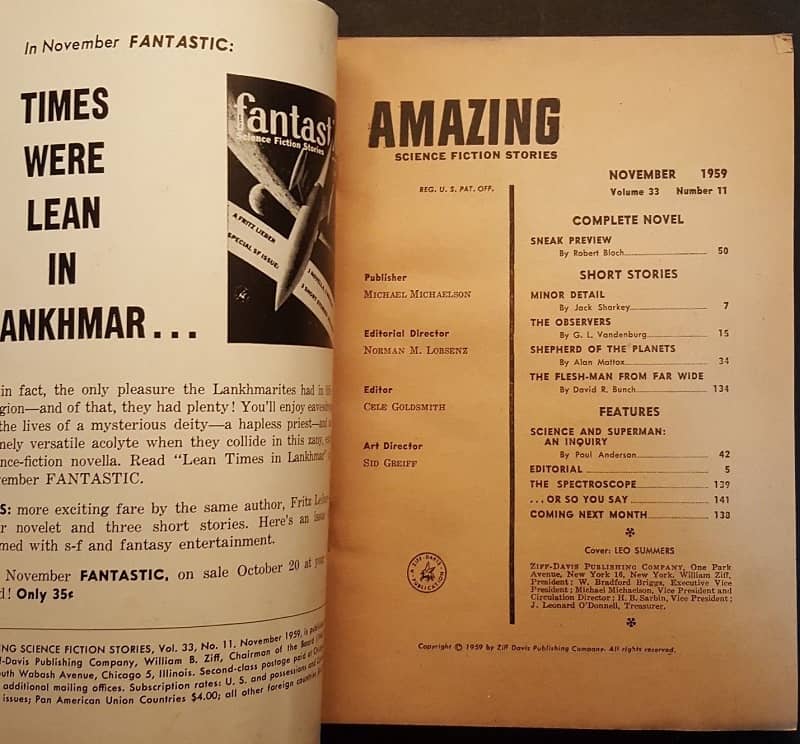 The stories are:
Novel
Sneak Preview, by Robert Bloch (40,000 words)
Short Stories
"Minor Detail," by Jack Sharkey (3,500 words)
"The Observers," by G. L. Vandenburg (9,000 words)
"Shepherd of the Planets," by Alan Mattox (3,600 words)
"The Flesh-Man from Far Wide," by David R. Bunch (1,900 words)
Robert Bloch's novel Psycho, by a wide margin his most famous book, was published in 1959. The movie (for which, I am given to understand, Bloch wasn't paid a whole lot) came out in 1960. So, I'm willing to bet, Sneak Preview wasn't really anticipated as a novel by "the author of Psycho," at least at the time it was bought. I wonder if Amazing did end up seeing a sales spike for this issue?
| | |
| --- | --- |
| | |
Anyway, Sneak Preview opens (after a brief preview) with a duel between a Cad and a Jag, ending in one driver being decapitated and the other, victorious, claiming the beautiful girl who was conducting the match. I got a distinct "Coming Attraction" vibe, and for a moment I wondered if Block was purpose riffing on the Leiber story at novel length. Not so, however. It turns out the hero is man named Graham, a writer of treatments for entertainments – which is what we've just been shown. He's in the Space Opera division, but he wants to do more serious stuff. Clearly something is wrong with him, and he's prescribed sex. The lady is nice enough, but he's still discontented, and things get worse when a phone call to his father seems strange – not like his father at all. His father has been "Socially Secured" – supposedly retired to a life of leisure, but I think we all know what really happened. Graham, of course, gets involved with an attempt to figure out what's really going on, and to overturn the system. It's all pretty predictable after the promising opening, and while not bad it's nothing special.
Jack Sharkey's "Minor Detail" is, well, pretty minor. It's about a blowhard General promoting his new superweapon, which will allow men to become strong enough to survive any fall, thus allowing them to dispense with parachutes. The idea is stupid, and the supposedly ironic reason it doesn't work doesn't make sense.
I know nothing about G. L. Vandenburg. He or she published 15 stories in the Ziff-Davis magazines (mostly Amazing and Fantastic, with one in Dream World) between 1957 and 1959. This piece was the last. I suspect he or she was a Paul Fairman discovery, and quite possibly all the stories were bought by Fairman, and Goldsmith was just working off his inventory. Heck, he could even be Fairman! For all that somewhat unpromising introduction, "The Observers" is not bad.
Harry Payne is the Civilian Personnel Director for the Army Weapons Development Center, and an obscure technician has died in unexpected circumstances. He needs to find a replacement, and suddenly a very attractive woman shows up claiming to be an agent for some worthwhile candidates. This seems odd … and the men she's representing seem odd, too. Before long Harry is in danger, but luckily his competent (and attractive) secretary, Miss Conway, is there to help. You can easily guess who (or what) all these technicians are – the explanation is a bit pat, but not annoying, and the story is pretty entertaining.
If G. L. Vandenburg is obscure, then Alan Mattox is much more so. "Shepherd of the Planets" is his only story. It's about an expedition to a desolate planet, with a nitrogen deficiency, and starving natives. The crew start providing the natives food, and this leads to a really lame ending "prayer." Seems like just the sort of gimmick story a one-story writer might have done.
| | |
| --- | --- |
| | |
The last story is from probably the most original writer of Cele Goldsmith's tenure, David R. Bunch, who has been brought back to print by of all organizations The New York Review of Books, via their NYRB Press imprint, with Moderan, a collection of his stories about the half-robots/half-men of Moderan. "The Flesh-Man from Far Wide" is one of the earlier Moderan stories, and it probably serves as a decent introduction. The narrator, a typical psychotic man of Moderan, gets a visitor, who seems possibly to have no robotic "replacements" – no metal parts. And he has other strange ideas, about happiness – he wants to find Moderan's Happiness Machine. But what do those of Moderan need with happiness?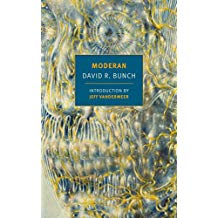 ---
Rich Horton's last Retro Review for us was a look at the July 1957 issue of Imaginative Tales. His website is Strange at Ecbatan. See all of Rich's articles here.